Use Maps and Navigation on Your Gear S2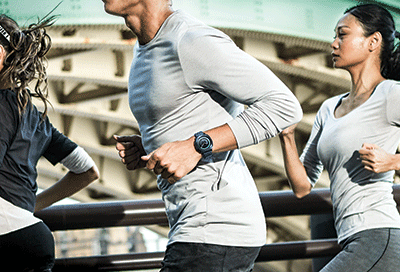 Find your way using the Maps application on your Gear S2. Maps uses the data connection and location services (GPS) on your mobile device to find your location and provide directions to the location you choose.
Your Gear S2 must be connected via Bluetooth to your mobile device for the Maps application to work.
Get Directions
From the Watch screen, press the Home key.


Touch the Next Page icon until you reach the page with the Maps icon.


To search for a location, touch the map screen and then touch the Search icon.


Touch the More Options icon to turn the display of traffic on or off and to switch the unit of measure between Metric and Empirical.

Touch the blue microphone icon or the red keyboard icon to enter an address or location. You can also scroll to and touch one of the categories to find nearby locations.


Rotate the bezel to the right to view additional search results.

Touch the Information icon.


If the information screen goes away, touch the map to display it again.

If this is the first time you have used navigation on your Gear S2, follow the instructions on your mobile device to download the HERE application. It will also install the application on your Gear S2. When you touch NAVIGATE, your Gear S2 will switch to the HERE application to provide directions.

Directions for your trip will display on your Gear S2 and update as you travel. Press the Back key to stop navigation.


Rotate the bezel to view additional options about your trip.
How would you like to contact us?
1-800-SAMSUNG Mon – Sun: 8AM – 12AM (EST)
mobile|wearables|smartwatches|gear-s2-sport