A timeless design that elevates every room
While other TVs belong on walls, The Serif belongs anywhere you put it. Whether centered in a room or on a shelf, this TV wasn't just designed to move — it was created to push boundaries.
Striking form meets simple elegance
To create a living room that matches your lifestyle, start with a TV that reflects your aesthetic. With a unique, unibody structure in the shape of the letter "I", The Serif is like a one-of-a-kind piece of furniture that doubles as a shelf for an added experience.
From ordinary to reinvented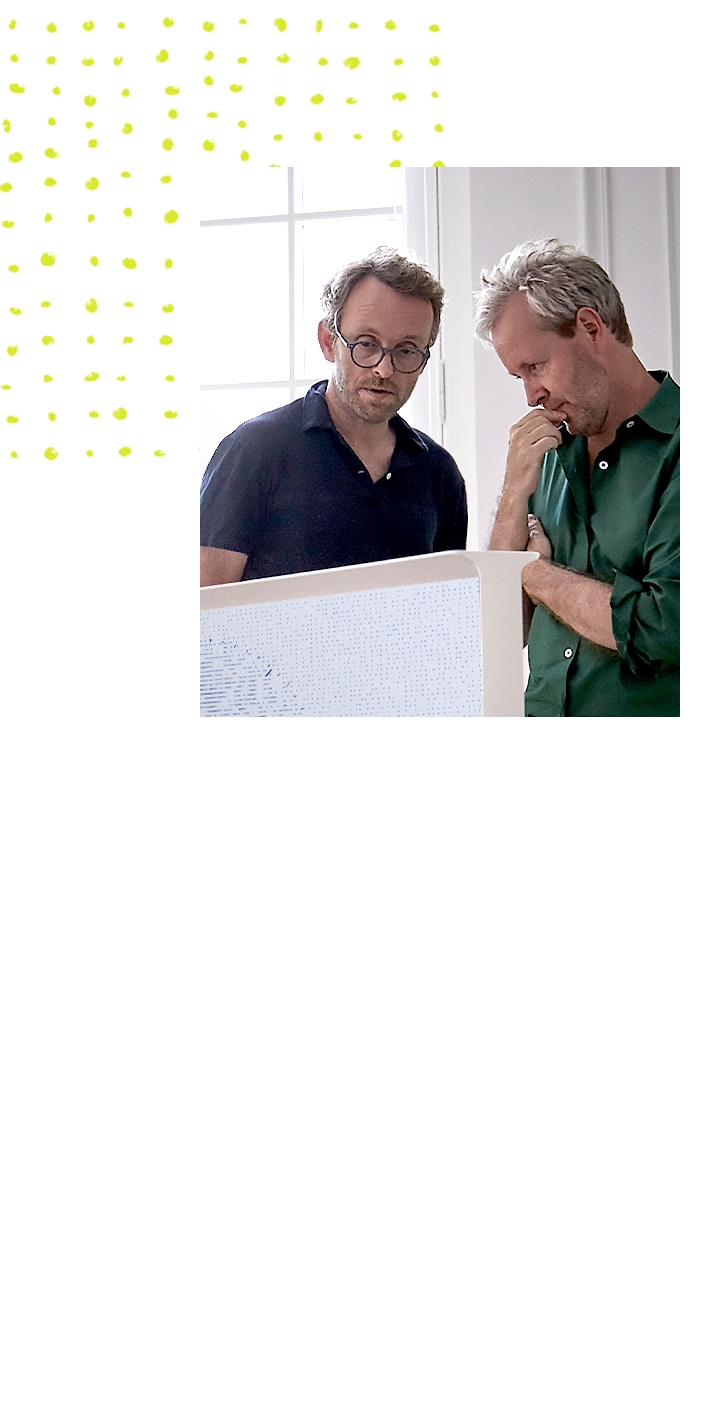 Designed by Bouroullec
French furniture designers Ronan and Erwan Bouroullec add elegance to otherwise ordinary objects. Designed to "travel through times," The Serif is something that will leave a lasting impression.
The Serif is another take to the world of TVs; it remains that its core competence is a natural adaption to contemporary interiors."
-Ronan & Erwan Bouroullec
Much-needed moments of retreat
Inspired by the beauty of the natural world, Ronan & Erwan Bouroullec created two exclusive patterns for The Serif. Lose yourself in a striking leaf or textured fabric design when your TV is in new Ambient Mode+™.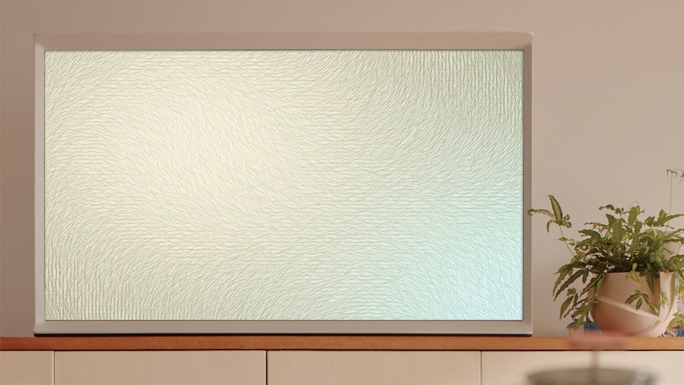 Elevate your space with Ambient Mode+™
Instead of going blank and black when it's switched off, watch your TV virtually disappear into the walls of your home. Ambient Mode+ mimics the wall behind it and can display the weather, today's headlines, and more.¹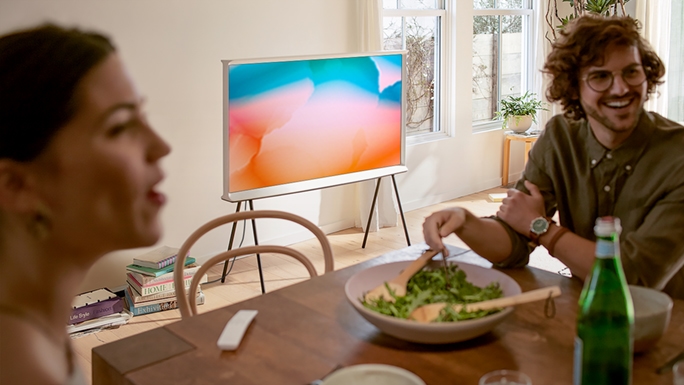 Turn up the mood just by asking
Brighten up your day with an interactive background in perfect harmony with the environment. Choose from several options available to create the right ambience for your home.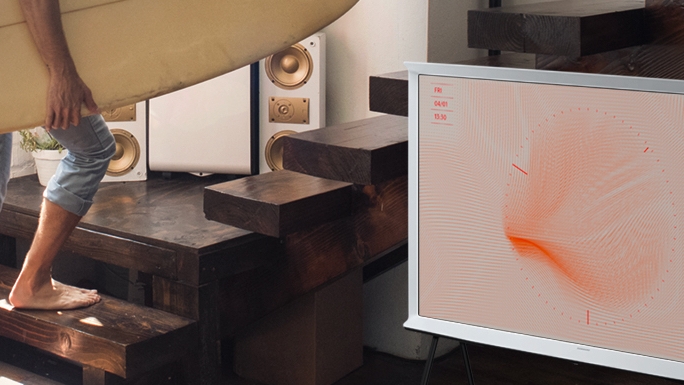 Enjoy background music
With Ambient Mode+, you'll be able to listen to music by simply using your voice or streaming from your smartphone.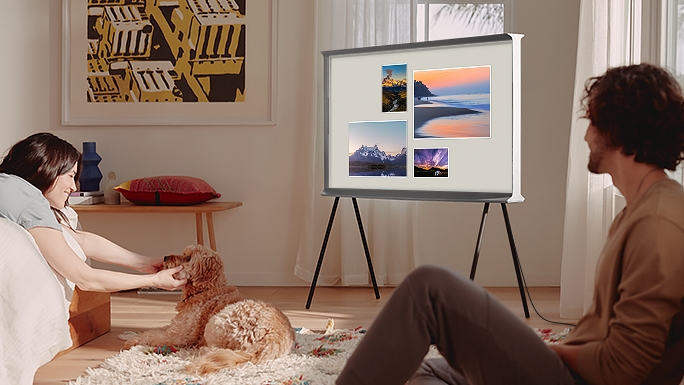 Relive all your memories
Turn your living room into a personal gallery by importing photos from your phone. With the new Auto Gallery Layout template, you can enjoy your personal memories quickly and seamlessly.
Stand it up
so it stands out
The Serif pairs perfectly with its elegant metal easel stand that detaches easily—so you can move it around wherever and whenever you like. Great for smaller spaces, the option to remove its legs makes it even the more versatile.
Choose the size
that complements
your space
Available in our signature, natural Cloud White, for added sophistication, The Serif comes in sizes 43" and 55".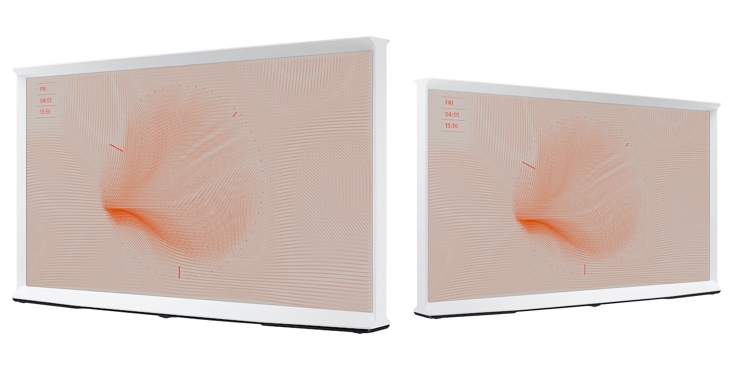 ¹ Background feature accuracy may vary based on TV location and is dependent on wall designs, patterns and/or colors. SmartThings app on a mobile device (Android, iOS) is required for some functionality. App features may be limited at launch; please continue to check for updates.
* Images are simulated for illustration purposes only. Appearance, design, and GUI(Graphic User Interface) specifications not affecting product performance are subject to change without notice.
* Actual products including remote control may differ from image shown. Please see our product gallery.
* Available technology, functions, GUI(Graphic User Interface) and smart features may vary by region, service provider, network environment, mobile devices or TV product, and are subject to change without notice.
* A Samsung Account is required to set up TV.
* Actual user experience may vary.
* Smart services and available functions work with compatible devices only.
* Compatible devices may vary by region.
* The product color may vary by region.
* Ambient Mode serivce may vary by region.
* Background feature accuracy may vary based on TV location, dependent on wall designs, patterns, and/or colors.