Supply Chain
Responsible Management of Supply Chain
We ensure that our suppliers build a stronger competitive edge through support and cooperation in order to establish a sound corporate ecosystem and a sustainable supply chain.
Driven by our philosophy of fairness, openness, and win-win cooperation, we operate our supply chain with approximately 2,500 suppliers across the globe. We assist all our suppliers in complying with the 'Samsung Supplier Code of Conduct' and operating in accordance with relevant local regulations and international standards. Through assessing our suppliers, we manage supply chain risks in terms of sustainability aspects, such as environment, human rights, financials, and etc. Furthermore, we continuously support our suppliers to build mutual competitive edge and growth.
Supply Chain Management Strategy and Five Criteria
Economic

We secure an all-encompassing competitive edge in cost, delivery, quality, technology, and human resources in order to maximise synergy, speed, and efficiency with our suppliers and create a corporate ecosystem that enables sustainable growth.

Social

We request that international standards and regulations be abided by in the areas of human rights management, work environment, ethics, and conflict mineral issues with an aim to build an open and transparent management accountability system that engages all stakeholders along the supply chain.

Environmental

We work solely with Eco Partner-certified suppliers so that we can assess and manage the environmental impact that may occur in their components, raw materials, and manufacturing process.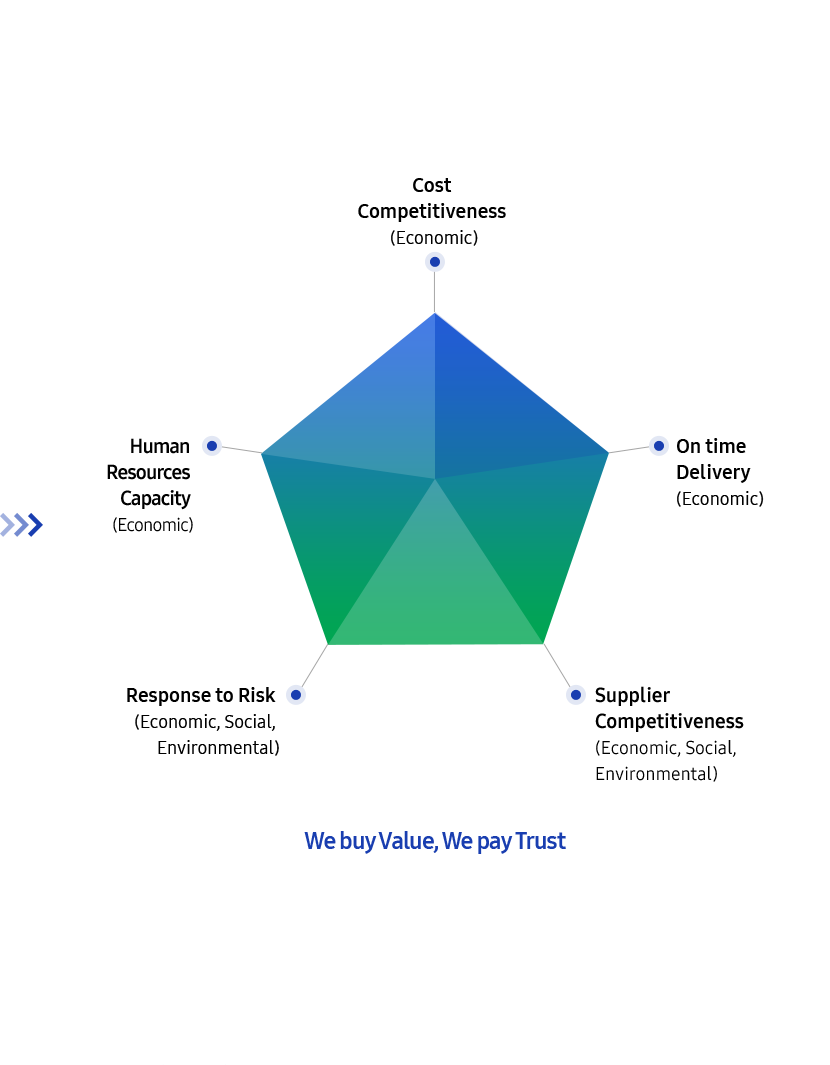 <h3> Creating value through Sustainable management info-graph</h3> <ul> <li>List 1) Cost competitiveness (Economic).</li> <li>List 2) On time delivery (Economic).</li> <li>List 3) Supplier competitiveness (Economics, Social, Environmental).</li> <li>List 4) Response to Risk (Economics, Social, Environmental).</li> <li>List 5) Human resources capacity (Economic)</li> </ul>
Supplier Operation
At Samsung, we endeavor to build strategic partnerships with top-performing suppliers based on mutual trust. This is why we adopt a fair and transparent process in operating our supplier registration system for new suppliers while performing annual assessments to assist our suppliers in reinforcing their competitive edge and minimizing relevant risks.
Any company who is willing to bring your differentiated technological capability to the table and wishes to do business with Samsung can post their new business proposals on our procurement portal(www.secbuy.com) anytime. Our International Procurement Center (IPC) serves as the procurement hub, and the IPC enables us to identify outstanding suppliers in strategically important regions across the globe.
Key Evaluation Items of Our New Supplier Registration Program
Environment and Safety

Request suppliers to satisfy the criteria set in 22 articles, spanning occupational safety, fire prevention equipment, occupational health, hazardous substances, and environmental facility.
Eight mandatory compliance items : Fire prevention equipment, hazards and waste, sewage and wastewater facility, etc.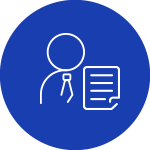 Labour Rights

Perform mandatory on-site audits on 20 articles, including voluntary work, compliance with work hour regulations, and ban on discrimination.
Three mandatory compliance items : Ban on child labour, guarantee minimum wage, and ban on inhumane treatment.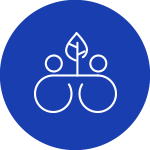 Eco-Partner

Conduct reviews on product environmental policy, education & training and the use of hazardous substances.
Conduct business solely with Eco-Partner-certified suppliers.
Comprehensive Evaluation Process

Partner Collabouration Programs
To live by our business philosophy that 'our competitive edge at Samsung Electronics comes from the competitive edge of our suppliers', we further push the boundary of our win-win management initiatives to include both domestic and overseas suppliers. We provide a wide array of programs to support funding, education, and innovation to ensure that our suppliers become globally-competitive.
KRW 823.2billion : investment in the Win-Win Cooperation Fund

Funding

Create funds valued at KRW 1 trillion with commercial banks

13,089 Persons : Attendees of supplier training

Employee Capacity-Building

Provide leadership, job expertise, global and other courses by using our supplier-only training facility

479 companies : Suppliers that received Smart Factory support

Innovation Initiatives

Plan to assist nearly 1,000 suppliers as well as SMEs without business relationships with Samsung across the nation in improving their manufacturing capacity by the end of 2017
* We assist our 1st-tier and 2nd-tier suppliers in voicing their grievances through our direct phone line (+82-80-200-3300), via e-mail (ssvoc@samsung.com), through an online whistle-blowing system on the Win-Win Cooperation Portal (www.secbuy.com), with on-site supplier consultations, and through various exchange meetings.
Supplier Work Environment
At Samsung, we fully take on our responsibility in advancing human rights management along the entire supply chain, abide by international human rights agreements to guarantee workplace safety and comply with the code of conduct set by the Electronic Industry Citizenship Coalition (EICC). We regularly monitor all our suppliers in accordance with EICC's verification standards to identify issues and make necessary improvements. While we encourage our 1st-tier suppliers to create a safe workplace, such commitment to workplace safety extends to our 2nd-tier suppliers by way of 1st-tier suppliers. In doing so, we contribute to building a sound ecosystem across our supply chain.
Conflict Minerals Management
At Samsung, we ban the use of any minerals unethically mined in the Democratic Republic of Congo or in any of the other nine adjoining conflict areas (tantalum, tin, tungsten, and gold). To this end, we operate the Trade Compliance System (TCS) developed from the OECD Due Diligence Guidance as part of our integrated procurement system while investigating all our suppliers for their use of conflict minerals through the Conflict Minerals Reporting Template (CMRT) which is available within the TCS. We share information concerning conflict minerals in real time with all our suppliers to ensure that they do not use any materials containing conflict minerals.
In addition, we joined the 'Conflict-Free Council' jointly established by the Electronic Industry Citizenship Coalition (EICC) and the GeSI (Global e-Sustainability Initiative) to work hand-in-hand with other global peers in response to the issue of conflict minerals across the supply chain. As a result of such endeavors, 100% of the smelters whom we do business with joined the Conflict Free Smelter Program (CFSP) in 2016.
Conflict Minerals-related CFSP Certification of Smelters alon the Supply Chain
(As of the end of Dec 2016)
| | CFSP Certification Completed | CFSP Certification in Progress | Total |
| --- | --- | --- | --- |
| Tantalum (Ta) | 46 | - | 46 |
| Tin (Sn) | 64 | 11 | 75 |
| Tungsten (W) | 38 | - | 38 |
| Gold (Au) | 88 | 7 | 95 |