3-Ingredient Meals That Will Make Your Mouth Water
Apr 08. 2016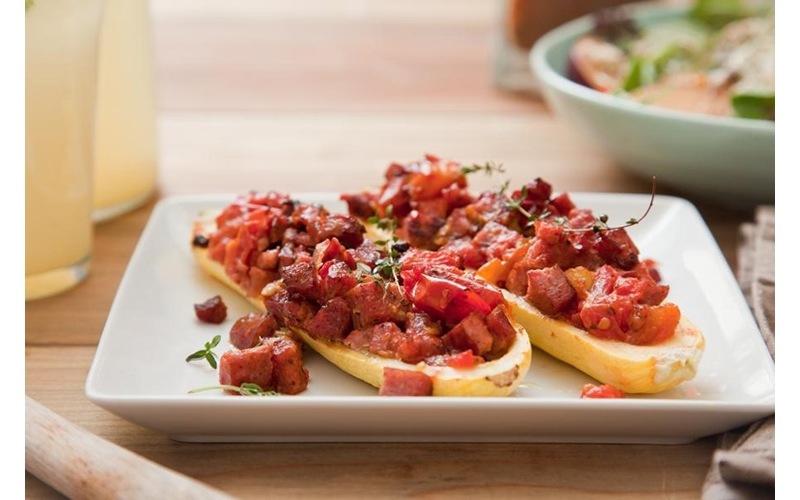 When you want something that's fast, tasty and doesn't require too many ingredients.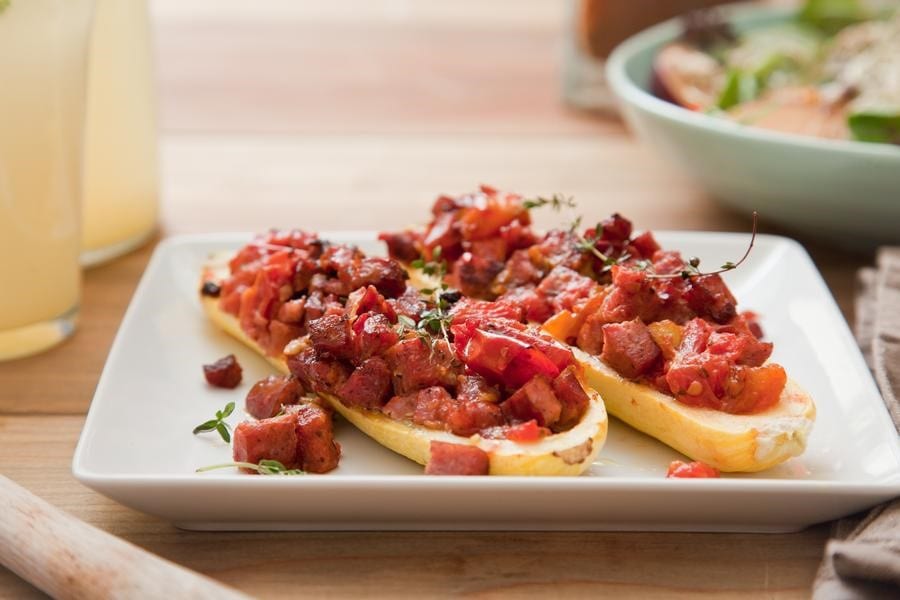 It's fun preparing an elaborate recipe, but it's not necessarily practical for everyday meals. On days when you have other things to do, you'll probably want something that's fast, tasty and doesn't require too many ingredients. Meals that are happened to be made with healthy, honest-to-goodness ingredients are so much the better. Here are three examples to get you started. Aside from the salt, pepper and oil you already have in your cupboard, each meal requires just three ingredients.
"Caprese" Flatbread

A Caprese salad, made of good tomatoes and balls of fresh bocconcini cheese, is one of the finest examples of the traditional Italian approach to fresh, simple foods. For a more filling, meal-like variation on the theme, you can use those classic ingredients as toppings for a flatbread. All you'll need is a jar of bocconcini in olive oil, ideally with basil leaves; sweet cherry or grape tomatoes; and a pizza crust, foccaccia, naan or other flatbread. The whole thing comes together in just minutes.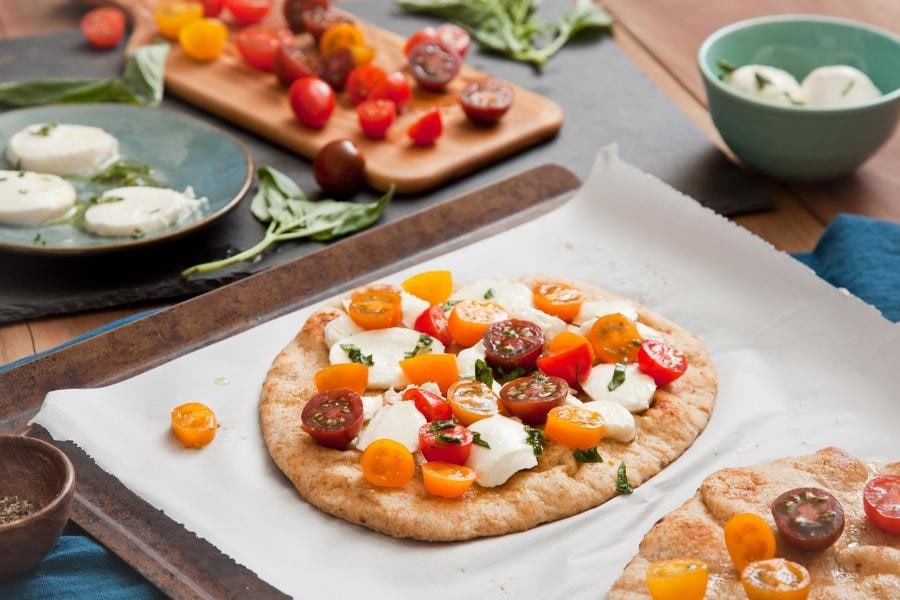 Putting It Together

First, preheat your Oven to 450 degrees Fahrenheit or 230 degrees Celsius. Halve the tiny tomatoes and put them in a mixing bowl and then drizzle them with the oil from the bocconcini. Toss them with a bit of salt and pepper and set them aside for a few moments so the flavors can meld. Place the flatbread on a parchment-lined baking sheet, and brush it with some of the oil from the bocconcini. Scatter the tomatoes and bocconcini across the flatbread, and bake it for 8 - 10 minutes until the cheese and tomatoes are bubbling and browned. Cut it into large wedges for a light meal, or narrow fingers as an appetizer.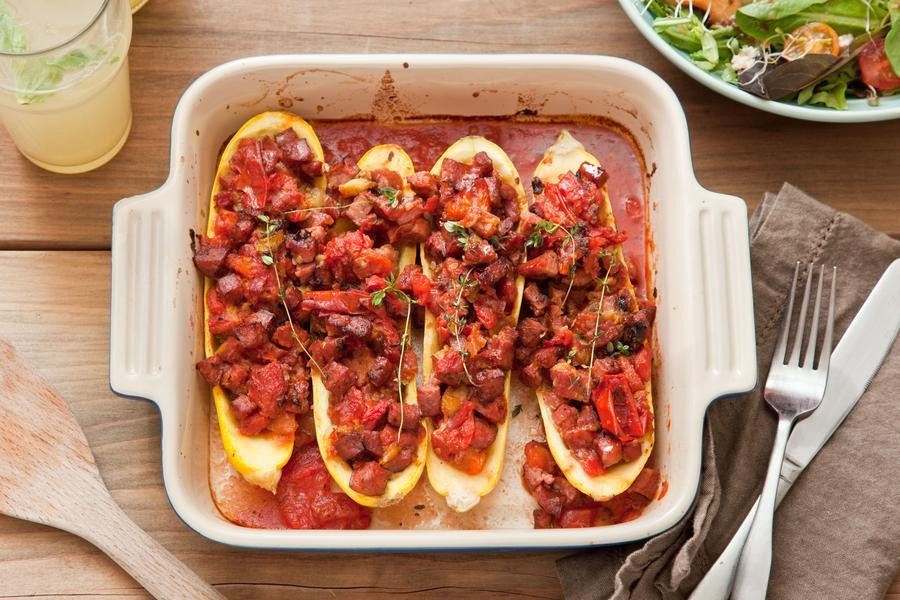 Squash and Sausage

If zucchini and other summer squash have a shortcoming, it's that their flavor can be a bit underwhelming. That's a good thing, though, because they take on the flavor of other, more assertive ingredients, such as sausage or tomatoes. Combining all three ingredients; it allows the creation for a simple, tasty meal. For this one, you'll need three or four zucchini or yellow squash, a can of herbed diced tomatoes and 340 g of chorizo, Italian sausage, or any other flavorful sausage you prefer.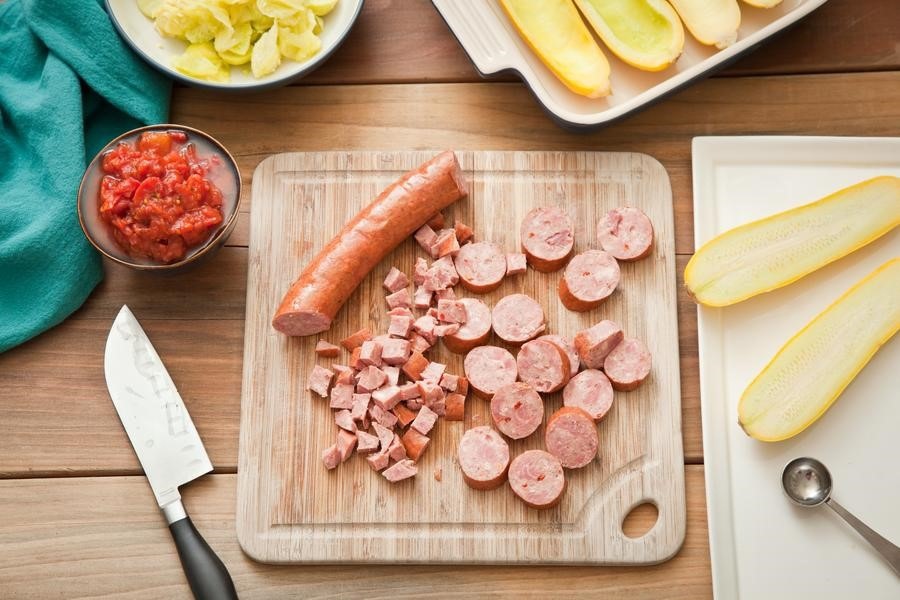 Use a spoon or melon baller to scoop the flesh from the squash, leaving the hollow shells or "boats" about 1/4 inch thick. Chop the scooped-out squash. Fine-dice the chorizo, or cut the casings and crumble fresh sausage and toss it in a skillet with the squash. Stir and cook the mixture until it's browned and slightly rendered. . Drain the juice from the tomatoes into a baking dish and stir the tomatoes into the sausage mixture. Arrange the zucchini boats in the baking dish and fill them with the sausage mixture. Bake them in your Dual
oven
25 to 35 minutes at 350 F or 180 C, until tender.
Simple but Fancy

Any restaurant chef will tell you that the ideal meal is one that looks elegant but is simple to prepare. If you have a few potatoes, a couple boneless chicken breasts and a sprig of fresh herbs, you can persuasively illustrate that principle in about one hour. Prep the chicken by blotting it dry with clean paper towels and placing it into a drip-proof container. Slide it into your Samsung fridge while you prepare the rest of the meal. Don't worry, there's plenty of room.
Pretty in Your Pan

Halve a handful of baby red, gold potatoes. Toss them with oil and season them with salt and pepper and then spread them across the bottom of a heavy skillet or Dutch oven. Coarsely chop your chosen fresh herb, or strip it from its stems. Rosemary, tarragon, thyme and garlic chives are all good choices, though almost any fresh herb goes well with chicken. Sprinkle part of the herbs over the potatoes. Remove the chicken from your fridge and season it with salt and pepper as well. Rub the chicken with more of your fresh herbs. Place it on top of the potatoes and slide the pan into a preheated oven at 200 C for 30 to 40 minutes, until the potatoes are crisply caramelized and the chicken is cooked and golden.
The Finishing Touches

Each of these dishes stands on its own, though you can quickly add a few extra touches to make the meal more complete. For example, a crisp green salad would complement either the chicken or the flatbread. The stuffed zucchini would pair well with rice or quinoa, or sliced grilled polenta. If you're willing to stretch the definition of an "ingredient," replace the potatoes in the chicken dish with a store-bought mix of diced root vegetables for roasting.

Tips

• If your sausages are frozen, use the Auto Defrost function on your Samsung microwave to make them stove-ready in minutes.
• If you're preparing multiple dishes, or cooking one and keeping another warm, slide the divider into your Dual Cooking Oven. With the divider in place, each half of the oven can be set to a different temperature as needed.
View the Range:
Refrigerators
,
Cooking Appliances
,
Dishwashers
,
Share this article:
Sign up to get updates delivered directly to your inbox
Submit a review
Samsung is a registered trademark of Samsung Electronics Co., Ltd. All other brand, product, service names and logos are trademarks and / or registered trademarks of their respective owners.
The above content is provided for information purposes only. All information included herein is subject to change without notice. Samsung Electronics is not responsible for any direct or indirect damages, arising from or related to use or reliance of the above content.
Samsung US
Photo Credits: Kris Robertson / Demand Media
List
No Prev Page
No Next Page