[Editorial] Starting at Zero: The Story Behind the Design of the Galaxy S6 and S6 edge
Oct 12. 2015
Bigger and Better but still light and portable:
Samsung increased the camera sensor size while maintaining its overall slimness. The sensors on the rear camera could not be increased without making them any thicker. So instead, the rear camera lens was built with a lowered f-value (aperture value). The Galaxy S6 can take high quality shots in the dark as well as brighter shots since it can gather more light in the same situation with the improved aperture value. In addition, the shutter speed is quicker so that people can take pictures of whatever moment they want. Moreover, the software algorithm has been improved to provide photographs with higher definition.

The Galaxy S6 was the first to apply Auto Real-time HDR (High Dynamic Range) on both front and rear cameras. HDR is a function that merges images with different luminance into one. In a picture, the bright part may be blown off or the darker part may appear even darker. The HDR helps overcome such limitations. However, the way the previous HDR worked developed one image by merging separate images with different levels of brightness. Since this method required processing time, the user could not check the results instantaneously. In addition, the HDR technology could not be applied to video filming.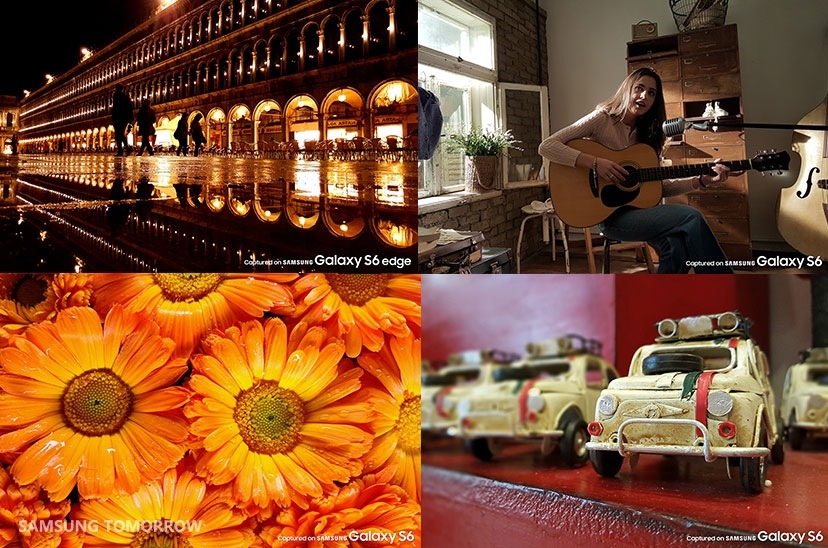 The improved Auto Real-time HDR allows real-time adjustments of light and dark spots for a balanced result. With photos and videos, users can check the images instantly since there is no processing time required..

In particular, the Auto Real-time HDR proves its true merit when filming videos because it efficiently adjusts various levels of brightness while filming in different spaces. Moreover, the Galaxy S6 added the Low-light Video function as well as the Optical Image Stabiliser (OIS). Under dark conditions or when shooting nightscapes, the Low-light Video function comes into action and raises the brightness, while the OIS modifies shaky videos due to hand movements.
Even though not all smartphone users have a expert-level knowledge of all the features of the camera. However, users want to be able to capture the beautiful moments of their everyday lives with high-quality pictures and videos.. The Galaxy S6 allows users to take high quality pictures at any time by simply pressing the shutter, without having to consider any background factors or conditions. The 'Pro Mode' is an option for those who want to control specific camera settings, satisfying users with professional knowledge of cameras.

How will the mobile camera trend evolve? The main focus will shift from pictures to videos. The OIS (Optical Image Stabilisation) in the Galaxy S6 and S6 edge was significantly improved, and shooting videos with difficult lighting will be easier with Auto Real-time HDR. Enhancement in the Low-light Video feature and image algorithm allows users to get excellent, brighter videos in low-light settings such as cafés or even in nighttime settings.
View the Range:
Smartphones
Share this article:
Sign up to get updates delivered directly to your inbox
Submit a review
Samsung is a registered trademark of Samsung Electronics Co., Ltd. All other brand, product, service names and logos are trademarks and / or registered trademarks of their respective owners.
The above content is provided for information purposes only. All information included herein is subject to change without notice. Samsung Electronics is not responsible for any direct or indirect damages, arising from or related to use or reliance of the above content.
Source:
Samsung Newsroom
List
No Prev Page
No Next Page