Hot Tips for Buying a Cool TV, Part 4: Just TV or Smart TV?
Feb 17. 2016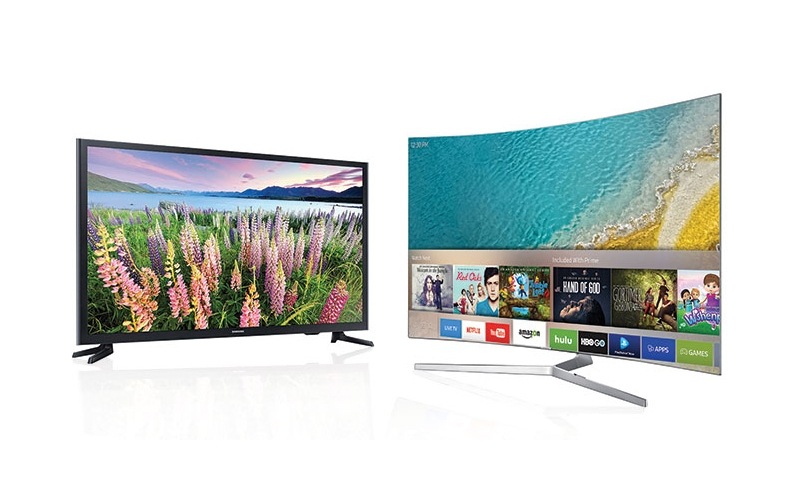 Would you rather have a TV that simply broadcasts shows or a TV that interacts with you, allowing you to choose content you can truly experience?
The Internet Revolution began in the late 1990s, and it has since had a great impact on the development of the television, completely changing its concept altogether. Before the era, people simply watched TV. The television has evolved into a device that interacts with users, allowing them to choose which content to watch, play games, make purchases and retrieve information in an entirely new way. The age of smart TV has arrived.

According to market research firms, smart TV sales are expected to surpass 100 million units worldwide, accounting for more than 40 percent of total TV sales in 2016. In the US, the services provided by Netflix, an over-the-top (OTT) provider, recently made up around 50 percent of total Internet traffic after 6 p.m. Along with better picture quality and larger screens, "intelligence" has also become an irreversible trend in the TV industry.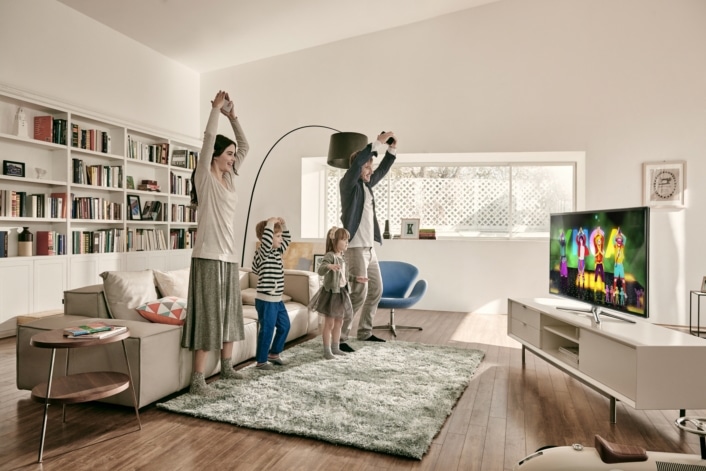 Watching TV versus Experiencing TV
Using an antenna to watch a few terrestrial channels—ones that are transmitted by radio waves from an Earth based transmitter—has already become a distant memory for many of us. Cable networks and telecommunications companies now provide thousands of channels that are broadcasted via the Internet, rather than as radio waves over the air. In addition, videos are continuously produced and uploaded on YouTube, while OTT providers like Netflix allow viewers to stream a seamlessly endless collection of films and television shows.

Moreover, TV manufacturers are adding more content for consumers to watch and enjoy. They are introducing new features that allow users to share photos, videos and messages with family members, and boast web searching, shopping and game services. In particular, Samsung Electronics is planning to release more than 500 smart TV games in this year. The content that users can enjoy on their smart TVs is constantly increasing.
However, it is also true that many people still think of TV as a device to watch content on while relaxing at home on the couch. For these consumers, TV manufacturers provide standard televisions without smart features at relatively lower prices.

There are a few things to consider when buying a standard TV. Consumers first need to check if there are any problems with the reception of terrestrial broadcasts in their homes. Then, they may require a cable, satellite or IPTV subscription, depending on their needs. If consumers are going to connect a standard TV to a media adaptor like Chromecast or a game console, they will also need to ensure the devices are compatible and that there are no connection terminal issues.
The State Of Smart TV In 2016
In a way, Samsung's previous Smart TVs illustrate the history of the smart TV. In 2008, the company introduced the PAVV Bordeaux 750—the ancestor of smart TVs—and launched various internet services including news and weather information features. Since then, Samsung has been a leader in the development of the smart TV in all aspects. In 2010, it opened the world's first TV application store, and adopted the Smart TV user interface (UI) Smart Hub a year later in 2011. Samsung then added voice, action and face recognition features in 2012, introduced a customised content matching system in 2013 and implemented gaming services and accessibility features in 2014. Last year, the company incorporated Tizen for fast and broad connectivity.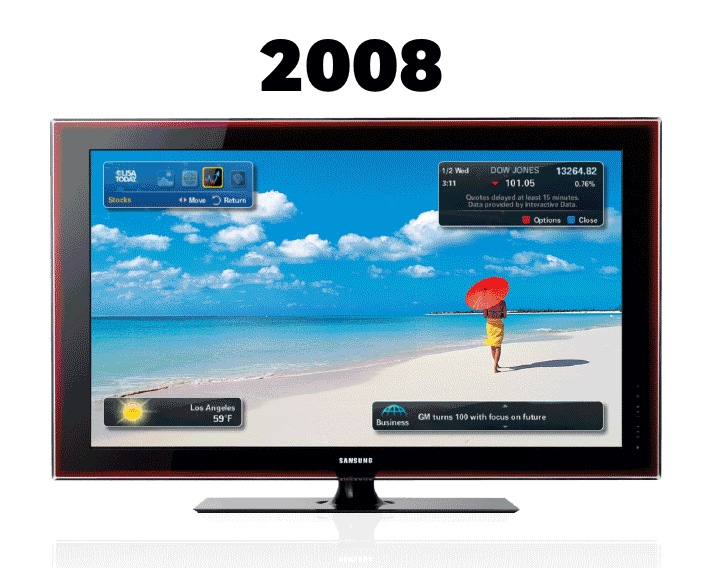 Today, the focus is on how to provide an easier and more comfortable user environment in a world flooded with content that consists of live broadcast, video-on-demand (VOD), OTT and user created content (UCC), as well as a diverse range of games. This is because the primary purpose of TV is to provide a convenient, relaxing and entertaining experience to users.

In 2013, Samsung unveiled It is in this context that Samsung stressed the importance of the "Single Experience" when it introduced its
2016 Smart TVs
. At CES 2016 earlier this month, Samsung unveiled a line-up of Smart TVs with "
single access point, single remote
" features. With the new
Smart Hub
interface, users can get access to a one-stop service comprised of live broadcast, VOD, OTT and game services the minute they turn on their televisions, regardless of which service provider they originate from. The Samsung Smart Control remote, produced in collaboration with Samsung's partners, allows users to control TV-related devices such as set-top boxes, OTT boxes, audio equipment and game consoles, right from one remote.
Also many more exciting services are on the way. TV PLUS, which was launched in Korea in September 2015, is the world's first VOD service with virtual channels. The service enables users to watch popular VODs in the same way they watch standard TV channels. Samsung is planning to expand the service globally with the launch of TV PLUS in Southeast Asia this year.

In 2013, Samsung unveiled TV services that allow users to easily share content with their friends and family members are also in the works. Samsung Smart View enables users to transfer photos, music and videos on their mobile phone or Windows PC to their Smart TV with a simple tap or click. All users have to do is download the Samsung Smart View application for their mobile phone or PC and connect those devices to their Smart TV via a Wi-Fi network. At CES 2016, Samsung also introduced
MediaSquare
, a new concept of content sharing service. It has since attracted attention as a next-generation platform where users can share content on their smart phone through their TV for an interactive game-like experience.
Undergoing Ceaseless Evolution To Meet Consumer Needs
Up until now, the smart TV has advanced in a way that provides viewers with more content choices and enhanced convenience. Today, its uses are greatly expanding, as it provides entertainment and controls important features in our homes. In fact, as our homes get smarter and smarter, the smart TV industry is making it a priority to improve the connectivity capabilities of smart TVs. After all, the television of today could very well serve as a hub that connects things in our homes, including appliances, doors and even faucets.

Samsung decided to feature IoT-hub technologies in the entire 2016 SUHD TV line-up. In addition, the Smart TVs, which make up more than 90 percent of Samsung's 2016 TV line-up, will be equipped with IoT-ready features that can connect with other smart devices. Samsung's Smart TVs will also run on the Tizen operating system which is highly compatible with other mobile gadgets and home appliances.

With their 2016 SUHD TV, users can check the status of their laundry or see what's going on in their baby's room. A simple press of a button on the TV remote creates an ideal environment for either watching movies or sleeping. This convenience will soon become the norm.
"TV will evolve incessantly according to the changing lifestyles of customers. Setting a certain goal at the moment would limit the potential of TV," said Hyun Suk Kim, President of Visual Display Business at Samsung Electronics. "Samsung is striving to go beyond the confines of today's TV, such as design and user environment, and research future TV technologies," he added.
*** Disclaimer: Features, applications, etc. are region / country dependent.

View the Range:
TV
Share this article:
Sign up to get updates delivered directly to your inbox
Submit a review
Samsung is a registered trademark of Samsung Electronics Co., Ltd. All other brand, product, service names and logos are trademarks and / or registered trademarks of their respective owners.
The above content is provided for information purposes only. All information included herein is subject to change without notice. Samsung Electronics is not responsible for any direct or indirect damages, arising from or related to use or reliance of the above content.
Source:
Samsung Newsroom
List
No Prev Page
No Next Page