Kids Mode Helps Parents in the Digital Age
Mar 03. 2016
Kids Mode controls the apps that a child can use the videos, music and other content they can access and how long they can use a device.
Most children find long car trips horribly dull, but keeping them occupied by buying interactive pop-up book apps can be expensive. But what other choice do parents have to keep their child entertained during a protracted drive or at a nice restaurant, during a long dinner, what can a parent do if their 4-year-old suddenly starts crying? For many parents, the easiest solution is giving the child a mobile device, like a smartphone or a tablet. Children love the bright, flashy images and intuitive, responsive interfaces and are happy to spend hours watching videos and playing games. How, then, do we to protect children from inappropriate online content and limit them from using the device too much without spending too much on an expensive, complicated monitoring service?

Samsung's Kids Mode provides a solution to these problems, creating a free and easy-to-use interface on smartphones and tablets that is simple to control and monitor, while providing plenty of fun and educational apps for children. Indeed, Kids Mode has already gained 1.9 million monthly active users and supports 2,500 child-friendly apps and video content, with more being made available consistently*.



Samsung Introduces an Easier Option
*Quantity of apps and content may vary by region.

With Kids Mode, parents can select and control apps and monitor how their children use mobile devices, making those devices as open or as closed as they wish. Kids Mode controls the apps that a child can use, the videos, music and other content they can access and how long they can use a device.

But just as importantly as helping parents out, Kids Mode is also fun to use. Its simplified user interface features large and colourful buttons designed for children, with controls that are uncomplicated but that give a wide range of options for children to explore. In addition, there are a variety of exclusive native apps that come pre-installed and that can be downloaded. Addition to the above, Kids Mode and many of its related apps are free, so it's a solution that every family can afford.



Getting Started
To begin using Kids Mode, parents need to download the app from Galaxy Apps. After installing, they set up a PIN code and a profile for their child and then the app is ready to go.
Parents can then go to the Parental Control area (the button on the lower-left) to customise Kids Mode as they see fit. They can limit the amount of time, each day, that their child can use the device, setting different amounts for weekdays and weekends. Parents also get to control the list of contacts, apps and media their child has access to, ensuring the content is always appropriate for their family.
Kids Mode comes with the Kids Store pre-installed, as well as the Play Zone, a 3D block house with seven themes users can choose. The Play Zone comes with several mini-games that feature the app's four cartoon characters: Crocro, Cooki, Bobby and Lisa (see box below).
Adding the Exclusive Native Apps
Once the device is configured, parents will need to download apps to get the most out of it. Kids Mode offers a variety of exclusive, native apps, featuring those familiar cartoon characters and the same easy-to-use interface. Among those apps are Kids Camera, Kids Drawing, Kids Music, Kids Magic Voice, Kids Video and Kids Call, offering lots of fun options for playing and developing creativity.

For example, the Kids Camera lets children take a picture of someone, then add funny stickers to the photograph, like googly eyes, mustaches and silly hats. Kids Drawing lets children unleash their artistic side, with a drawing application, colouring book, sandbox and a scratchboard.

Kids Music offers a playful, interactive space for children to play digital instruments along to tunes that a parent has uploaded to the device. In addition, Kids Media lets children watch only the content their parents make available.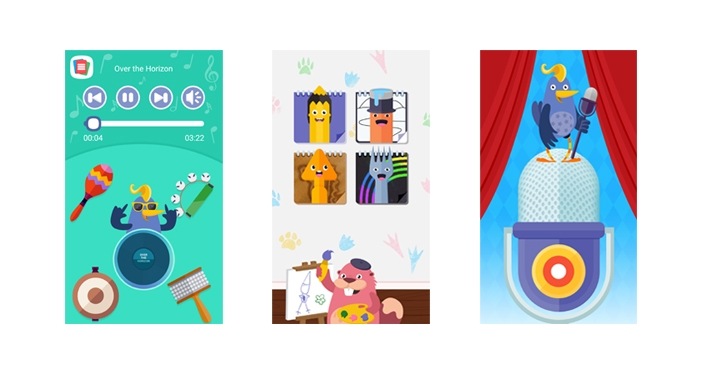 All these apps are available both in the Galaxy Apps store and Kids Store. They are free to download, appearing on the Kids Mode home screen. The first time they are downloaded, they appear as a cute gift ready to be unwrapped; tapping the gift opens it up to reveal the regular app icon.



Thousands More Apps and Media to Choose From
Aside from those native apps, Kids Mode is optimised for thousands of partner apps and media content around the world, which can be downloaded from the Kids Store. Samsung has focused on the quality of its apps through partnerships with the most popular content providers from around the world—including Lego and PBS Kids.

The Kids Store groups apps by three different age groups or by category, makes selecting for the appropriate apps easier for parents. Just a few taps on the Kids Store download the content, once again appearing on the phone's home screen as a cute gift. Some apps are educational, some functional and others are just fun, but there are plenty of options in the Kids Store for everyone.

Samsung introduced the tablet designed especially for children in 2013 and since then the company has continued to enhance both usability and content on smart devices for kids. Kids Mode was a major step forward in ensuring mobile devices were optimised for young people.

Now, in 2016, Samsung is showing its continued commitment to children through a newly launched Kids Mode. website, which offers more content and services than ever to parents around the world.
* Features and functions of Kid Mode can vary by device and region. This article was written using a Galaxy Note5.

SHARE
View the Range:
Smartphones
,
Tablets
Share this article:
Sign up to get updates delivered directly to your inbox
Submit a review
Samsung is a registered trademark of Samsung Electronics Co., Ltd. All other brand, product, service names and logos are trademarks and / or registered trademarks of their respective owners.
The above content is provided for information purposes only. All information included herein is subject to change without notice. Samsung Electronics is not responsible for any direct or indirect damages, arising from or related to use or reliance of the above content.
Source:
Samsung Newsroom
List
No Prev Page
No Next Page