Power and Design Reimagined with New Galaxy S7 and Galaxy S7 edge
Mar 03. 2016
With a great-looking design and powerful performance, the Galaxy S7 and S7 edge let users do more than ever.
Since the Galaxy S series of flagship smartphones was introduced in 2010, these devices have consistently led the way forward for mobile innovation, always pushing the boundaries of what's possible. Now the 5.1-inch Galaxy S7 and 5.5-inch Galaxy S7 edge once again have set new standards for the industry, in terms of design, technology and most importantly, what they can do for consumers.
Setting a New Standard in Style
Following in the footsteps of the Galaxy S6 series, the Galaxy S7 phones are again seamless, elegant devices of metal and glass, now using a process known as 3D Thermoforming to shape the curved glass backing. Combined with a thinner bezel, the ergonomic curves of the Galaxy S7 and S7 edge make for a more comfortable grip, feeling completely natural in one's hand. Even the tiny protrusion for the camera has been reduced to just 0.46 millimeters, so the phone is entirely streamlined.

Smartphones are an essential part of people's lives and Samsung is committed to keep working smarter even when faced with challenging environments. With a new water and dust resistant design, with an IP68 rating, the Galaxy S7 devices are guaranteed to function normally even when submerged more than a meter deep in water for up to 30 minutes.
In addition, Samsung has added a hybrid SIM card slot, capable of being used with a single SIM card with microSD or a dual SIM, giving the Galaxy S7 expandability up to 200 gigabytes of memory. But despite that added slot, the Galaxy S7 is still dust and water resistant, even without an added slot cover.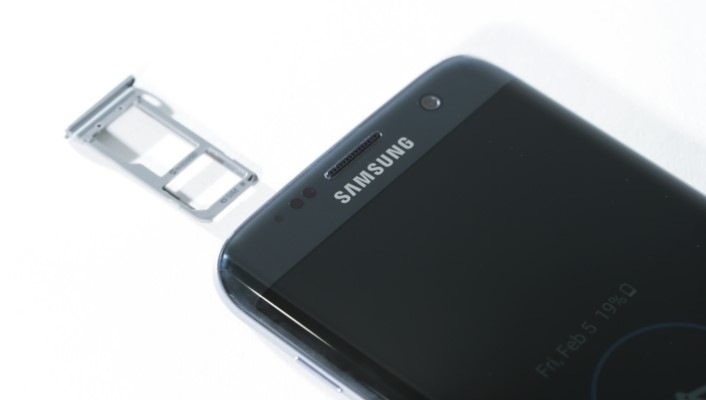 A UX Designed for People
Galaxy S7 models are stylish and seamless on the inside when it comes to the user experience (UX). Now running on Android 6.0 Marshmallow, the Galaxy S7 UX is as powerful as it is easy to use, with enhanced privacy and security functions and optimised controls and management for an efficient battery life. It also works with the ever-growing Galaxy ecosystem, like Samsung Pay, leading security solution Samsung KNOX and wearables like the Gear S2 and Charm lifestyle band.
The new super AMOLED Always-On Displays allow consumers to use their phones for longer and more conveniently than ever, without ever worrying about missing a call or important notification. With Always-On, users can constantly see the date and time and get all their notifications, without having the turn on the display and use up valuable battery life. With a variety of attractive designs for the display—date and time, calendars or personalised—Always-On gives consumers a truly seamless experience.
For the Galaxy S7 edge, with its dual curved sides, the Edge UX has also grown even more functional, with more personalisation abilities. Apps edge, Tasks edge, People edge and third-party panels together provide incredibly convenient shortcuts so any consumer can quickly and easily get to the apps and contacts that they most need, with just the flick of a finger. The newly added Tasks edge has added additional shortcuts for important tasks, as well as tools like a ruler, compass and flashlight.
Sharp Images Even in Low Light: The Essence of a Camera
To be a great camera, it needs to be able to capture that special moments, in sharp vivid detail and bright colours. Low-light photography in particular can be a challenge for many cameras, especially smartphone cameras. But with so many of the important events in our lives taking place in low-light conditions—like dining in nice restaurants with loved ones or going out at night with friends—this really is an essential task for cameras, so they can fully document our lives.
Galaxy S6 (left) vs Galaxy S7 (right)
Galaxy S6 (left) vs Galaxy S7 (right)
With aperture F1.7 lens cameras on the front and rear and larger pixels on the image sensor—increasing 56 percent from the Galaxy S6—the new Galaxy S7's camera is able to capture brighter and sharper images, even in low-light conditions.

In addition, the Galaxy S7 has the first
Dual Pixel camera
sensor for smartphone, ensuring incredibly fast and accurate autofocus even in low light conditions. With Dual Pixel technology, every pixel is used for phase detection—as opposed to less than 1 percent of pixels for most smartphone cameras —and two photodiodes capture the light independently, making autofocus time more than twice as fast as the Galaxy S6.
The new camera also has several new features that can create new and fun experiences. For example, the Motion Panorama feature brings the ability to capture motion to traditional panoramic photos, creating a new kind of immersive experience. Hyperlapse makes it easy for anyone to generate stunning time-lapse, tracking videos. Even selfies are better and brighter now, thanks to features like Selfie Flash and Spotlight.
Optimised for Gaming
Mobile gaming is a market that is constantly growing and the new Galaxy S7 and S7 edge are the ultimate mobile gaming devices. These smartphones are optimised for the best gaming performance, which means graphics run smoother and users can enjoy a with longer playing time. The cooling system in these phones, with a very thin thermal spreader, keeps devices cool, so gamers can focus on winning.
Also improving usability are features like Game Launcher. Game Launcher allows for additional power savings, taking screenshots during games, turning off non-game alerts and tracking records and game rankings.
The Galaxy S7 phones are also the first to use Vulkan API, which can significantly reduce CPU loads. Vulkan API is the industry's first that supports mobile devices as well as desktop and consoles, giving users the ability to play high-performance, graphics-intensive games for even longer.
Enhanced Hardware Across the Board
The Galaxy S7 and S7 edge feature more power and functionality, with the most advance hardware yet. Both models have significantly larger batteries—the Galaxy S7 is 3,000 mAh and the Galaxy S7 edge is 3,600 mAh each model now has enough power to let people watch an entire 13-episode season of their favourite TV show on a single charge. Consumers can now concentrate on using their phones longer without worrying about battery life.
Additionally, the wired and wireless battery charging have also improved, so consumers can power up and keep using their phones faster and easier.
Both CPUs and GPUs features in smartphones have improved, along with RAM that has been expanded to 4 GB, the Galaxy S7 and S7 edge have the speed and robustness to take performance to the next level.
Breaking Down All the Barriers
With a great-looking design and powerful performance, the Galaxy S7 and S7 edge allow users to do more than ever. In every way, these new Galaxy smartphones have broken past the old limits to create the ultimate mobile device experience—transforming technology so people can transform their lives.

Galaxy S7 and S7 edge will hit the shelves starting March 11. Pre-orders will begin in a matter of days.

*All functionality features, specifications and other product information provided in this document including, but not limited to, the benefits, design, pricing, components, performance, availability, and capabilities of the product are subject to change without notice or obligation.
View the Range:
Smartphones
Share this article:
Sign up to get updates delivered directly to your inbox
Submit a review
Samsung is a registered trademark of Samsung Electronics Co., Ltd. All other brand, product, service names and logos are trademarks and / or registered trademarks of their respective owners.
The above content is provided for information purposes only. All information included herein is subject to change without notice. Samsung Electronics is not responsible for any direct or indirect damages, arising from or related to use or reliance of the above content.
Source:
Samsung Newsroom
List
No Prev Page
No Next Page