Samsung Introduces the Next Generation of S Health, Expands Compatibility to Other Android Devices
Nov 16. 2015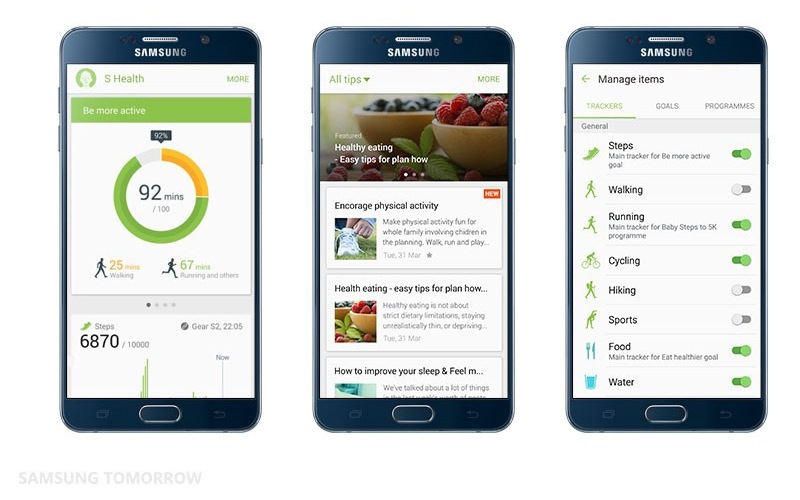 Samsung Electronics has launched the next generation of the S Health app, which provides users with more interactive and easy-to-use health functions.
Samsung Electronics has launched the next generation of the S Health app, which provides users with more interactive and easy-to-use health functions. The updated app will also include compatibility with non-Samsung Android devices.

S Health version 4.5 is an all-in-one companion for your healthy lifestyle. With the new S Health, users can track their everyday activities, get coaching to reach daily goals, and improve their fitness with curated programs.

With S Health, users can set goals, such as "be more active," "eat healthier," or "feel more rested," and receive tips and rewards for a more interactive experience. Specific programs can also be selected to help accomplish fitness milestones, from a beginner's first 5 KM to an avid runner's 10 KM time goal including voice guidance to keep runners at their target pace.

Built-in sensors in the Samsung Galaxy and Gear devices will help track heart rate, steps, walking, running, cycling, hiking, sports, sleep, food, water, caffeine, weight, blood pressure, blood glucose and Sp02 so that users can easily get a comprehensive overview of their health and fitness status.

S Health supports seamless connection with Samsung's wearables and smartphones starting from the Samsung Galaxy S3 and now supports non-Samsung Android devices as well.

What's new in S Health version 4.5:
•Dashboard provides a quick summary of daily goals and activities. Dashboard is customisable, so users can easily set own goals, check progress, and see latest tracked values quickly and easily at a glance.
• Added health tips* based on personalisable user interest categories
• Specialised tracker features for select sports such as pace-setter, route selector, exercise summary and power saving mode
• Easier, simpler and more intuitive ways to share workouts though social networks
o Add various social badges and routes on the share screen
• Added support for more devices**
o Non-Samsung Android devices
o All Samsung smartphones since Galaxy S3

*Health tips now available in UK, US and Korea
**Tablets and some mobile devices may not be supported. Some functions may not be available depending on regions/service providers/devices. S Health version 4.5 requires Android OS 4.4 or above.
Availability
The S Health app and widget are available to all owners of Samsung flagship devices including Galaxy S6 with Android 5.0. The app is currently available in 150 countries and supports local languages in 80 countries.

For more details about S Health v4.5, please visit
http://shealth.samsung.com/
View the Range:
Smartphones
Share this article:
Sign up to get updates delivered directly to your inbox
Submit a review
Samsung is a registered trademark of Samsung Electronics Co., Ltd. All other brand, product, service names and logos are trademarks and / or registered trademarks of their respective owners.
The above content is provided for information purposes only. All information included herein is subject to change without notice. Samsung Electronics is not responsible for any direct or indirect damages, arising from or related to use or reliance of the above content.
Source:
Samsung Newsroom
List
No Prev Page
No Next Page