The Chef Collection Refrigerator: For Home Cooks with a Passion for Freshness
Nov 09. 2015
The new Chef Collection refrigerator, the RF9900H, was created with the growing trend towards fine food in mind.
The new Chef Collection refrigerator, the RF9900H, was created with the growing trend towards fine food in mind. In contemporary foodie culture, people have a passion for great food made with great ingredients more than ever before. With this comes a desire to entertain others at home with fine food and drink, to cook from scratch using the freshest, top-quality meats, fish and produce, and to learn how to cook great tasting dishes using modern techniques.
The Chef Collection refrigerator was designed for the home chef, with a high-powered yet effective cooling system, a more efficient layout, great features and a stylish exterior.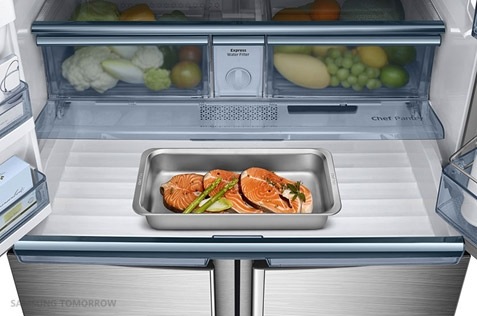 When Samsung designers created the interior, they did so with input from the world-famous culinary masters of the Club des Chefs. The results can be seen with features like the hygienic, stainless steel Chef Pantry, which keeps meat and fish chilled at optimal temperatures so that food stays fresher longer without losing its flavor. The Chef Basket is for keeping fruit and vegetables fresh at optimal temperatures and humidity levels.
The great internal layout has full extension drawers in the freezer that were modeled after those found in professional restaurant kitchens. The drawers are not only strong enough to hold heavy items; they also open all the way and close smoothly. Tilting door bins help to store food products of all sizes in the door guard of the freezer. The tilting system allows items to be put in and taken out more easily. The whole refrigerator is lit by pillar lighting, four LED tracks that ensure each corner of the interior is well-lit. Bins and shelves are made from clear crystalline material, and are both durable and stylish. The design makes organising and accessing food easier than ever before.
But one of the best advantages of the RF9900H is its versatility. The premium Triple Cooling System with Precise Chef Cooling provides precise temperature control in all three zones, using two digital inverter compressors and three evaporators, an industry first. Digital inverter compressors are quieter and more energy efficient than standard compressors. The bottom left compartment of the refrigerator is the freezer, while the bottom right compartment, called the Fridge-in-Freezer, can be converted to either a freezer or fridge depending on your food storage needs. You can also choose from four temperature settings: fridge, chilled, soft-freeze and frozen.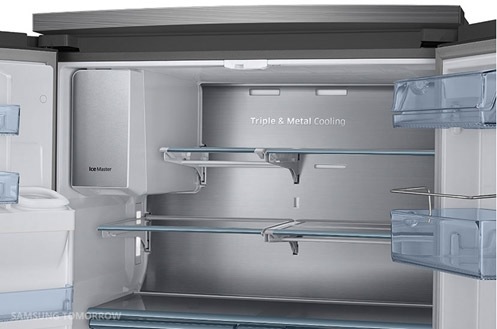 One of the major insights from the Club des Chefs, which was obtained from the results of numerous workshops held in Korea and France during the concept and development phase, was that precise temperature control with a minimal deviation is a major key to keeping ingredients fresher for longer. A proper humidity level should also be controlled.

The powerful cooling system, combined with Triple Metal Cooling at the back of each compartment, and the vacuum insulation panel ensure a steady, constant temperature in each zone for optimal cooling. The cooling is also evenly distributed throughout the compartment.

Any chef knows that great tasting dishes begin with fresh ingredients. By combining the knowledge and expertise of Samsung's designers and engineers with the input of some of the world's greatest culinary minds, the result is an industry leading refrigerator that would well serve any home chef.

*All functionality features, specifications and other product information provided in this document including, but not limited to, the benefits, design, pricing, components, performance, availability and capabilities of the product are subject to change without notice or obligation.
View the Range:
Refrigerators
Share this article:
Sign up to get updates delivered directly to your inbox
Submit a review
Samsung is a registered trademark of Samsung Electronics Co., Ltd. All other brand, product, service names and logos are trademarks and / or registered trademarks of their respective owners.
The above content is provided for information purposes only. All information included herein is subject to change without notice. Samsung Electronics is not responsible for any direct or indirect damages, arising from or related to use or reliance of the above content.
Source:
Samsung Newsroom
List
No Prev Page
No Next Page