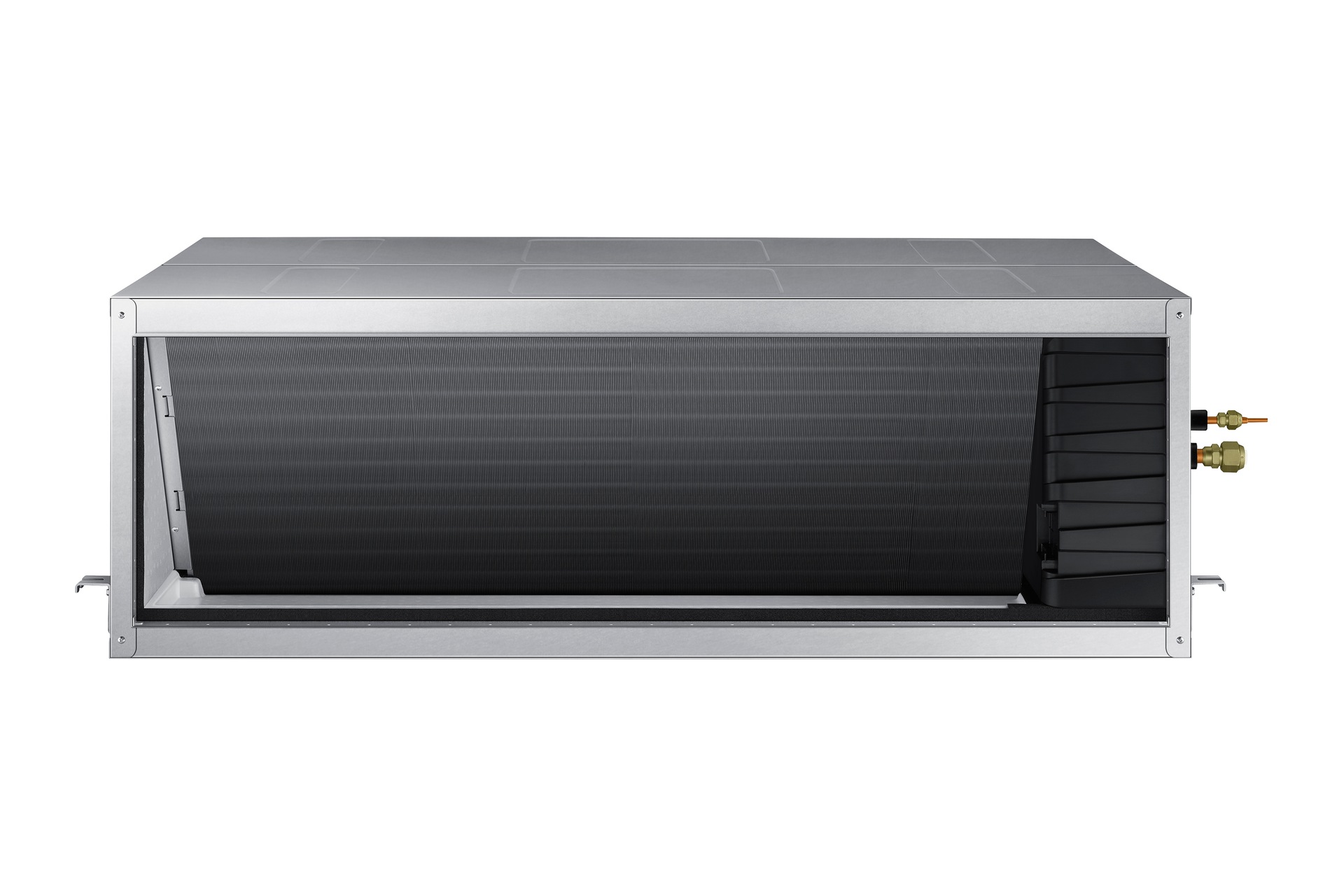 AM224JNHFKH/EU
DVM, High Static Pressure Duct, Heat Pump R410a, Indoor Unit
Auto ESP Adjustment
3-way access for easy maintenance
Easy Tuning
Automatically more comfort & performance
The Auto ESP Adjustment function efficiently and automatically optimises the air volume and pressure and minimises noise, for maximum comfort in any situation. The ESP can also be easily adjusted by remote control.
3-way access for easy maintenance
Can be accessed from three directions – top, side and bottom – using an easy to remove Slide Fit cover. As a result, it's much easier to maintain wherever it's installed in – saving you time and money.
Easily fine-tune for optimised comfort
Easy Tuning provides the delicate control needed for optimum performance on any occasion. You can fine-tune the power of its operation to suit your level of activity, while also minimising noise and saving energy.
World-class energy efficiency & savings
Its advanced technologies, including a Sirocco Fan, Flat Micro Heat Exchanger and TBR Compressor, deliver outstanding energy efficiency to save you money, earning it a Global Top-level EER (Energy Efficiency Ratio).
Eliminates viruses for healthier air
Virus Doctor* uses S-Plasma ion technology to eliminate 99% of contaminants, bacteria and viruses** in the air. It's also approved by the British Allergy Foundation (BAF) for its effectiveness in removing allergens.
Control it anytime and anywhere
Using an App* on your smartphone the optional Smart Wi-Fi function lets you remotely turn it on and off, select the operating mode and temperature, schedule when to start and stop and control other functions.
Durable, efficient and silent operation
Samsung's Digital Inverter Motor is quieter and much more durable and energy efficient. Unlike conventional motors, its electrical-type operation eliminates friction, as there are fewer moving parts.
Quieter and more reliable performance
A Twin BLDC Rotary compressor ensures a gentler and more reliable performance. It reduces vibration by 75% and makes less noise than conventional compressors. It delivers guaranteed reliability up to 3.2 MPa at 65 °C.
More efficiency, less space & weight
The FME / FMC (Flat Micro-channel Evaporator / Condenser) is highly efficient, delivering a 30% increase in efficiency compared to conventional machines. Its extremely compact and lightweight design is also 25% smaller.
Easy to clean, anti-bacterial filter
Unlike conventional filters, the Easy Filter is located outside, on top, so it can easily be taken out, cleaned and put back. Its anti-bacterial coating filters dust, dangerous airborne contaminants and allergens.
Specification
Features
Model Name

Indoor Unit

AM224JNHFKH/EU

Power Supply (Indoor Unit) [Φ, #, V, Hz]
System
Capacity

Cooling [kW]

22.4 

Cooling [Btu/h]

76,400 

Heating [kW]

25 

Heating [Btu/h]

85,300 

Power Input (Nominal)

Cooling 1) [W]

530 

Heating 2) [W]

530 

Current Input (Nominal)

Cooling 1)

2.9 A

Heating 2)

2.9 A

Fan

Type

Sirocco Fan

Motor (Output) [W]

630 x 1 

Air Flow Rate (High / Mid / Low) [CMM]

72 / 61 / 50 

Air Flow Rate(High/Mid/Low)[L/S]

1,200.24 / 1,016.87 / 833.5

External Static Pressure (Min / Std / Max) [mmAq]

5 / 7.34 / 20 

External Static Pressure (Min / Std / Max) [Pa]

50 / 72 / 200 

Piping Connections

Liquid Pipe (Φ, mm)

9.52 

Liquid Pipe (Φ, inch)

3/8"

Gas Pipe (Φ, mm)

19.05 

Gas Pipe (Φ, inch)

3/4"

Drain Pipe (Φ,mm)

VP25 (OD25, ID 20) 

Field Wiring

Power Source Wire

1.5 ~ 2.5

Transmission Cable

0.75 ~ 1.5

Refrigerant

Type

R410A (Fluorinated greenhouse gas)

Control Method

EEV INCLUDED

Sound

Sound Pressure (High / Mid / Low) [dB(A)]

44 / 40 / 36 

Sound Power

81 dBA

External Dimension (Indoor Unit)

Net Weight (kg)

82.5 

Shipping Weight (kg)

92 

Net Dimensions (WxHxD) (mm)

1,350 x 910 x 450 

Shipping Dimensions (WxHxD) (mm)

1,612 x 984 x 519 

Additional Accessories

Drain Pump

MDP-G075SP, MDP-G075SQ
* Key feature may differ from Key Spec.
Manual Download
DVM, High Static Pressure Duct, Heat Pump R410a, Indoor Unit (AM224JNHFKH/EU)
Manuals

2019.01.14

User Manual ver 02

(ENGLISH)

2019.01.14

User Manual ver 02

(FRENCH)

2019.01.14

User Manual ver 02

(PORTUGUESE)

2016.04.28

Safety Guide ver 1.0

(ENGLISH, DUTCH, FRENCH, GERMAN, GREEK, HUNGARIAN, ITALIAN, POLISH, PORTUGUESE, RUSSIAN, SPANISH)