Slim and Smart Design
At just 199 mm thick, this is the slimmest air conditioner on the market. It provides optimal performance with an elegant and compact design. The smart Clean Panel is innovative and unique, preventing dust from accumulating on the unit and in the room. With less dirt and fewer blockages, businesses benefit from reduced cleaning and maintenance costs. It is possible to control the system via an intuitive black touchscreen display, which enables users to get the very best results from this product.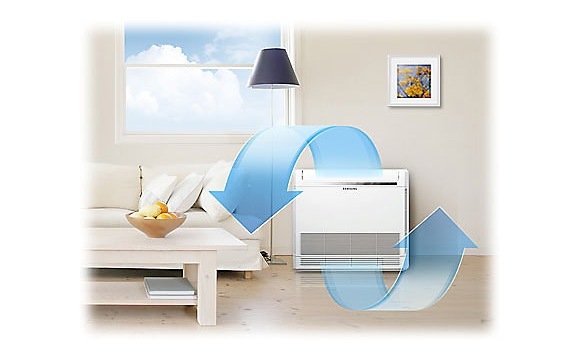 2 Way Air Outlets
By having two separate air outlets for cooling and heating, the Console unit ensures that every inch of space achieves the desired temperature. Warm air is expelled from the bottom air outlet, helping to spread warmth evenly throughout the room. With these innovative two-way air outlets, businesses are able to enjoy a more comfortable, pleasant environment.
Silent Operation
The Console air conditioning unit is not only powerful and efficient, but it also operates as quietly as possible at just 23 dB. There are four different operating modes, giving users a choice between high, medium, low and silent. Businesses will benefit from the physical comfort of optimum temperature as well as from the advantages of a peaceful, quiet workspace.
Specification
Features
Model Name
Power Supply (Indoor Unit) [Φ, #, V, Hz]
System
Capacity

Cooling [kW]

3.5 

Cooling [Btu/h]

11,900 

Heating [kW]

3.8 

Heating [Btu/h]

13,000 

Power Input (Nominal)

Cooling 1) [W]

35 

Heating 2) [W]

35 

Current Input (Nominal)

Cooling 1)

0.29 A

Heating 2)

0.29 A

Fan

Type

Turbo Fan

Motor (Output) [W]

37 x 1 

Air Flow Rate (High / Mid / Low) [CMM]

10.5 / 9.3 / 8.2 

Air Flow Rate(High/Mid/Low)[L/S]

175 / 155 / 136.67 

Piping Connections

Liquid Pipe (Φ, mm)

6.35 

Liquid Pipe (Φ, inch)

1 / 4" 

Gas Pipe (Φ, mm)

9.52 

Gas Pipe (Φ, inch)

3 / 8" 

Drain Pipe (Φ,mm)

VP18 (OD 19, ID 16) 

Field Wiring

Power Source Wire

1.5 ~ 2.5 

Transmission Cable

0.75 ~ 1.5 

Refrigerant

Type

R410A 

Control Method

EEV (External)

Sound

Sound Pressure

42 / 35 / 32 dBA

Sound Power

59 dBA

External Dimension (Indoor Unit)

Net Weight (kg)

15.2 

Shipping Weight (kg)

20.3 

Net Dimensions (WxHxD) (mm)

720 x 199 x 620 

Shipping Dimensions (WxHxD) (mm)

805 x 297 x 705 
* Key feature may differ from Key Spec.
Manual Download
FJM, Outside Air Processing Duct, Indoor Unit (MH035FJEA)
Manuals

2018.02.03

User Manual ver 10

(ENGLISH)

2018.02.03

User Manual ver 10

(FRENCH)

2018.02.03

User Manual ver 10

(PORTUGUESE)

2015.09.21

Safety Guide ver 1.0

(ENGLISH, FRENCH, GERMAN, GREEK, ITALIAN, PORTUGUESE, SPANISH)