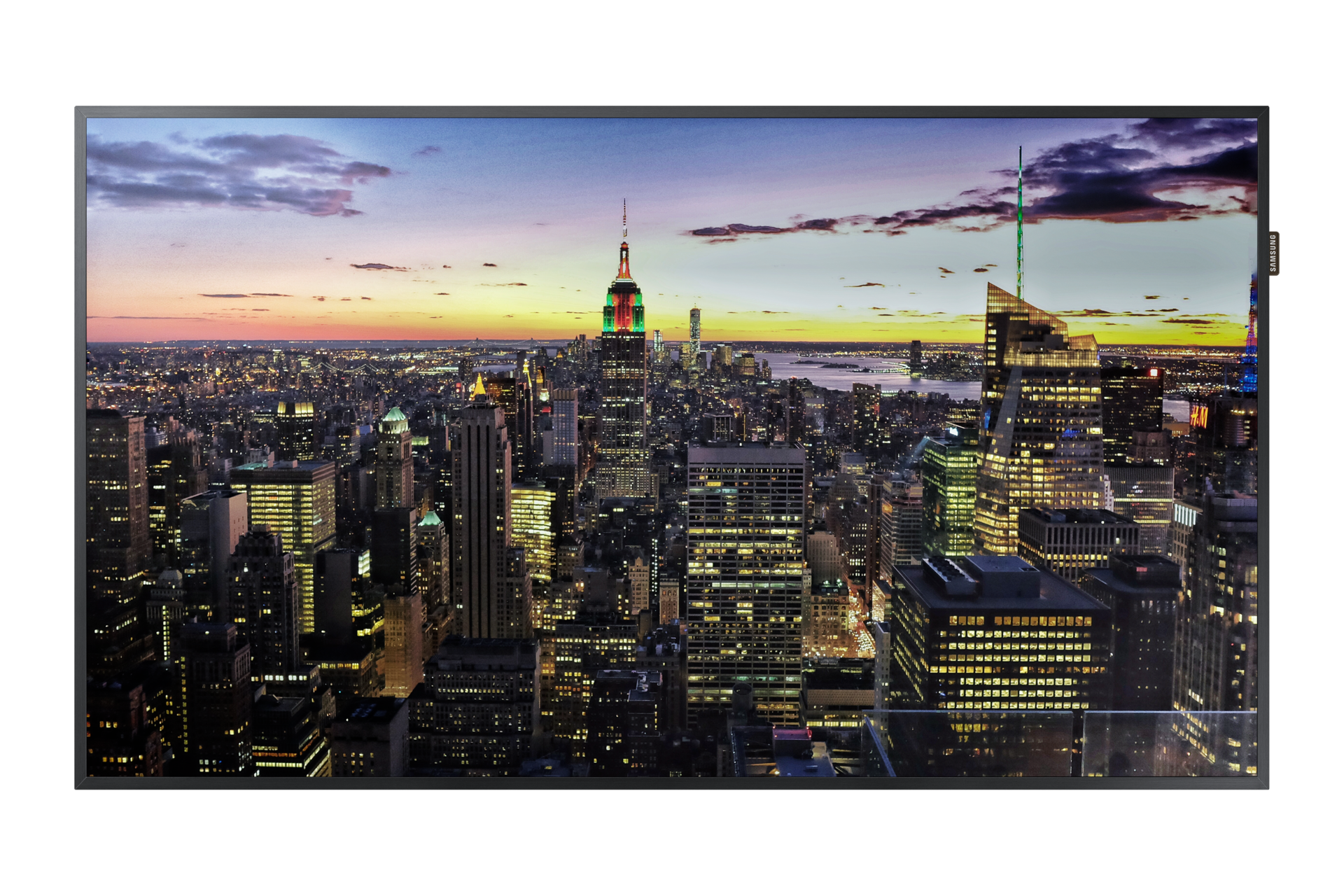 LH55QMHPLGC/EN
Professional Display QMH Series 55"
UHD picture quality
Ultra-realistic detail and clarity
Powerful SSSP 5.0 and TIZEN 3.0
Deliver Impactful Content through an All-Inclusive Display
Samsung's QMH Series displays deliver content with visual impact while also improving operational efficiency. Through UHD picture quality, the displays foster an inviting and memorable viewing environment. Additionally, these displays undergo thorough testing and certification to ensure round-the-clock performance. Backed by the powerful SSSP 5.0 and TIZEN 3.0 operating system, the displays feature a host of business-ready functionalities while also protecting business data through enhanced security.
Enliven Commercial Content with UHD Picture Quality
Featuring state-of-the-art UHD picture quality, the QMH Series displays empower users to deliver more impactful messaging. Each QMH Series display showcases content with four times the ultra-realistic detail and clarity of standard alternatives, with a wider screen offering more space for imagery. When combined with performance features, such as portrait mode, this next-level presentation makes the QMH Series ideal for any commercial setting.
Enjoy Greater Operational Flexibility with the TIZEN OS
The QMH Series displays are among the first in Samsung's lineup to feature the upgraded SSSP 5.0, backed by the powerful TIZEN 3.0 operating system. Through this integration, users receive a host of business-critical capabilities, ranging from secure in-platform application development to remote management. Not only do the QMH Series displays feature advanced graphic presentation, but the display also allows users to deliver targeted real-time messaging through the Beacon management technology.
Protect Business and Customer Data through Extensive Security
For government, financial and other information-based businesses, data protection is paramount for efficient operations. Samsung's QMH Series displays accommodate this need through intense security measures. The embedded TIZEN 3.0 OS offers defense across the application, platform and system layers, restricting file and data access to an exclusive user base.
Ensure Continuous Performance in any Condition
A durable design enables the QMH Series displays to deliver content around the clock without interruption, regardless of the surrounding conditions. Prior to distribution, the QMH Series displays undergo rigorous IP5x certification to deter any potential impact from dust exposure. In turn, transportation hubs and other settings that face a host of natural and man-made variables can implement the displays without an external enclosure.
Achieve Brilliant, Glare-Free Picture Quality
Samsung's QMH Series displays ensure readability in any environment through a rigid non-glare front panel. This enhanced design reduces reflection and maintains clear visibility for featured text and imagery. As a result, indoor and outdoor businesses who face frequent exposure to bright natural or ambient lighting can deploy compelling content without having to worry about interference.
Configure Multiple Displays Seamlessly at Optimal Connectivity
An upgrade on more limited alternatives, the QMH Series displays support a range of content and elevate overall display performance through both HDMI 2.0 and DP 1.2 port connectivity. This versatility ensures a consistent 60 Hz. refresh rate and optimal clarity regardless of the source. Additionally, users can leverage the HDMI 2.0 option to configure multi-display UHD daisy chains up to 2x2 in size.
Specification
Display

Diagonal Size

55"

Panel Type

Edge LED, 60Hz

Resolution

3,840 x 2,160

Pixel Pitch (HxV)

0.105 x 0.315 (mm)

Brightness (Typical)

500

Contrast Ratio

4700:1

Viewing Angle (H/V)

178/178

Response Time

8ms(Typ.)

Colour Gamut

72%

Glass Haze

25%

H-Scanning Frequency

30 ~ 81kHZ

Maximum Pixel Frequency

594MHz

V-Scanning Frequency

48 ~ 75HZ

Dynamic Contrast Ratio

Mega

Connectivity

HDMI In

2

DP In

Yes

DVI In

1

Tuner In

N/A

USB

2

Component In

N/A

Composite In

N/A

RGB In

N/A

Audio In

Yes

Audio Out

Stereo Mini Jack

Video Out

Yes

Power Out

N/A

RS232 In

Yes

RS232 Out

Yes

RJ45 In

Yes

RJ45 Out

No

IR In

Yes

HDBaseT In

No

WiFi

Yes

3G Dongle

N/A

Power

Power Supply

AC100-240V 50/60Hz

Power Consumption (Off Mode)

0.00 W

Power Consumption (On Mode)

165

Power Consumption (Sleep Mode)

0.5W

Dimension

Set Dimension (WxHxD)

1335 x 812 x 182 mm

Package Dimension (WxHxD)

1335 x 812 x 182 mm

Weight

Set Weight

N/A

Package Weight

22.20 kg

Mechanical Specification

VESA Mount

400 x 400 mm

Bezel Width

11.0 (Top/Side), 12.0 (Bottom)

Frame Material

Non-Glossy

Operation Conditions

Temperature

0℃~ 40℃

Humidity

10~80%

General Feature
Optional Feature

Mount

WMN4270SD

Stand

STN-L4655E

Internal Player (MagicInfo)

MagicInfo Daisychain Videowall Support

Yes

Eco

Energy Efficiency Class

A

Certification and Compliance

EMC

FCC (USA) Part 15, Subpart B Class A CE (Europe) : EN55022:2006+A1:2007 EN55024:1998+A1:2001+A2:2003 VCCI (Japan) : VCCI V-3 /2010.04 Class A KCC/EK (Korea) : Tuner : KN13 / KN20 Tunerless : KN22 / KN24 BSMI (Taiwan) : CNS13438 (ITE EMI) Class A / CNS13439 (AV EMI) / CNS14409 (AV EMS) / CNS14972 (Digital) C-Tick (Australia) : AS/NZS CISPR22:2009 CCC(China) :GB9254-2008 GB17625.1-2012 GOST(Russia/CIS) : GOST R 51317 Series, GOST 22505-97 EN55022:2006+A1:2007 EN55024:1998+A1:2001+A2:2003

Safety

CB (Europe) : IEC60950-1/EN60950-1 CCC (China) : GB4943.1-2011 PSB (Singapore ) : PSB+IEC60950-1 NOM (Mexico ) : NOM-001-SCFI-1993 IRAM (Argentina ) : IRAM+IEC60950-1 SASO (Saudi Arabia ) : SASO+IEC60950-1 BIS(India) : IEC60950-1 / IS13252 NOM(Mexico) : Tuner : NOM-001-SCFI-1993 Tunerless : NOM-019-SCFI-1998 KC(Korea) : K 60950-1 EAC(Russia) : EAC+IEC60950-1 INMETRO(Brazil) : INMETRO+IEC60950-1 BSMI(Taiwan) : BSMI+IEC60950-1 RCM(Australia) : IEC60950-1/AS/NZS 60950-1 UL(USA) : cUL60950-1 CSA (Canada) : cUL TUV (Germany) : CE NEMKO (Norway) : CE
Features and specifications are subject to change without prior notification and may vary per country, please check in store for more details. Images are used for illustrative purposes only.

Manual Download
Professional Display QMH Series 55" (LH55QMHPLGC/EN)
Manuals

2018.08.07

User Manual ver 03

(ENGLISH)

2018.08.07

User Manual ver 03

(ARABIC)

2018.08.07

User Manual ver 03

(FRENCH)

2018.08.07

User Manual ver 03

(PORTUGUESE)

2017.09.25

Quick Guide ver 00

(ENGLISH, BULGARIAN, CROATIAN, CZECH, DANISH, DUTCH, ESTONIAN, FINNISH, FRENCH, GERMAN, GREEK, HUNGARIAN, ITALIAN, LATVIAN, LITHUANIAN, NORWEGIAN, POLISH, PORTUGUESE, ROMANIAN, SERBIAN, SLOVAK, SLOVENIAN, SPANISH, SWEDISH, TURKISH)

2017.08.08

Quick Guide ver 00

(ENGLISH, ARABIC, FRENCH, PORTUGUESE, VIETNAMESE)

2018.05.02

Install Guide(MagicInfo Express 2 Setup for Windows ) ver 3.0 1011.8

(KOREAN, ENGLISH, ARABIC, BULGARIAN, CHINESE, CHINESE, CROATIAN, CZECH, DANISH, DUTCH, DUTCH(BEL), ESTONIAN, PERSIAN, FINNISH, FRENCH, FRENCH(FRANCE), GERMAN, GREEK, HEBREW, HUNGARIAN, INDONESIAN, ITALIAN, LATVIAN, LITHUANIAN, NORWEGIAN, POLISH, PORTUGUESE, ROMANIAN, RUSSIAN, SERBIAN, SLOVAK, SLOVENIAN, SPANISH, SWEDISH, THAI, TURKISH, UKRAINIAN, VIETNAMESE)

2018.05.02

Install Guide(MagicInfo Express 2 Setup for MAC) ver 3.0 1011.8

(KOREAN, ENGLISH, ARABIC, BULGARIAN, CHINESE, CHINESE, CROATIAN, CZECH, DANISH, DUTCH, DUTCH(BEL), ESTONIAN, PERSIAN, FINNISH, FRENCH, FRENCH(FRANCE), GERMAN, GREEK, HEBREW, HUNGARIAN, INDONESIAN, ITALIAN, LATVIAN, LITHUANIAN, NORWEGIAN, POLISH, PORTUGUESE, ROMANIAN, RUSSIAN, SERBIAN, SLOVAK, SLOVENIAN, SPANISH, SWEDISH, THAI, TURKISH, UKRAINIAN, VIETNAMESE)

2016.09.09

Install Guide(MagicInfo Express 2 User Manual) ver 2.6_1.2

(ENGLISH, ARABIC, BULGARIAN, CROATIAN, CZECH, DANISH, DUTCH, ESTONIAN, PERSIAN, FINNISH, GREEK, HEBREW, HUNGARIAN, INDONESIAN, LATVIAN, LITHUANIAN, NORWEGIAN, ROMANIAN, SERBIAN, SLOVAK, SLOVENIAN, UKRAINIAN, VIETNAMESE)

2016.09.09

Install Guide(MagicInfo Express 2 User Manual) ver 2.6_1.2

(FRENCH)

2016.09.09

Install Guide(MagicInfo Express 2 User Manual) ver 2.6_1.2

(PORTUGUESE, PORTUGUESE(Brazil), PORTUGUESE(European))