Samsung Galaxy A 2016 Edition
May 04. 2016
Add style to your life with the new Samsung Galaxy A-series range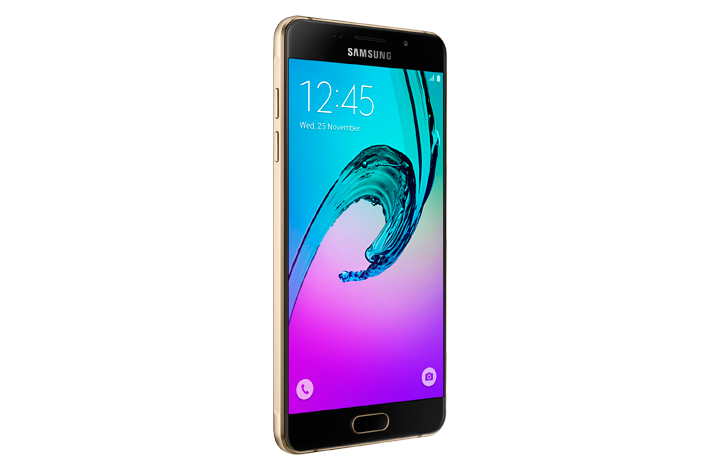 JOHANNESBURG, South Africa – 04 May, 2016 – Samsung Electronics South Africa is opening up a world of possibilities for the youth and price-sensitive consumers with the launch of the new Galaxy A-series (2016). The new Galaxy A3, A5 and A7 will allow consumers to express themselves through their reasonably priced smartphones by easily adding style and personality to their look and lives.
This stylish Galaxy A-series range of phones will make consumers' life more convenient and exceptional with a long-lasting battery, advanced camera, improved processor and faster network speed. "With its perfect fusion of metal and glass design and range of cutting-edge features, it really is a device to be proud of.
The smartphones feature the latest super Amoled displays, which make multitasking a breeze and thanks to its latest Exynos Processors and increased RAM users can seamlessly shuffle between games, songs, apps and movies. The Galaxy A-series phones are the ideal partners for go getters and those forging a path to their perfect life.
"The new Galaxy A-series is not only stylish, it is powered to multitask and perform the tasks the youth and millennials use in their active daily lives better and faster than ever before," said Craige Fleischer, Director of Integrated Mobility at Samsung Electronics South Africa. "The enhanced Octa Core processors in the A7 and A5 and the Quad Core processor powering the A3 makes ease of any and all work that needs attention."
Consumers can enjoy extended usage with the device's high-capacity battery and, with additional fast charging capability, will always be connected. The increased battery performance for the new A7, A5 and A3 are 27%, 26% and 21% respectively. Samsung's latest high-speed charging technology also drastically reduces charging time, which means that even when running low on battery life, users will be up and running much sooner and always on the go. These ground-breaking smartphones help avoid those potential moments when losing connection, running out of space or battery power leaves you out of the know.
The Galaxy A-series will allow youths to take 'selfies' to the next level with a 120o Wide Angle feature on the camera, allowing them to include more friends or scenery in their shot. The on-board camera of the A5 and A7 further enables users to capture blur-free images through Optical Image Stabilisation (OIS) technology. An f/1.9 aperture makes taking better quality images in low-lit areas possible. In essence, the image capturing is extra-ordinary with the 13MP rear and 5 MP front camera. In addition, the Palm Gesture function surpasses ordinary smartphone cameras as it allows users to snap selfies with the wave of a hand.
"We continue to take all users and their specific needs and requirements into account when developing devices and we did the same with the A-series of smartphones. These phones are perfect for the youth, millennials and cost conscious consumers that wants a stylish handset of high quality and exceptional functionality that is affordable," concludes Fleischer.
Samsung Galaxy A3/A5/A7 specifications:
Specification

Samsung Galaxy A7 (2016)

Samsung Galaxy A5 (2016)

Samsung Galaxy A3 (2016)

Display

5.5" FHD Super AMOLED

5.2" FHD Super AMOLED

4.7" HD Super AMOLED

Network

LTE Cat.6

LTE Cat.6

LTE Cat.4

Dimension (mm)

151.5 x 74.1 x 7.3

144.8 x 71.0 x 7.3

134.5 x 65.2 x 7.3

Camera

13 MP OIS (F1.9)
+ 5 MP (F1.9)

13 MP OIS (F1.9)
+ 5 MP (F1.9)

13 MP (F1.9)
+ 5 MP (F1.9)

Processor

1.6 GHz Octa Core

1.6 GHz Octa Core

1.5 GHz Quad Core

RAM

3 GB

2 GB

1.5 GB

Storage

16 GB

16 GB

16 GB

Card Slot

MicroSD Slot
(Up to 128 GB)

MicroSD Slot
(Up to 128 GB)

MicroSD Slot
(Up to 128 GB)

Battery

3,300 mAh

2,900 mAh

2,300 mAh

Others

Metal + Glass CMF
MST
Finger Scanner
Fast Charging

Metal + Glass CMF
MST
Finger Scanner
Fast Charging

Metal + Glass CMF
*All functionality, features, specifications and other product information provided in this document including, but not limited to, the benefits, design, pricing, components, performance and availability.
About Samsung Electronics Co., Ltd.
Samsung Electronics Co., Ltd. inspires the world and shapes the future with transformative ideas and technologies. The company is redefining the worlds of TVs, smartphones, wearable devices, tablets, cameras, digital appliances, printers, medical equipment, network systems and semiconductor and LED solutions. For the latest news, please visit the Samsung Newsroom at news.samsung.com.
For further information, please contact: