Samsung GALAXY S5 Wins 'Product of the Year 2015' in Mobile Phones Category
Feb 09. 2015
Consumers choose innovative technology to place GALAXY S5 at the top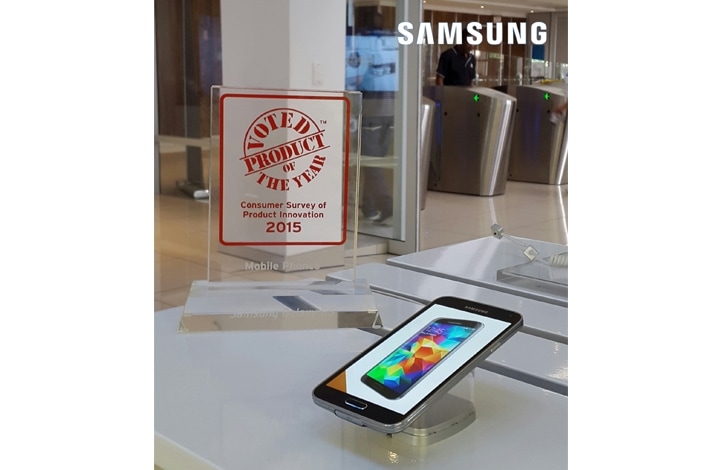 JOHANNESBURG, South Africa – February 09, 2015 – Samsung Electronics Co., Ltd. has been awarded 'Product of the Year' (PoY) for its flagship smartphone, the Samsung GALAXY S5. The PoY survey is the world's largest consumer-voted award for product innovation. The POY has been in existence for 30 years in close to 40 countries and are dedicated to helping consumers identify exceptional innovation.
The GALAXY S5 won PoY in the Mobile Phone category as a result of a multi-step process, which started with the judging panel reviewing the product. The second step was managed by Nielsen, the worlds' largest research company, which facilitated door-to-door research with consumers in over 5,000 South African homes between October and December 2014. Consumers were questioned on a number of factors to establish both their understanding of the product and its appeal to users.
The results showed that 86.8% of respondents said the smartphone had massive appeal, while 96.7% of those who had used the device were satisfied with its features. "We strive to continuously innovate our product offering to ensure we deliver the best mobile communication experience for our customers. We are truly honoured by this prestigious recognition from PoY, which echoes the positive reception the GALAXY S5 has received from our customers," said Justin Hume, Director of Product Marketing, Integrated Mobility at Samsung Electronics SA.
This is the second GALAXY S5 award in recent months, with the device being hailed as a leading eco-friendly smartphone and receiving a total of six environmental certifications strengthening Samsung's foothold as a leader in developing eco-friendly solutions. Recognition was received globally, with accolades from the United States, Russia, Korea, United Kingdom and Japan.
"At Samsung, we recognise that in order to be successful, we must continually innovate to meet the evolving needs of our customers. This award is testament to the hard work and dedication of our employees in South Africa and around the world," concludes Hume.
About Samsung Electronics Co., Ltd.
Samsung Electronics Co., Ltd. inspires the world and shapes the future with transformative ideas and technologies, redefining the worlds of TVs, smartphones, wearable devices, tablets, cameras, digital appliances, printers, medical equipment, network systems and semiconductors. We are also leading in the Internet of Things space through, among others, our Digital Health and Smart Home initiatives. We employ 307,000 people across 84 countries. To discover more, please visit our official website at www.samsung.com and our official blog at global.samsungtomorrow.com
About Product of the Year
For further information, please contact:
Carmen Steynberg
Epic Communications
011 784 4790
071 864 0266
carmen@epiccommunications.co.za
Andra-Lee Shimmin
Samsung Electronics South Africa
011 549 1627
082 553 2302
andralee.s@samsung.com