Play Steam games
on your Smart TV
Get the full Steam game experience on your Samsung Smart TV.
Discover how your favorite Steam game looks on the big screen.
Expand your
Steam gaming experience
Get immersed
Now everyone can enjoy the immersive action on the big screen. Just share your big screen TV with your friends and get into the game together.
Get connected
Just connect your PC and Smart TV to your home network and you're set. Everyone can enjoy the neat view and get into the game.
*For best performance, a wired network connection is strongly recommended.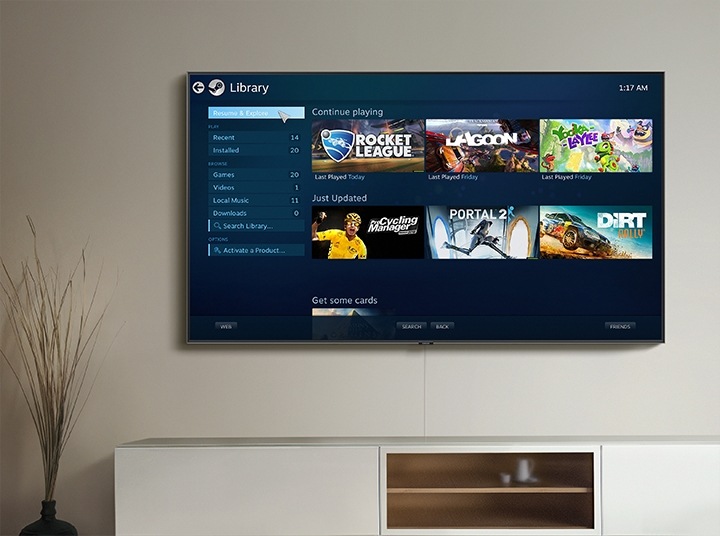 Play right away
Start playing right away just by downloading the Steam Link app onto your Smart TV. Skip the hassle of buying and setting up additional hardware and simply access all your games with just one app.
How to set up
Steam Link on your TV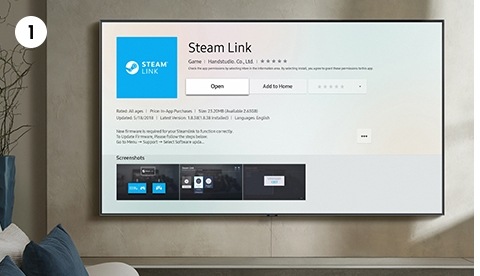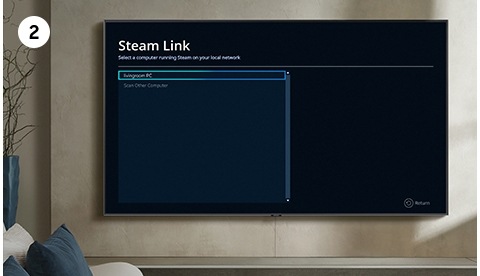 Step 1: Download the Steam Link App from Samsung Apps and launch. *
Step 2: Search for the PC in the same network.
Step 3: Select your PC and input the PIN from your Smart TV into the pop-up box on your PC.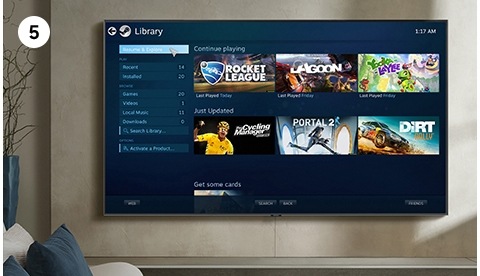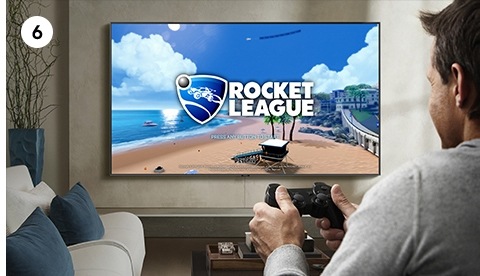 Step 4: Enter Library from the Steam Link main page on your TV screen.
Step 5: Select a game to start.**
Step 6: Start your game!
*Go to the game category or search Steam Link if the Steam Link App does not appear on the first screen.
**Steam account must be logged in on PC.
© 2018 Valve Corporation. All rights reserved. Steam, the Steam logo, and Steam Link are trademarks and/or registered trademarks of Valve Corporation in the US and other countries.
*Available services and features on the Smart TV and the Graphic User Interface (GUI) may vary based on region and/or model.
*Users must agree to Smart Hub Terms and Conditions and Privacy Policy before use.
*Compatible Operating System (OS) or app required.
*Shape of TV and remote may differ based on model and/or region.
*Images are simulated and for demonstration purposes only.
*Graphic User Interface (GUI), design, features and specifications are subject to change without notice.
*Steam membership and game purchase may be necessary.
*Use of Steam is subject to the Steam Subscriber Agreement.
*This service is provided by Steam and can be terminated at any time.