Get the new, exclusive Fortnite Galaxy iKONIK outfit today.2
Lead your squad to victory with the new iKONIK exclusive. It brings K-Pop finesse to your look with a rare outfit and ultra-fresh emote. Get iKONIK when you level up to Samsung's most powerful lineup of gaming devices yet– the Galaxy S10e, S10, or S10+. It's all available now!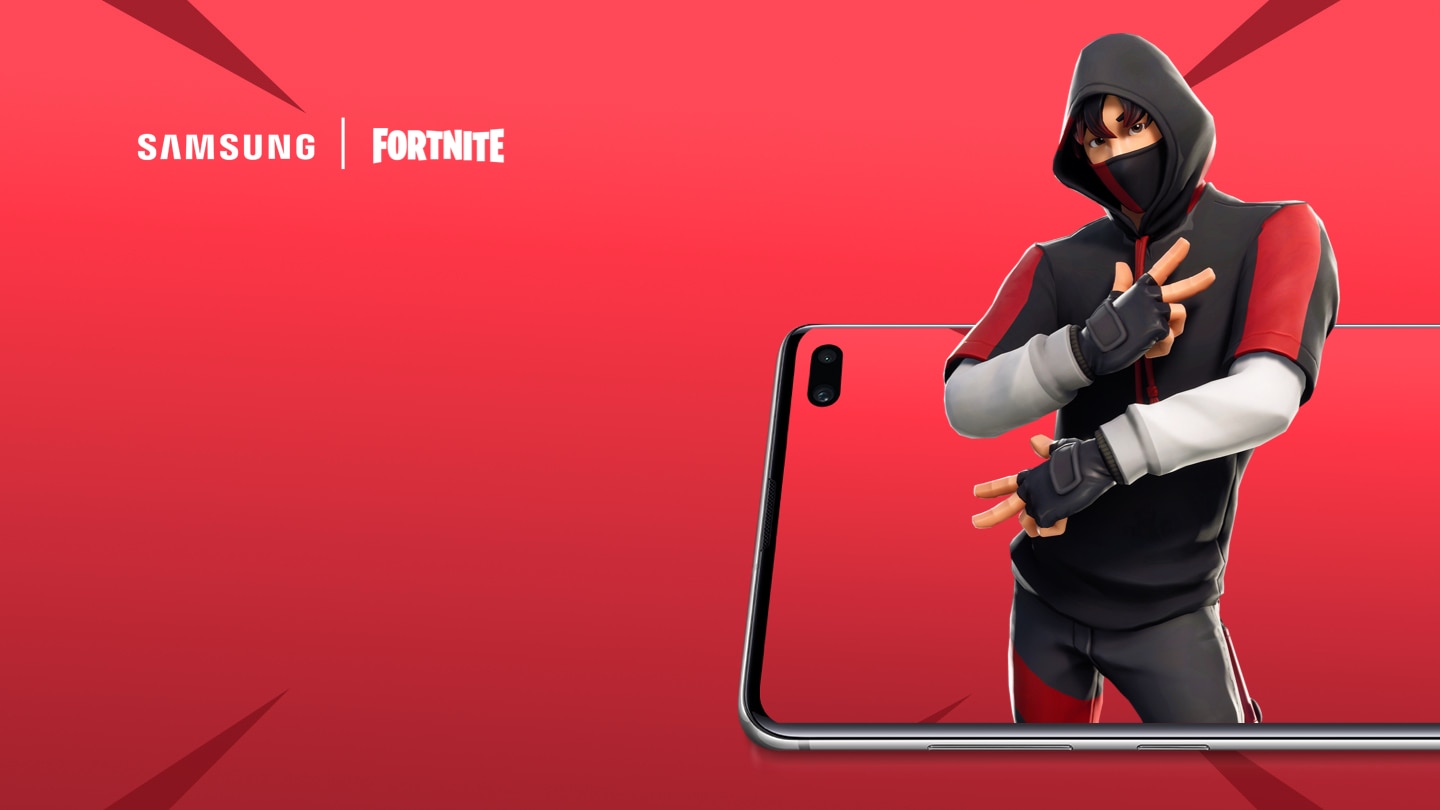 Stand out in your squad. Refresh your look.
Unleash your favorite K-Pop star's dance moves on the competition with the new Scenario emote!
Samsung Galaxy: Bringing K-Pop to Fortnite
Celebrate victories with battle swag inspired by K-POP band, iKON. Get exclusive access to the new iKONIK outfit and the emote based on the dance from their smash hit "Love Scenario". For exclusive access to this emote and outfit, purchase any one of the following devices: Galaxy S10e, S10, S10+.
Your Most Powerful Weapon Yet. The Galaxy S10+
Enjoy long-lasting, lag-free gameplay with Samsung's most powerful gaming phone yet. Get better performance while using less energy with a more resourceful processor and up to 8GB RAM, an immersive Quad HD 2K display and a 24-hour all-day intelligent battery¹ that automatically optimizes power based on how you play.
How the Galaxy S10+ levels up gameplay
Ready to play?
Already have a Galaxy device? Download Fortnite and enjoy the best Android gaming experience around. Just enable Game Launcher and tap the Fortnite icon to download3
Explore how the Galaxy S10 transforms the way you do business.
* How to redeem the exclusive Fortnite iKONIK outfit and Scenario emote:
1. Download and launch Fortnite on your qualifying Samsung device.
2. Sign in to your Epic Games account or sign up for a new Epic Games account.
3. Go to the Store. The iKONIK outfit should appear in the Store. Tap on it. Make sure your store is set to Samsung in Settings > Account.
4. A notice will pop up asking you to register a credit card, if you have not done so already. Click Next on the pop-up and register a credit card (your card will not be charged).
5. Tap the iKONIK outfit again to complete the redemption by 31 December 2019.
6. Your iKONIK outfit will be available in your LOCKER within your ACCOUNT AND EQUIPMENT. You will also receive the Scenario emote as part of this redemption process.

(1) Purchase a Samsung Galaxy S10e, S10 or S10+ from a participating network operator, retail outlet and/online store between 3rd March 2019 to 31st December 2019.
(2) Have downloaded and launched Epic Game's Fortnite Application on your qualifying Samsung device from the Galaxy Store.
(3) Follow the following instructions in the Fortnite Application to receive an exclusive Fortnite iKONIK Skin and Scenario emote.
All steps must be completed by 31st December 2019, or you will forfeit your right to receive the exclusive Fortnite iKONIK outfit and Scenario emote. The exclusive Fortnite iKONIK outfit and Scenario emote are not transferable and attempts to transfer will result in the Fortnite iKONIK outfit and Scenario emote being forfeited.The Fortnite iKONIK outfit and Scenario emote are accessible only on Galaxy S10e, S10 and S10+ when available. Additional terms and conditions may apply.