c
Enhance your
everyday space
with art
ART MODE
Add inspiration to your daily life
Sit back and imagine a beautiful piece that allows you to display artwork or your own photos with ease. Envision your home coming to life with The Frame.
Samsung Collection
An art collection in one frame
Update your space or simply enjoy a different view by choosing artwork and photographs by outstanding artists. Browse through a body of work, specially curated for The Frame, and add culture to your daily life.
Waimea Six Pack
Ho'okipa Charge
Sun Surf
Snow Trail
Inversion
The Next Step
Alaskan Shadow
Escape Series #2
Escape Series #3
A Sea of Granite
Blue Patio
Rooftop pool
South view
Stair
Niterói Contemporary Art Museum
Skylight
Approaching Shadow
Pattern
Untitled (Blind Room)
Untitled (Gifu Apartments)
Veld 09, Noordoostpolder
lceberg 02, Disko Bay, Greenland
Saltern Study 19, Great Salt Lake, UT
Salt Flat And Stream, Sea of Cortez, Mexico
Five Icebergs_Weddell Sea, Antarctica
Spirit Infinity, Death Valley, California
Cathedral Peak
Colchuck Lake
Caddo Lake
Zabriskie Point
Lightning
Lightning
Sunset Strip
New Millenium
Untitled
Untitled
Untitled
Fortress
Screamsaver 3
Screamsaver 1
Beyond The Half
Still Life From Heaven
2 Pitchers and Fruits
Lemons In, and Out, of Vase
Row of Figs and Bowls
Untitled (Life and death, purple iris)
Untitled (Life and death, easter lilies)
HA 01 BW PAN
JM-GD 14 PAN
SL 007
Light Echoes - Untitled 7
Light Echoes - Untitled 4
Divergence
Infinite Horizon
Perpetual Sunset
Seashore, Time Laps
Spectrum Ellipses
Resting Mirror
Field With First Visitor
Body
Untitled
Untitled
Untitled
Untitled
Landscape of Peace
Love, Life and Freedom
We are Part of the Nature
5th Dimensional Love Machine
L'Eau Met Deux Flammes
Orion, Kanaal & The Message
Sandbanks on the coast of Whitsunday Island, Queensland, Australia (20°15' S – 149°01' E)
Tsingy of Bemaraha, Morondava region, Madagascar (19°02' S - 44°47' E)
Crystalline formation on lake Magadi, Kenya (1°52' S – 36°17' E)
Cotton fabric drying in the sun in Jaipur, Rajasthan, India (N 26°45' E 75°49')
Vineyards protected by curved walls, region of La Geria, Lanzarote island, Canary Islands, Spain (28°58' N – 13°43' W)
Women at a well near Khudiala, Rajasthan, India (26°26' N, 72°40' E)
Lagoon
Sand
Playa Shoreline
Black Rock
ada and audre (Nothing Between Us)
Carrying ours
For the Love of (normal) Strangeness
Constructing Jungle IV
Structural Sensibility I
Holiday Inn Express & Suites, Minneapolis
Hannah's Shell Collection
Leaves Yellow
Black Line
Area II
Kalahari Butterflies
Mana Pools Bee-eaters
Imfolozi Giraffe
Kafue Lion
Namibia Elephants
Vortex
Little Fighters
Aleph
The open sky
Tall grass
Art Store
Access a new world

of art any time

Discover a wider art collection in the Art Store. When you sign up for paid Membership, you gain unlimited access to an exceptional range of artwork and photography, spanning the classics to the contemporary.

*The Art Store may not be available in some countries.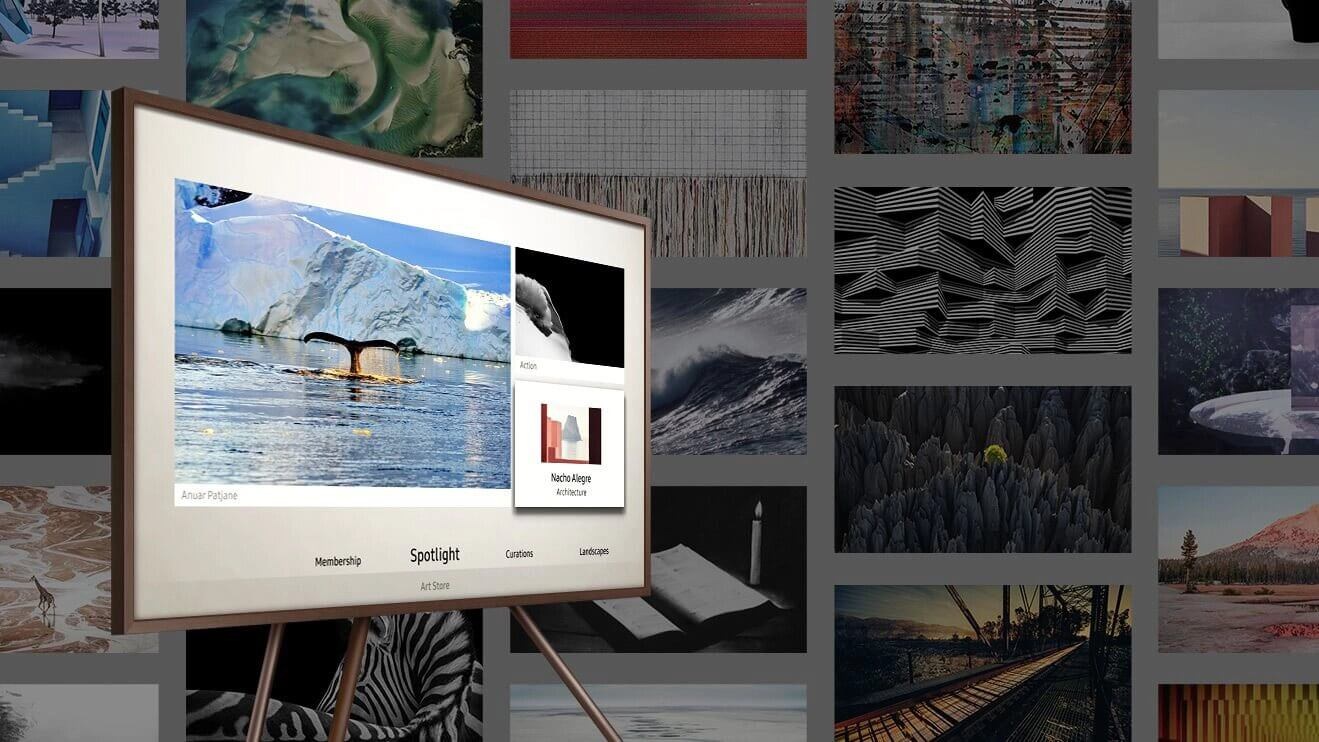 MATTE LAYOUT & COLOUR
Multiple ways to

showcase art

Customising the presentation of the art to fit your space is simple on The Frame. Choose from different options to find the matte layout and colour that best complements the pieces.

*Some matte layout options are only available through the mobile app.

*Matte: The blank area that serves to highlight the art piece within the frame.

Art Layout
Shadow Box
No Matte
Modern
Photo Layout
Shadow Box
Modern
Squares
Mixed
Triptych
Panoramic
Matte Colour
Polar

Warm

Antique

Neutral

Black

Sand

Sea Foam

Sage

Burgandy

Navy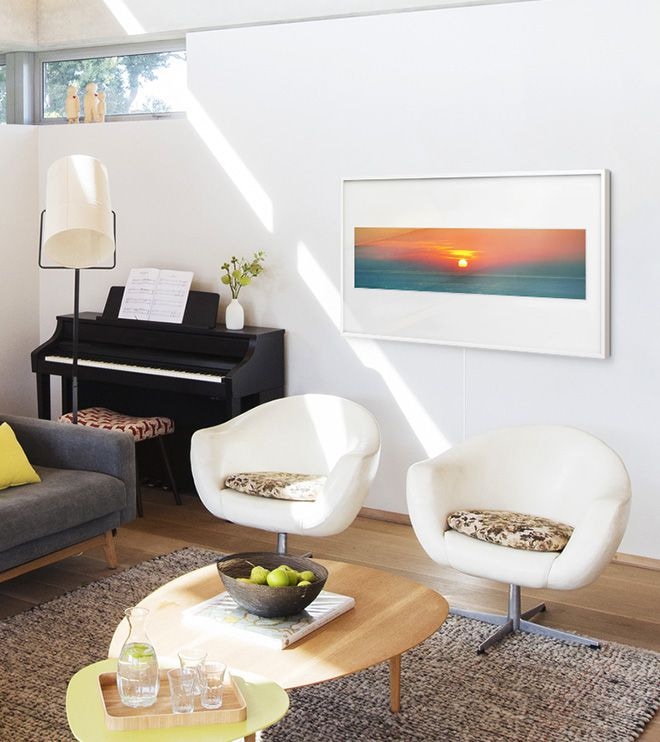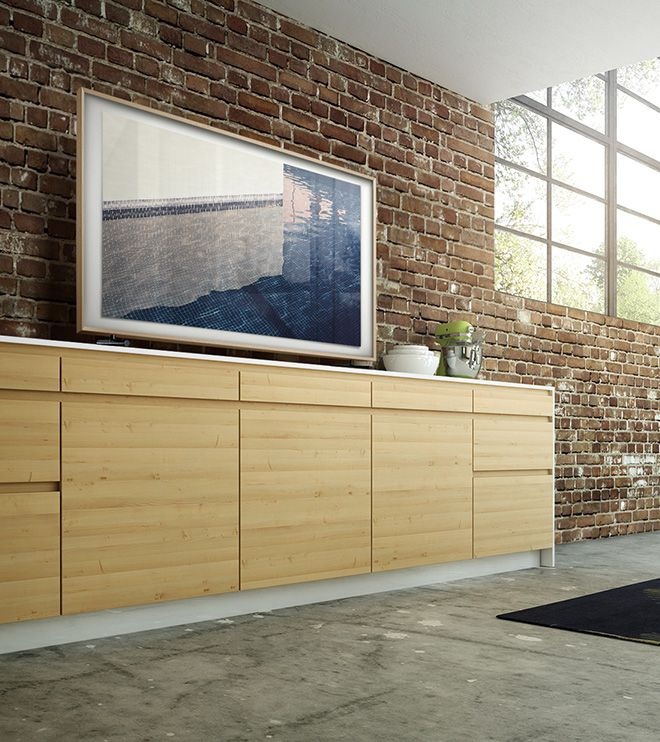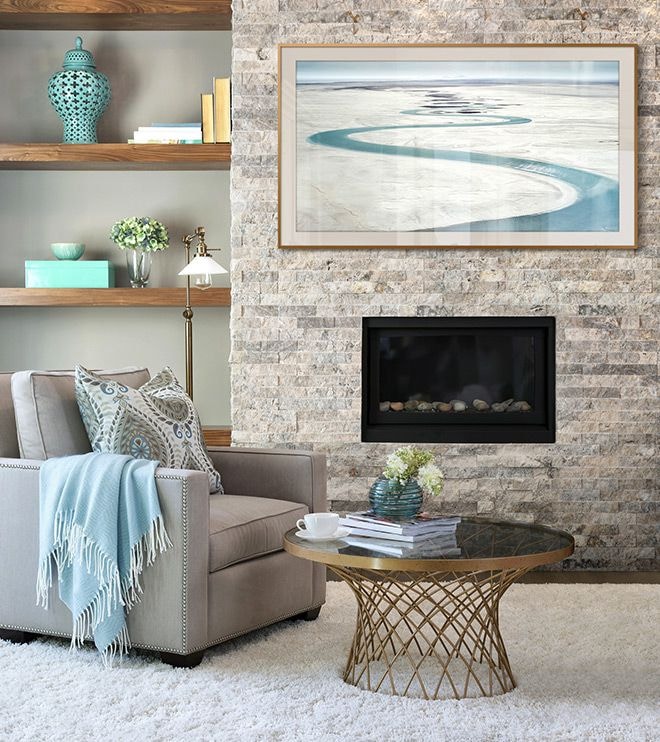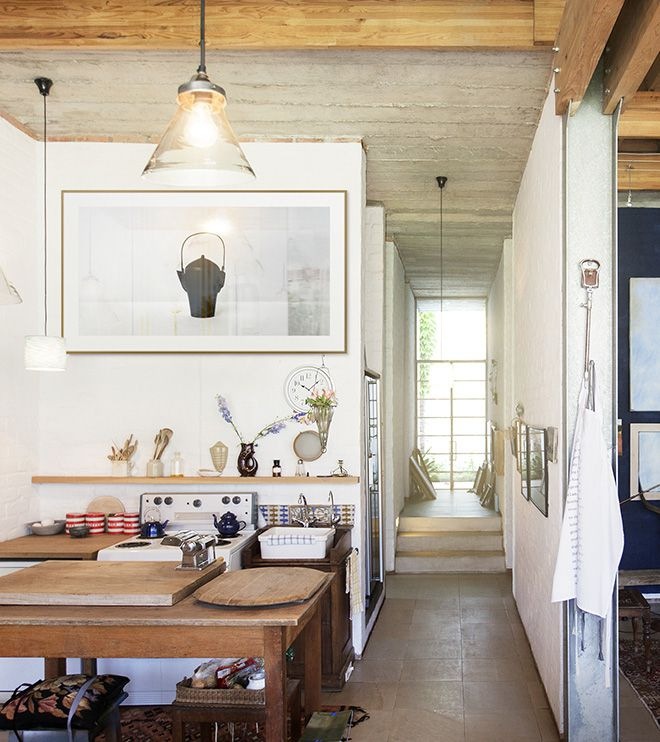 Art Layout
Shadow Box
No Matte
Modern
Photo Layout
Shadow Box
Modern
Squares
Mixed
Triptych
Panoramic
Matte Colour
Polar

Warm

Antique

Neutral

Black

Sand

Sea Foam

Sage

Burgandy

Navy
MY COLLECTION
Frame your

most-loved moments

You can easily upload and exhibit your own photography—or a new family portrait. Simply send your photos to The Frame via your phone or a USB flash drive.

*Personal photos uploaded to The Frame will be displayed at the original resolution. Displaying 4K(3840*2160 pixels) and above images is recommended.
Control on mobile
Curate and control

from your phone

Your phone is always on hand, and with easy-to-use mobilecontrol, you can instantly update the view with just a few taps. Adjust the settings or find new artwork to display with your smartphone.
SPEC
The Frame Specification
The Frame Specification
SIZE
65"
55"
FRAME SIZE(HxV)
83.1 x 145.4 cm

*w/o stand

70.8 x 123.5 cm

*w/o stand

PICTURE QUALITY
4K UHD, HDR, Active Crystal Colour
SMART
2017 Samsung Smart Hub, Smart View, One Remote Control
SOUND
40W/2.2CH
NEW FEATURES
Art Mode, Samsung Collection, Brightness Sensor, Motion Sensor
FRAME COLOUR
Charcoal Black
IN THE BOX

CONNECTIVITY: One Connect Box with Invisible Connection (5 m)
STAND: Basic Stand
WALL-MOUNT: No Gap Wall-Mount
close