Auto Tracking
Up to 7h Standalone Music Play
Bluetooth v4.2
Bluetooth Version
Android 4.4 ↑ , 1.5 GB ↑
Compatible Specification of Smartphone
Go phone-free
Simply connect your compatible phone to pick up and reject calls wirelessly with the built in touch pads on the Gear IconX. You'll never miss a call.1 The Gear IconX earbuds also work as a standalone media player – simply transfer your favourite music from your compatible phone and you're good to go.2
Go phone-free
Simply connect your compatible phone to pick up and reject calls wirelessly with the built in touch pads on the Gear IconX. You'll never miss a call.1 The Gear IconX earbuds also work as a standalone media player – simply transfer your favourite music from your compatible phone and you're good to go.2
1 Gear IconX (2018) requires a compatible device (Android 4.4 KitKat and above) for initial set-up, ongoing maintenance and download of apps. Minimum of 1.5GB RAM and internet connection required. 2 Samsung Galaxy phones users running Android 4.4 KitKat and above can transfer music files to the Gear IconX (2018) either from their phone or a PC via USB connectors or USB cables. Non-Samsung Galaxy Android phone users running Android 4.4 KitKat and above can transfer music files to the Gear IconX (2018) from a PC via USB cable. Up to 1,000 tracks can be uploaded within the usable memory of 3.4GB Speedo and Under Armour Partnership.
On track with the built-in coach
Stay focused while you're running. The Gear IconX is the voice in your ear to keep you motivated, providing real time encouragement and tips. When walking or jogging, the auto tracking feature on the IconX will log your time, distance and calories burned.3 After your work out, simply sync your Gear IconX with the S Health app on your compatible Samsung smartphone to see your progress.
3 Auto Tracking (Running/Walking) mode will work if you have been walking or running for more than 10 minutes. Intended for fitness purposes only - not intended to treat any medical condition.
Bring your soundtrack
With 3.4 GB of internal memory and storage for up to 1,000 tracks, you'll run out of breath before you run out of songs.4 And if you happen to need more, keep the beats going via Bluetooth streaming so you're never left stranded without a motivational song.
4Compatible Bluetooth-enabled device required.
Charge and go
Gear IconX's long battery life makes sure the music keeps going with up to 7 hours of standalone playback. If you run out of battery on the go, just pop the ear buds back into their case to get a full charge. Plus with quick charging, 10 minutes of charging will give you 1 hour of playback.5
5 To charge the Gear IconX (2018), the charging case needs to be pre-charged at a power outlet. Actual battery life and charging time may vary and depend on usage conditions.
Designed to be seamless
Fit to run
Tune out and focus on your fitness with Gear IconX. The cord-free earbuds are designed to stay securely in place, even during a workout. And the ergonomic design means you'll feel comfortable wearing them.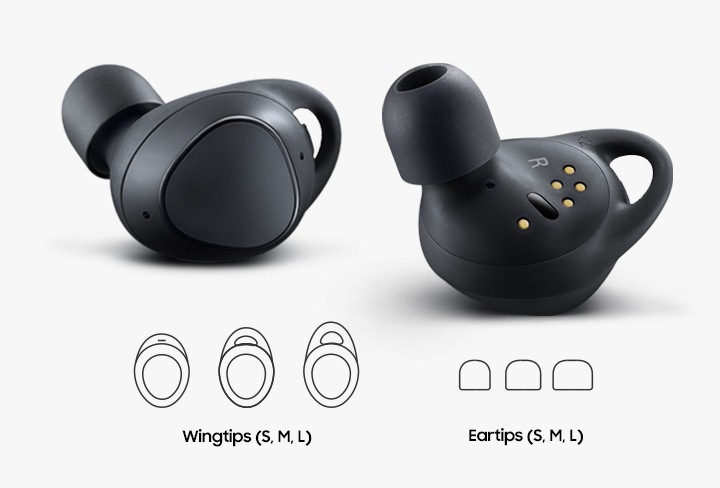 Just your style
With a sleek shape and your choice of colours, the Gear IconX earbuds are a seamless addition to any outfit, whether you're running errands or just running.
Simply tap to control
Play playlists, navigate tracks, and turn up the volume. It†s all easily done with taps and swipes—without having to take out your phone.
Bluetooth v4.2

Bluetooth Version

Android 4.4 ↑ , 1.5 GB ↑

Compatible Specification of Smartphone

Accelerometer, Proximity Sensor

Sensors

8 g

Earbud Weight
Rated

5

out of

5
by
JamesB36
from
1.5 years and still happy
These earphone are awesome. I bought these in Dec 2017 and I've been using them multiple times everyday from commuting, cycling and phone calls. Seriously great product with zero hassles.
Date published: 2019-02-18
Rated

5

out of

5
by
Lost.Mahdi
from
Amazing
This is an amazing product. Integrated into my life to a point where I prefer not to take them off. Only downside is they get uncomfortable for the ear cartilage.
Date published: 2018-03-23
Rated

5

out of

5
by
Didi
from
The best products ever
I just can't have a word this products are just coming or right time It's portable , smart and amazing
Date published: 2018-01-28
Rated

2

out of

5
by
Darren
from
Worked well for a month
I bought this a month ago and I was very happy with my purchase, however a few days ago the right buds sound dropped below 20% of it's original sound. I tried cleaning the mesh in them as instructed, however that doesn't help. I now have to take it to a repair center and hope they can fix it out else it would have been an enormous waste of money.
Date published: 2019-02-24
Rated

1

out of

5
by
Blob2808
from
This product is a disappointment
I am a Samsung fan and have been for many years but am very disappointed by these. After paying a very high price more than most competitors I expected quality. Unfortunately on the second day I had them the volume wouldn't go up and I took them to Samsung repair center which is an hour away where they where very helpful they did fix them in 2 days. I recieved them back 4 days ago and have been wearing them to gym however even tho they are advertised for running the right earbud has now lost most of it's volume. I have done everything the customer help says and the constant problems with them have made me regret spending a large sum of money on them and I hope to be reimbursed for my money, time and frustration
Date published: 2018-05-29
How It Stacks Up
Images are for illustration purposes only and the accessories are sold separately.
Features and specifications are subject to change without prior notification and may vary per country, please check in store for more details.

Dimension: Size and weight may vary by the device's configuration and manufacturing process.

Memory size: User memory is less than the total memory due to storage of the operating system and software used to operate the phones features. Actual user memory will vary depending on the mobile phone operator and may change after software upgrades are performed.

*External Memory may be used to store media (photos, video, and music files) but application storage on external device may be limited or unavailable on certain handset models.
*Data - Internet connection required. Data and subscription charges may apply. Content subject to availability in country.

Notice to our customers - safe battery use
(certain Mobile devices don't have removable back covers and customer removable batteries - In this case the battery is a Service replaceable part and not a customer replaceable part and special tools are required).
In case of repair, Devices without removable batteries should be booked with a Samsung Authorised Service Centre. Please purchase Samsung-branded batteries from reputable and approved sellers to ensure the batteries are not counterfeit.

Use only Samsung-approved accessories. Using unapproved accessories will not be covered by the warranty, and may cause performance problems and malfunctions as well as damage the device.

* Key feature may different from Key Spec

Bluetooth - Depending on the OS version, smartphone model and application, you may experience audio delay compared to the video scenes when you are watching videos or playing games with Gear IconX, due to the time for audio synchronisation between the smartphone and earbuds.