27" Minimalist FHD (LED) monitor New level of viewing pleasure SD590
S27D590P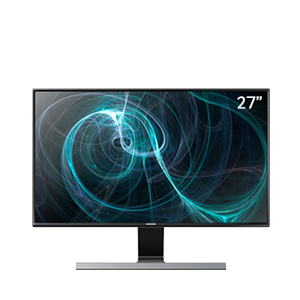 Practical can be beautiful. The Samsung SD590 Monitor has been designed for people who appreciate pure functionality as well as perfect elegance. Combining both, the SD590's understated minimalism puts the picture center stage, letting you concentrate on viewing with nothing to stand in your way. With unprecedented details like a gorgeous linear design and super sleek bezel and neck, only the essential elements are left to enhance the purity of your viewing experience. This is streamlined simplicity that's created to fit modern life.
Design like no other for a completely new level of viewing pleasure
Enhance your gaming experience with just one button
Recycling Batteries Responsibly
The European Directive on Batteries and Accumulators aims to minimise the impact of batteries on the environment and encourage the recovery of the materials they contain. In the UK, regulations on the recycling of batteries and accumulators (rechargeable batteries) were Introduced in 2009. The Waste Batteries Regulations aim to significantly increase UK collection and recycling of used portable batteries from 3% in 2007 to 25% by 2012, rising to at least 45% in 2016.

The battery symbol on a product or on its packaging indicates that the product must not be disposed of with general household waste. Instead, it is the consumer's responsibility to dispose of their waste batteries at a designated collection point so that they can be recycled. The separate collection and recycling of batteries at the time of disposal will help to conserve natural resources and ensure that they are recycled in a manner that protects human health and the environment. A comprehensive list of battery recycling centers can be obtained from: www.recycle-more.co.uk

All Samsung products that are subject to the Batteries Directive are compliant with the UK battery and accumulator Requirements. In accordance with national law, SAMSUNG Electronics (UK) Ltd is a member of an approved batteries producer compliance scheme. This scheme collects, treats and disposes of batteries on Samsung's behalf.
27" Minimalist FHD (LED) monitor New level of viewing pleasure SD590
Features
- Designed for the ultimate viewing pleasure.
Design like no other for a completely new level of viewing pleasure
It takes a special kind of design to really make the most of your monitor's picture. Constructed from sophisticated metallic materials, the Samsung SD590 was created by the meeting of lines, with a clean and understated look that ensures nothing will distract you from the screen. Elevated by a sleek stand and neck, the picture almost seems to float weightlessly, framed perfectly by a super narrow bezel, and the monitor's clean back enhances its elegant silhouette.
Bring beautiful simplicity into your life with space-saving minimalist design
Simplicity can make life easier and more peaceful. The Samsung SD590 Monitor helps you achieve that, thanks to a design that's both practical and beautiful. Its elegantly minimal T-shaped stand has been carefully developed to use as little space as possible, giving you more room and reducing clutter. Now you can discover all the possibilities of a simpler life.
Enhance your gaming experience with just one button
Get perfect viewing for games with just one touch of a button. Game Mode adjusts your monitor's settings instantly to give you an optimized gaming experience. Game Mode smartly detects the changes in scenes, enhances the color and alters the screen's contrast to make dark spots darker and light spots lighter so you can see all the action at all times. There is less lag thanks to a faster video response time that ensures that the picture keeps up with action and won't let you down.
Be entertained from every angle with PLS panel
Get the best view from any angle with the SD590. Unlike conventional monitors, your Samsung LED Monitor has an extra-wide viewing angle of 178 degrees, vertically and horizontally. This means great picture quality from even more perspectives – whether you're sitting down low and playing games or if several people are sitting around the monitor to watch a video. Whatever the situation, you can enjoy great viewing.
Upscale your view with better quality and picture
Magic Upscale improves image quality to such a level that you will only receive a better picture. Enjoy enhanced image quality no matter what the original picture quality is. Magic Upscale prevents image degradation when scaling up and gives only brilliant and pristine colors and images. And it also makes images on the monitor appear clearer and sharper than on a notebook. Shine with the SD590.
Versatile connectivity to handle multiple devices and content
The Samsung SD590 monitor includes a high-quality HDMI cable right in the box, on top of giving you all the connections you need to make the most of all your entertainment and other content. You can connect the monitor to games consoles, Blu-ray players and other AV devices with the useful HDMI cable, and you can also use D-Sub compatibility to connect to most PCs. You can easily plug in your devices and use the monitor for working, gaming, viewing content and more.
tech specs
General Feature
Special Features

Game mode, Magic Upscale, Eco Saving, Off Timer, Image Size
Power
Power Consumption

23W (Typ)(Energy Star current test condition)

Power Consumption (Stand-by)
Dimension
Set Dimension with Stand (W x H x D)

Set Dimension without Stand (W x H x D)

Package Dimension (WxHxD) (mm)
NEWEST
MOST HELPFUL
HIGHEST RATING
LOWEST RATING