BD-F5100
BD-F5100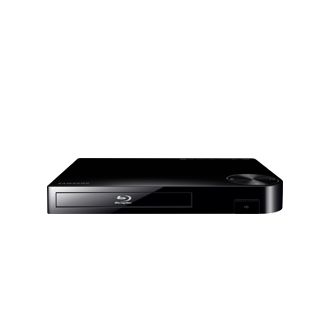 Choose a better-connected Blu-ray player for smarter entertainment possibilities. The Samsung BD-F5100 Blu-ray Player lets you connect to a world of online content and Smart services easily. You can also plug in your USB stick or external HDD drive and access movies, photos, music and more.
Recycling Batteries Responsibly
The European Directive on Batteries and Accumulators aims to minimise the impact of batteries on the environment and encourage the recovery of the materials they contain. In the UK, regulations on the recycling of batteries and accumulators (rechargeable batteries) were Introduced in 2009. The Waste Batteries Regulations aim to significantly increase UK collection and recycling of used portable batteries from 3% in 2007 to 25% by 2012, rising to at least 45% in 2016.

The battery symbol on a product or on its packaging indicates that the product must not be disposed of with general household waste. Instead, it is the consumer's responsibility to dispose of their waste batteries at a designated collection point so that they can be recycled. The separate collection and recycling of batteries at the time of dispo sal will help to conserve natural resources and ensure that they are recycled in a manner that protects human health and the environment. A comprehensive list of battery recycling centers can be obtained from: www.recycle-more.co.uk

All Samsung products that are subject to the Batteries Directive are compliant with the UK battery and accumulator Requirements. In accordance with national law, SAMSUNG Electronics (UK) Ltd is a member of an approved batteries producer compliance scheme. This scheme collects, treats and disposes of batteries on Samsung's behalf.
Features
- Choose a better-connected Blu-ray player for smarter entertainment possibilities. The Samsung BD-F5100 Blu-ray Player lets you connect to a world of online content and Smart services easily.
- Preinstalled Apps (e.g. Youtube)
- Features ConnectShare USB Movie
- Comes with 0.5 sec Quick Start Mode


Connect your worlds with TV Apps
Connect to your online content with absolute ease thanks to the built-in TV Apps available through the Samsung BD-F5100 Blu-ray player. Featuring popular apps like YouTube, your Blu-ray player experience will keep you entertained and connected. This is an obvious choice for those who love their content ready to go.
Enjoy content from USB memory drive or external HDD
Access all your multimedia with great connectivity. Sync and enjoy movies, photos and music on from your USB memory drive or external hard drive. External HDD Connectivity allows you to connect your external storage directly to your Blu-ray player via USB and quickly access video, audio or images. It's designed to handle a wide range of content, so you can enjoy all your home movies, downloaded music and holiday photographs all in the comfort of your living room. Just connect, sync and enjoy.
Experience the pinnacle of picture quality
A television with 1080p Full HD technology is more than just entertainment, it's an experience. Providing nearly twice the resolution of conventional HDTVs, the 1080p picture engulfs you with spectacular detail – rich, eye-popping colors and super-sharp, ultra-realistic images that enhance everything on your screen, from movies to videogames. Why watch TV when you can experience it?
Quick Start Mode
Instead of the usual 10 seconds, you can you start your Blu-ray player in just 0.5 seconds. This is the world's fastest boot-up, and translates to less waiting and more enjoying.
BD Wise
Save time and hassle by optimising your picture quality with BD Wise. It automatically syncs your HDMI-connected Samsung devices, ensuring you're your experience is simply stunning.
DLNA
Enjoy all of your PC content simply and quickly thanks to DLNA connectivity. This means that all of your stored movies, music, and photos can now easily be enjoyed through your home entertainment system.
See more with less power consumption
Samsung Blu-ray player lineup meets the 2013 Energy Star criteria for energy use and sets the new benchmark in eco efficiency for power consumption. So efficient, that the Blu-ray player uses less power than Energy Star requirements even when in Standard Mode.
tech specs
Playable Disc Type
DVD-Video / DVD±R / DVD±RW
Audio Decoding Format
Dolby Digital Plus / TrueHD
Feature
Quick Start Mode (0.5 Sec)
AV Input /Output
Coaxial Digital Audio Output
Dimension
Product Dimension (WxHxD)
Support
User Manual
0.01MB, pdf, ENGLISH, ARABIC, FRENCH
2013.03.11
DLNA S/W

Win XP/Vista/Windows 7, 35.55 MB, exe, ENGLISH

Version : 2.1.0.12031_10

2013.08.22

Install Guide

Win XP/Vista/Windows 7, 3.67 MB, pdf, ENGLISH

Version : Install Guide

2013.08.22
Upgrade File(USB type)

All OS, 73.95 MB, zip, ENGLISH

Version : 1019.0

2014.06.11

Close tooltip pop-up

< Firmware update>

This Firmware update provides the following benefits:

Ver.1019.0 June. 11. 2014

Ver.1010.0 Feb. 5. 2014
- Improved System stability

Ver.1009.0 Nov. 20. 2013
- Improved System stability

Upgrade guide

All OS, 0.22 MB, pdf, ENGLISH

Version : 1.0

2013.11.20
Some files may not be available from phones and tablets. Access this page from your desktop computer to be able to download all files.In order to read a PDF file, you must have Adobe Acrobat reader installed on your computer. You can download it at the Adobe website.Download Adobe Acrobat ReaderGoIn order to read DjVu files, you must have the DjVu viewer installed on your computer. Click this banner and install the viewer.Download Djvu ViewerGo
Want to experience Smart Simulator of this model? Go to Smart SimulatorGo
Have a question or need product support? Go to our support sectionGo
NEWEST
MOST HELPFUL
HIGHEST RATING
LOWEST RATING