The PIP (Picture in Picture) function separates the screen into two parts.One source device is displayed
on the main screen at the same time the another source device is displayed in inset windows.
The PBP (Picture by Picture) function separates the screen in half displaying output from two different
source devices simultaneously on the left and right sides of the screen.
Compatible with Windows7 and Windows8.

The PIP/PBP function may not be available depending on the specifications of the graphics card
used. If the screen is blank in PIP/PBP mode when the optimum resolution is selected, go to
Control Panel Display Screen Resolution and click Detect on the PC.
(Instructions are based on Windows 7.) If the screen is blank when the resolution is set to the
optimum resolution, change the resolution to 1280 x 1024.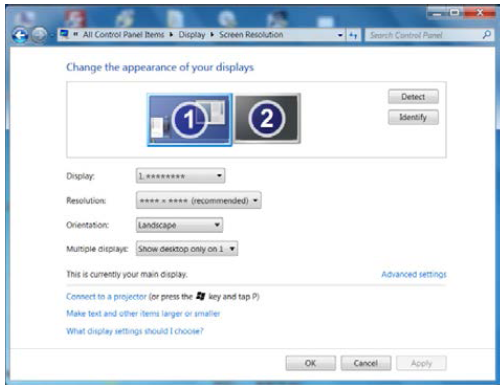 To maximize the picture quality, it is recommended to use a graphics card that supports
4K (3840 x 2160) resolution.

Due to system suitability problem for graphics card and Windows when PIP/PBP function is used, optimal resolution cannot be changed automatically. Set PIP/PBP Mode to Off or manually
change the resolution to the optimum resolution using the Windows interface.
Contents Satisfaction Survey
Q1. Is this content helpful?
Q2. How satisfied were you with this content?
Q3. Tell us what you think. What could we have done to answer your question better?
Samsung has launched Carry-in Online Appointment Service to save your time on making appointments for repair, maintenance and firmware upgrade! Experience Now!