Galaxy S6 edge+: Why the colour of the screen at the edges of my device appears slightly green?
Last Update date : 2015.09.25

Q : While using my Galaxy S6 Edge+ , the colour of the screen at the edges of my Galaxy S6 Edge+ appears slightly green in colour. Is my device faulty?
A : Your device is not faulty. The colors on the curved screen may look different depending on your viewing position.
The slight green tint in colour at the edges of the Galaxy S6 Edge+ display that you may observe on occasion is due to a phenomenon called WAD (White Angular Dependency) which is due to the inclined curved surface of the Galaxy S6 Edge+ screen.
For an AMOLED display, the WAD phenomenon results in the colour white sometimes appearing to have a Green tint, or on occasion a Blue or Yellow tint when viewing the AMOLED at an angle. But when viewing directly from the front or side the colour will be as expected.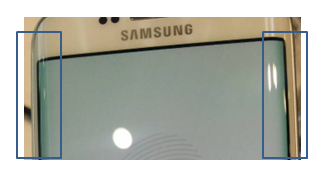 *More handy tips for your Samsung smartphones are now available on Smart Simulator.
For more details, please click here.
Contents Satisfaction Survey
Q1. Is this content helpful?
Q2. How satisfied were you with this content?
Q3. Tell us what you think. What could we have done to answer your question better?
Samsung has launched Carry-in Online Appointment Service to save your time on making appointments for repair, maintenance and firmware upgrade! Experience Now!