What is KNOX Container in my Galaxy Note 3?
What is KNOX Container in my Galaxy Note 3?
* Please note, this section is designed to give you basic product troubleshooting information, also refer to your user manual for more information.
KNOX Container is a part of Samsung KNOX, our renowned security platform for mobile devices. Applications and data inside the container are separated from those outside it.
Some benefits of KNOX Container are the following:

■ It enables users to isolate applications and data in a secure environment.
■ This provides a powerful solution for the 'data leakage problem'.
Know more about Samsung KNOX
Samsung KNOX™ is a comprehensive mobile solution for work and play. Using KNOX, you can keep your applications and data safe in your own secure space. Create another separate, private mobile system inside your device, complete with its own Home screen, apps, and widgets. Apps and widgets installed inside the KNOX container cannot access information stored outside the container and vice versa.
Note: The screen capture (screenshot) features of your device will not be available when you are using apps and other features inside Samsung KNOX.
To install and set up KNOX on your device, follow these steps:

Step 1: Tap Apps

> KNOX

.

Step 2: Review the KNOX information page and tap Install.

Step 3: Review the Terms and conditions, Privacy policy, and Optional information. Mark the Agree checkbox below the Terms and conditions, and below the Privacy policy. Marking the Optional Information Agree checkbox is optional. Alternatively, you can mark the I accept all the terms above checkbox to mark all options. When you are satisfied, tap Confirm.

Step 4: Downloading and installing KNOX can take several minutes. When the installation is complete, tap Password timeout and select the length of inactivity that KNOX should allow before it requires you to re-enter the password.

Step 5: Enter your desired KNOX password in the New password and Confirm password boxes, and tap Next.
Note: The password must contain at least one letter and one number.

Step 6: Create a backup PIN that can be used if you forget your password.

Step 7: Tap Launch.
Using the KNOX™ Container
When you are finished setting up KNOX, you will be taken to the KNOX container. The container has a Home screen and several preinstalled apps. These apps function independently of the apps and content stored outside the KNOX container. You can install additional apps from Samsung KNOX Apps

.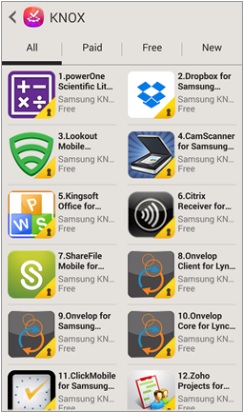 Exit KNOX™ Container
You can return to your personal Home screen at any time by tapping Knox Personal home icon

.
Adding KNOX™ Apps to your Personal Home Screen
You can add apps that you install or access in KNOX to your personal Home screen, follow these steps:
Step 1: From KNOX, tap Apps

> Menu

> Add to personal home screen.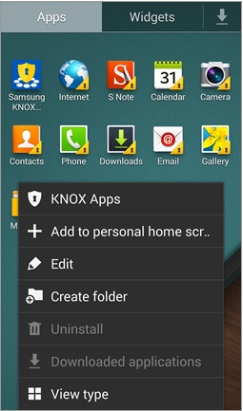 Step 2: Mark the app(s) you want to add, and then tap Done.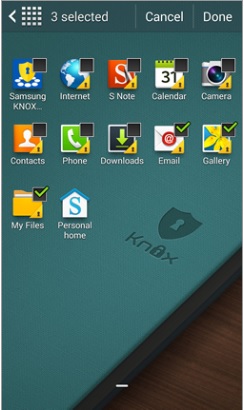 KNOX™ Settings
From the KNOX Home screen, tap Menu

> KNOX Settings:

■ Password timeout: Adjust the inactivity timeout value that KNOX will use before it requests the password.
■ Change password: Change your KNOX password.
■ Quick mode change: Mark the checkbox to add a KNOX shortcut to the Notification Panel.
■ Show KNOX contacts: Mark the checkbox to show contacts you have added to KNOX in your personal Contacts app, call logs, messages, and other personal Home screen features as well.
■ About KNOX: View information about the KNOX app. View the Terms and conditions and Open source license, or Uninstall KNOX.

** "To aid us in creating better support content for you, kindly complete the survey below if your query was resolved. Your rating and comments should only be based on the above content.

For all other queries or further technical assistance, please call Samsung Customer Care on 0800 726 786 or Live Chat with our Technical Team online, services are open 24 hours, 7 days."
Content Satisfaction Survey
Need more help? Contact Us.
Online
Monday to Friday (Excluding Public Holidays)
8.30am - 8.30pm

Email
We'll respond within 24 hours of your request.

Call
0800 726 786For all products
0800 SAMSUNG
24 hours / 7 days a week

0800 6 726 786For Smart Mobile Devices
0800 M SAMSUNG
24 hours / 7 days a week

* For any printer related enquiries please visit the HP website .
Contact Us