AC071FBRDEH/EU
CAC, Wall Mount, MALDIVE, Heat Pump R410a, Indoor Unit
Extreme Saving with style.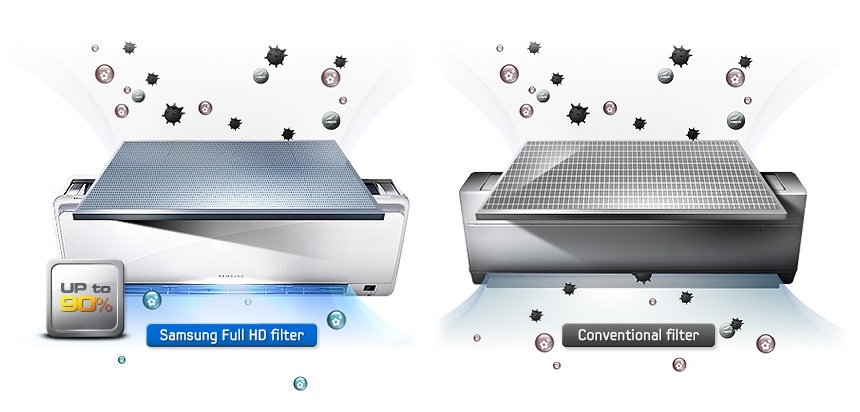 Full HD Filter
With Samsung's advanced Full High Density Filter, you can ensure your room is kept fresh and clean. The Full HD Filter offers improved filtration by removing even the smallest microscopic dust particles and transforming polluted air into clean energized air. Filter cleaning gets convenient, too. All you need to do is simply wash out the dirt with flowing water to clean the filter. Always keep your air clean and fresh with simple and easy care of the filter.
Inimitable Design in Colour and style
The elabourately designed Samsung's new air conditioner is a perfect solution for your stylish and modern living room. We guarantee to support your stylish life with peerless beauty of the new air conditioner. Samsung's new air conditioner is delicately designed with high-glossy panel in purple black colour. The dark gradation of colourelabourately delivers enchanting beauty.
Save energy and maintain coolness — Smart Inverter
Samsung's air conditioners with Smart Inverter technology not only use less power than conventional models, they also earned one of the best Seasonal Energy Efficiency Rating (SEER) of A+++ / 8.5 (K-series 9 k). By using the compressor's full capacity, they quickly reach your desired temperature setting faster than non-inverter models. Plus our Smart Inverter air conditioners adjust fluctuations to both maintain a constant temperature and keep things quiet.
Allergy Care
Samsung's new allergy care filter removes not only bacteria and dust particles but also reduces allergy symptoms. The special coating helps protect against allergies and keeps your environment fresh.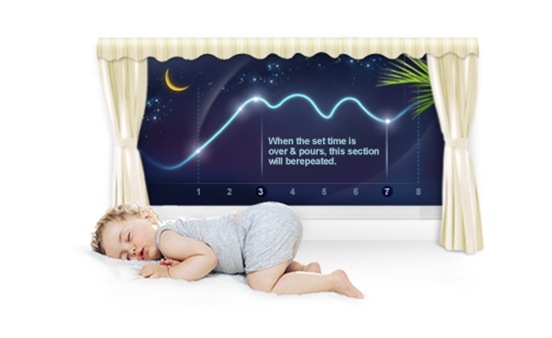 Good Sleep
Missing out on a good night's sleep can mean bad news for your day. That's why Samsung's Good Sleep feature creates an ideally comfortable climate in your bedroom. With a precise temperature control system and automatic moisture adjustment, all three vital stages of our sleep is protected from humidity and heat so you wake up fully refreshed and ready to take on a new day. Good Sleep not only saves you precious minutes and hours of potentially lost sleep, it also saves up to 36% in energy consumption compared to the normal cooling mode.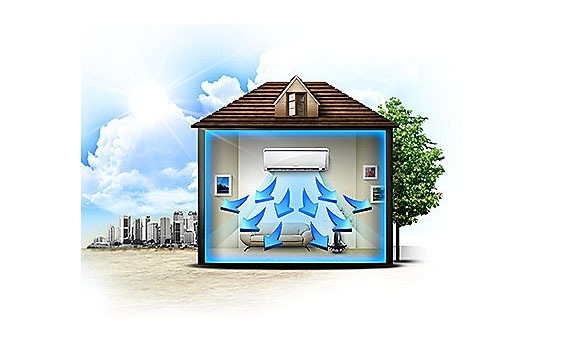 Turbo Cooling
Samsung's new air conditioner operates in its maximum speed in Turbo mode to quickly reach the set temperature. Cool down your space instantly with Samsung's Turbo Cooling technology.
Dehumidification
Samsung's new air conditioner would not allow your place stay damp and muggy. Samsung's new air conditioner is the most appropriate choice to remove excess moisture from your environment. No need to empty a water bucket for sure!
Auto Clean
You might not know it, but an air conditioner can produce mold and spread germs. That's because the difference between internal and external air temperatures causes moisture to form inside the unit?and moisture equals bacteria. Our solution? Samsung air conditioners feature auto cleaning, which automatically runs the fan even after you turn it off, keeping everything dry and odor-free while preventing germs from spreading.
Specification
Features
Model Name

Indoor Unit

AC071FBRDEH/EU

Outdoor Unit

AC071FCADEH/EU

System
Capacity

Cooling [kW]

2.2 / 7.1 / 8 kW

Cooling [Btu/h]

7,500 / 24,200 / 27,300 Btu/h

Heating [kW]

1.9 / 8 / 9 kW

Heating [Btu/h]

6,500 / 27,300 / 30,700 Btu/h

Power Input (Nominal)

Cooling 1)

0.35 / 2.36 / 4 kW

Heating 2)

0.35 / 2.85 / 4 kW

Current Input (Nominal)

Cooling 1)

2 / 10.5 / 21 A

Heating 2)

2 / 13 / 21 A

Power

MCA [A]

20.3 (MCA)

MFA [A]

25 

Energy Efficiency

EER (Nominal Cooling)

3.01

COP (Nominal Heating)

2.81

Energy Grade (Cooling)

SEER 6.00 (A+)

Energy Grade (Heating)

SCOP 3.80 (A)

Piping Connections

Liquid Pipe (Φ, mm)

6.35 

Liquid Pipe (Φ, inch)

1/4"

Gas Pipe (Φ, mm)

15.88 

Gas Pipe (Φ, inch)

5/8"

Installation Max. Length [m]

50 (55) 

Installation Max. Height [m]

30 (30) 

Field Wiring

Power Source Wire

2.5 ~ 4

Transmission Cable

0.75 ~ 1.25

Refrigerant

Type

R410A

Factory Charging (kg)

1.8  

Power Supply (Indoor Unit) [Φ, #, V, Hz]
Fan

Type

Crossflow Fan

Motor (Output) [W]

27 

Number of Unit (EA)

1 

Air Flow Rate (High / Mid / Low) [CMM]

15 / 13.4 / 11.8 CMM

Air Flow Rate(High/Mid/Low)[L/S]

250 / 223.33 / 196.67

Drain

Drain Pipe (Φ,mm)

ID 18 HOSE

Sound

Sound Pressure (High / Mid / Low) [dB(A)]

44 / 37 / 31 dBA

Sound Power (Cooling) [dB(A)]

63 

External Dimension (Indoor Unit)

Net Weight(kg)

11.5 

Shipping Weight (kg)

14.5 

Net Dimensions (WxHxD) (mm)

1,065 x 298 x 230 

Shipping Dimensions (WxHxD) (mm)

1,137 x 377 x 299 

Power Supply (Outdoor Unit) [Φ, #, V, Hz]
Compressor

Type

Twin BLDC Rotary

Model

UG4T200FUAE4

Output(kW)

1.79 

Oil (Type)

POE

Oil (Initial Charge) [cc]

650 

Fan (Outdoor Unit)

Air Flow Rate (Cooling) [CMM]

52 

Air Flow Rate (Cooling) [L/S]

866.67

Sound (Outdoor Unit)

Sound Pressure (Cooling / Heating) [dB(A)]

49 / 51 dBA

Sound Power (Cooling) [dB(A)]

67 

External Dimension (Outdoor Unit)

Net Weight(kg)

55 

Shipping Weight (kg)

59 

Net Dimensions (WxHxD) (mm)

880 x 798 x 310 mm

Shipping Dimensions (WxHxD) (mm)

1,023 x 891 x 413 mm

Operating Temp. Range

Cooling (℃)

-15 ~ 50 ℃

Heating (℃)

-20 ~ 24 ℃
Manual Download
CAC, Wall Mount, MALDIVE, Heat Pump R410a, Indoor Unit (AC071FBRDEH/EU)
Manuals

2019.01.12

User Manual ver 10

(ENGLISH)

2019.01.12

User Manual ver 10

(FRENCH)

2019.01.12

User Manual ver 10

(PORTUGUESE)

2016.04.29

Safety Guide ver 1.0

(ENGLISH, CZECH, FRENCH, GERMAN, GREEK, ITALIAN, PORTUGUESE, SLOVAK, SPANISH)