AM050FNKDEH/EU
DVM, ERV Plus, Heat Pump R410a, Indoor Unit
Excellent Control and Greater Air Purity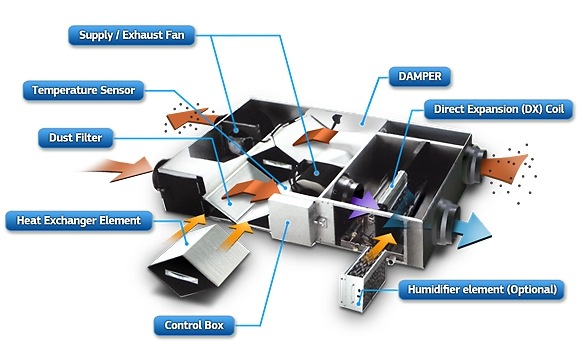 ERV Plus System Structure
Supply / Exhaust Fan Takes in air from outdoors or exhausts stale air from indoors. Temperature Sensor Automatic detection of indoor and outdoor temperature, enabling a switch to auto mode or executing the cold climate control function. Dust Filter Prevents dust from accumulating and blocking or contaminating the heat exchanger element. Heat Exchanger Element Transfers heat from exhaust air to fresh air for maximum efficiency. Control Box Contains electrical parts for product control. Humidifier Element (Optional) A natural evaporating-type humidifier produces more refreshing indoor air. Direct Expansion (DX) Coil The new DX Coil heats and cools, enabling mode selection when ventilation is on. Damper Users can select between heat recovery and normal ventilation. *Availability of these features varies according to the type of model.
Heat Recovery Method of ERV System
Thanks to air inlets and outlets on both sides, the two-way ventilation design achieves exceptional efficiency. The heat exchange element is specified to recover energy while removing discharged contaminants. Up to 70 per cent of the power needed to condition the fresh air is recovered. This is an efficient and cost-effective method of maintaining indoor temperature and humidity during the winter, and keeping rooms cool and dry during the summer.
Energy Saving Operation
The ERV system changes the operation mode automatically depending on the outdoor and indoor temperature. This feature enables businesses to benefit from considerable energy savings, no matter what the conditions. In extreme climates with larger discrepancies, the unit operates as an ERV. When the differences between inside and outside are minor, it functions as a conventional ventilation fan, saving money. This product, combined with air conditioners, delivers world-class energy-saving solutions to intelligently reduce the cooling and heating load while maintaining optimised performance.
Flexible Installation
The option to install the ERV system horizontally brings unprecedented convenience. This flexibility translates into time savings when it comes to maintaining multiple units. By introducing ERV systems with the control boxes facing a single service hole, businesses can reduce the total number required, cutting down on disruptions, expenditure and space. Unfortunately this is not applicable for ERV PLUS models.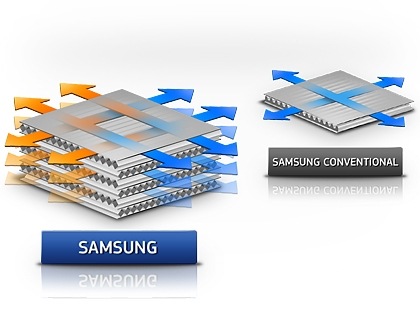 New Diamond Type Heat Exchanger
Compact and extremely efficient, the new diamond-type heat exchanger is designed to optimise airflow. Compared to conventional rectangular and hexagonal models, it delivers fresh air and maintains a comfortable, stable and eco-friendly performance. Businesses will benefit from reduced costs and a comfortable environment.
Specification
Features
Model Name

Indoor Unit

AM050FNKDEH/EU

Power Supply (Indoor Unit) [Φ, #, V, Hz]
System
Capacity

Cooling [kW] 3.6

Cooling [Btu/h] 12,300

Heating [kW] 4

Heating [Btu/h] 13,600


Power Input (Nominal)

Cooling 1) [W] 220

Heating 2) [W] 220


Current Input (Nominal)

Cooling 1)

1.7 A

Heating 2)

1.7 A

Fan

Type

Sirroco Fan / BLDC

Motor (Output) [W] 60 x 2

Air Flow Rate (High / Mid / Low) [CMM] 8.33 / 8.33 / 6

Air Flow Rate(High/Mid/Low)[L/S]

138.83 / 138.83 / 100

External Static Pressure (Min / Std / Max) [mmAq] 8.7 / 10.2 / 16.32

External Static Pressure (Min / Std / Max) [Pa] 85.32 / 100.03 / 160.04


Piping Connections

Liquid Pipe (Φ, mm) 6.35

Liquid Pipe (Φ, inch)

1/4"

Gas Pipe (Φ, mm) 12.7

Gas Pipe (Φ, inch)

1/2"

Drain Pipe (Φ,mm) VP25 (OD 32, ID 25)


Field Wiring

Power Source Wire

1.5 - 2.5

Transmission Cable

0.75 - 1.5

Refrigerant

Type

R410A

Control Method

EEV INCLUDED

Sound

Sound Pressure (High / Mid / Low) [dB(A)] 36 / 32 / 28

Sound Power

67 dBA

External Dimension (Indoor Unit)

Net Weight (kg) 61

Shipping Weight (kg) 75.2

Net Dimensions (WxHxD) (mm) 1,553 x 270 x 1,000

Shipping Dimensions (WxHxD) (mm) 1,847 x 349 x 1,300

Manual Download
DVM, ERV Plus, Heat Pump R410a, Indoor Unit (AM050FNKDEH/EU)
Manuals

2019.01.15

User Manual ver 1.0

(ENGLISH)

2019.01.15

User Manual ver 1.0

(FRENCH)

2019.01.15

User Manual ver 1.0

(PORTUGUESE)