AM071FN4DEH/EU
DVM, 4-Way Cassette, Heat Pump R410a, Indoor Unit
Stylishly clean design
Robust operation
Low maintenance and simple installation
World Lightest Weight
Samsung's 4Way Cassette S is now lighter in weight at 17 kg. It is the lightest indoor unit in the industry, about 35 lighter than the conventional products.Samsung was the first to apply ABS cabinets into its indoor units to provide the lightest units. The slim design makes maintenance a breeze and the world lightest weight helps you to install mush easier, too.
Interior Design
The new 4Way Cassette S supports two panels with different pattern designs. You can select between the Waffle and Classic pattern, depending on your interior's look or personal preference. Plus, the simple display design with its rounded corners adds a neat and tidy feeling to your sophisticated interior. Visually harmonizes with your interior with new 4Way Cassette S!
S-Plasma ion
Sanitize your indoor air with Samsung's S-Plasma ion! Priory-filtered air is made even healthier through the S-Plasma ion device which eliminates airborne contaminants, completely eradicates bacteria, eradicates allergies by eradicating airborne allergens and even neutralizes OH-radicals. This optional device can be easily installed by simply inserting the S-Plasma ion kit into the indoor unit.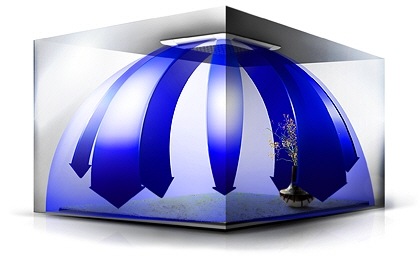 Surround Air Flow
The new 4way Cassette S can cool every portion of your room. The new and practical design of the blades minimises blind spots at the corners of the panel, and can almost cover a full 360˚ around the indoor unit.
Individual Blade Control
By using the new remote controller, the opening angles of the 4 blades can be individually set at the same or different angles within a 32˚ ~ 65˚ range for more efficient cooling.
Fresh Air Intake

By installing Samsung''s new 4Way Cassette S, fresh air can enter through the unit so that you can enjoy even fresher air in your room.

Powerful Airflow

Wide blades in the indoor unit deliver cool or warm air at greater distances up to 5.2 meters to provide cooling and heating throughout the room efficiently
Easy installation

Each corner portion of the panel is detachable: this makes it easier for you to adjust the height, and makes installation and leveling much easier and quicker.
Specification
Features
Model Name

Indoor Unit

AM071FN4DEH/EU

Power Supply (Indoor Unit) [Φ, #, V, Hz]
System
Capacity

Cooling [kW]

7.1 

Cooling [Btu/h]

24,200  

Heating [kW]

8  

Heating [Btu/h]

27,300  

Power Input (Nominal)

Cooling 1) [W]

45  

Heating 2) [W]

45  

Current Input (Nominal)

Cooling 1)

0.31 A

Heating 2)

0.31 A

Fan

Type

Turbo Fan

Air Flow Rate (High / Mid / Low) [CMM]

17 / 15.5 / 14.5  

Air Flow Rate(High/Mid/Low)[L/S]

283.33 / 258.33 / 241.67

Piping Connections

Liquid Pipe (Φ, mm)

9.52  

Liquid Pipe (Φ, inch)

3/8 

Gas Pipe (Φ, mm)

15.88  

Gas Pipe (Φ, inch)

5/8  

Drain Pipe (Φ,mm)

VP25 (OD 32, ID 25)  

Field Wiring

Power Source Wire

1.5 ~ 2.5

Transmission Cable

0.75 ~ 1.5

Refrigerant

Type

R410A

Control Method

EEV INCLUDED

Sound

Sound Pressure (High / Mid / Low) [dB(A)]

35 / 34 / 33  

Sound Power

54 dBA

External Dimension (Indoor Unit)

Net Weight (kg)

15.5  

Shipping Weight (kg)

19.5  

Net Dimensions (WxHxD) (mm)

840 x 840 x 204  

Shipping Dimensions (WxHxD) (mm)

898 x 898 x 275  

Panel Size

Panel model

PC4NUSKAN

Panel Net Weight (kg)

5.8  

Shipping Weight (kg)

8.4  

Net Dimensions (WxHxD) (mm)

950 x 950 x 45  

Shipping Dimensions (WxHxD) (mm)

1,005 x 1,005 x 100  
Manual Download
DVM, 4-Way Cassette, Heat Pump R410a, Indoor Unit (AM071FN4DEH/EU)
Manuals

2019.01.16

User Manual ver 1.0

(ENGLISH)

2019.01.16

User Manual ver 1.0

(FRENCH)

2019.01.16

User Manual ver 1.0

(PORTUGUESE)

2017.06.20

Installation Guide ver 1.0

(ENGLISH)

2016.04.15

Safety Guide ver 1.0

(ENGLISH, CZECH, DUTCH, FRENCH, GERMAN, GREEK, HUNGARIAN, ITALIAN, POLISH, PORTUGUESE, RUSSIAN, SLOVAK, SPANISH)