GT-N8000EAEXFA
Galaxy Note (10.1", 3G)
CPU : ARM Cortext A9 Quad Core, 1.4GHz
Display : 10.1" WXGA TFT
Resolution : 5.0 MP
Business Educational Solutions
The GALAXY Note 10.1 includes access to an educational hub to increase expertise through ongoing training and self-driven learning. Using the advanced technology supplied by the Samsung Smart School Solution enables educational institutions to build interactive learning environments and to better manage the curriculum. The technology helps businesses to create tailored training programmes to develop employees' competency in areas ranging from language proficiency to sector- or company-specific skills and knowledge. The Samsung Learning Hub is a highly flexible training solution that increases a company's edge by empowering and motivating business professionals.
Optimised File Sharing Efficiency
This note comes preloaded with Dropbox storage for improved work efficiency through easy file sharing and storage on cloud. This ensures users can access data at any time from multiple devices anywhere in the world. The high level of security and abundant storage capacity allows large amounts of information to be safely shared between colleagues and business partners. Security is further enhanced by automatic synchronisation, thus ensuring regular back-up of all data is carried out.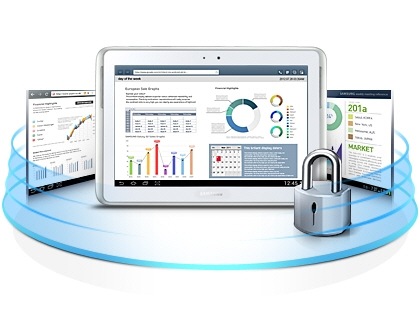 Enhanced Security
With the rapidly increasing reliance on electronically-transmitted information, security is of paramount importance and the GALAXY Note 10.1 addresses this through its enhanced safety features. Accessed via the World's Leading Security package, it enables IT personnel to remotely manage mobile business devices, including settings and deployment, in an integrated manner. Monitoring compliance with company usage policy is made easier and more straightforward. Encryption of devices further strengthens security, and in the case of any data loss, your business is protected from leakage of sensitive information.
Mobile Solutions For A Motivated Workforce
This notebook allows both a personal and corporate profile to operate simultaneously in isolated containers using market-leading virtualization solutions. Your company data and applications are completely isolated from the user's personal information which eliminates any security concerns. This gives business professionals the freedom to use their mobile device of choice, increasing both motivation and productivity. The result is a highly mobile and incentivised workforce with minimised investment and risk of data leakage.
Optimised Productivity
The GALAXY Note 10.1 is designed to optimise productivity in the workplace. It contains a split-screen facility which displays two applications simultaneously, thus giving professionals the freedom to seamlessly move between e-mail, Polaris Office, S Note, Web Browser, Video Player and Gallery. The 10.1-inch screen and Exynos Quad-core processor create abundant space and power to support a multi-tasking approach to work. Dual tasks such as searching for data on the Internet whilst creating a document can be carried out with minimised interruption to focus and workflow. In addition, transposition errors are minimised when checking reference material or sets of data, thus allowing for greater accuracy.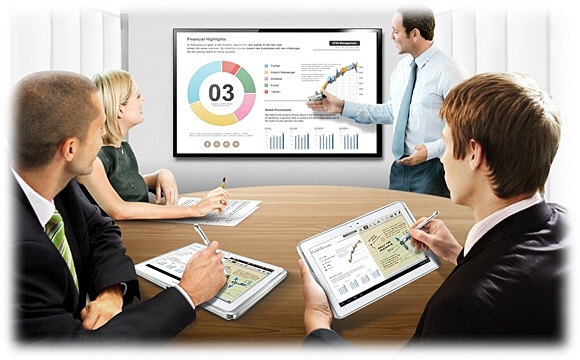 Enhanced Efficiency and Professionalism
Accuracy is a key feature of the S Pen which utilises over 1000 sensitivity levels to enable handwriting to be more precisely transcribed. It combines with the S Note to allow business users to record ideas, thoughts and notes and share them almost instantaneously without the need for deciphering or reformatting. Productivity and standards of professionalism are further enhanced by the wide range of templates incorporated into S Note. Including Document, Meeting Minutes and Idea Note, they enable high-quality multi-media documents to be easily produced in a consistent and timely manner across all areas of an organisation.
Specification
Platform

Band

GSM&EDGE Band

850 / 900 / 1800 / 1,900 MHz

3G Band

850 / 900 / 1,900 / 2,100 MHz

Network&Data

GPRS

GPRS Network&Data: 850 / 900 / 1,800 / 1900

EDGE

EDGE Network&Data: 850 / 900 / 1,800 / 1,900

3G

3G Network&Data

Operation System

Android 4.0 (Ice Cream Sandwich)

Browser

Android Browser

Display

Internal

Technology

10.1" WXGA TFT Technology

Resolution

1280x800 Display Resolution

Size

10.1"

Colour Depth

16 M

CPU

CPU Type

ARM cortex A9 CPU Type

CPU Clock Rate

1.4 GHz Quad Core CPU Clock Rate

Regional Availability

Africa, Americas, Asia-Pacific, China, Europe, Middle East

Design
Memory

User Memory

16/32/64GB

SMS

upto available memory

Phone book entries

upto available memory

External Memory

up to 64 GB

Special

16GB / 32 GB / 64GB Nand Memory

SDRAM Memory

2GB SDRAM Memory

Camera

Camera Resolution

CMOS , 5.0 MP

Flash

LED Flash

Auto Focus

Auto Focus Avaiable

Digital/Optical Zoom

x4 Digital Zoom

Shot mode

Single / Smile / Panorama / Cartoon /Timer shot

Photo effects

Photo Effects: Negative / Balck and white / Sepia

White Balance

White Balance: Auto / Daylight / Cloudy / Incandescent / Fluorescent

Feature

Auto Focus, Flash, Face Detection, Smile Detection, Blink Detection

Image Format

JPEG / PNG / TIFF / RAW / GIF

Physical Specification

Dimension (HxWxD)

180 x 262 x 8.9 mm

Weight

600g

Battery

Standard

Capacity

7,000 mAh

Talk Time

Up to 40 Hours

Stand-by Time

Up to 2230 Hours

Video

Resolution

Full HD

Frame Rate

30 fps

Zoom

x4 Digital

Video player

3GPP / H.263 / H.264 / MPEG4 / WMV

Video recording

QVGA / SD / HD (Recording)

Video Editor

Yes

Video messaging

H.263+AMR NB

Video Streaming

Yes

Video telephony

AMR-NB, H.263, MPEG4

Input Device

Touch

Camera(2ed)

Camera Resolution

1.9 MP

Shot mode

Camera(2ed) Shot Mode: Single / Smile / Beauty / Cartoon / Timer

Feature

Auto Focus, Flash, Face Detection, Smile Detection, Blink Detection

Image Format

JPEG / PNG / TIFF / RAW / GIF

Video(2ed)

Resolution

HD (1280 x 720)

Frame Rate

30 fps

Video player

MPEG4 / 3GPP / H.263 / H.264 / WMV

Video recording

QVGA / SD / HD (Recording)

Video Editor

Yes

Video Ringtone

Yes

Video Sharing

Yes

Video messaging

H.263+AMR NB

Video Streaming

Yes

Video telephony

AMR-NB, H.263, MPEG4

Music&Sound

Music Player

3GP / AAC / AAC+ / AMR / AMR-NB / eAAC+ / H.263 / MP3 / MPEG4

Poly Ringtones

64 Poly

MP3 Ringtone

MPEG-4,AAC Ringtone

DRM

OMA DRM v1.0 + Playready

3D sound technology

3D

Music Library

DNSe 1.0

Fun&Entertainment

Embedded Wallpaper

18 ea

PodCasting

Yes

Business&Office

Document Viewer

Yes

Mobile Printing

Mobile Printing

Offline Mode

Flight Mode

Voice Memo&Voice Mail

Voice Memo, Voice Mail

Messaging

SMS/EMS/MMS

SMS / - / MMS

Predictive Text Input T9

MMS 1.2

Email

Email (POP3, IMAP4, SMTP, SSL)

Cell Broadcast

2G only

vCard/vCalendar

Yes

Instant Messaging

MS Messenger, Palringo, (Yahoo IM)

Connectivity

Bluetooth

Bluetooth v4.0 LE

USB

2.0 High Speed

USB mass storage

Support

Internet HTML Browser

Android Browser

SyncML (DS) Support

OMA DATA SYNC

SyncML (DM) Support

DM 1.1.2, FOTA

WiFi

WIFI 802.11 a/b/g/n Channel Bonding

GPS

Yes

TV-Output

HDMI

Bluetooth Profiles

A2DP, AVRCP, GAVDP, GAP, GOEP, HFP, HID, HSP, OPP, SPP

PC Sync Application

Kies

Further More

3.5mm Earjack

Personal Information Management

Calendar

Month / Week / Day

Scheduler

upto available memory Scheduler

To do list

upto available memory Task

Clock

Dual Time

World time

Yes

Alarm

Yes

Calculator

Yes

Memo book

S Note, S Memo

Call Function

Caller ID

Yes

Dialled/Missed/Received Calls

Total 500

Multiparty

Multiparty

Speaker Phone

Yes

OMA

OMA Data Synchronization

OMA SyncML Data Sync v1.2

OMA Device Management

OMA CP v1.1, OMA DM v1.1.2

Further Information

Mobile Tracker

Mobile Tracker

Touch Screen

C-Type

UAProf Link

Mozilla/5.0 (Linux; U; Android 4.0.4; en-gb; GT-N8000 Build/IMM76D) AppleWebKit/534.30 (KHTML, like Gecko) Version/4.0 Safari/534.30

Extra Feature
* All specifications and descriptions provided herein may be different from the actual specifications and descriptions for the product. Samsung reserves the right to make changes to this web page and the product described herein, at anytime, without obligation on Samsung to provide notification of such change. All functionality, features, specifications, GUI and other product information provided in this web page including, but not limited to, the benefits, design, pricing, components, performance, availability, and capabilities of the product are subject to change without notice or obligation. The contents within the screen are simulated images and are for demonstration purposes only.
* User Available Memory: User memory is less than the total memory due to storage of the operating system and software used to operate the device features. Actual user memory will vary depending on the operator and may change after software upgrades are performed.
* Network: The bandwidths supported by the device may vary depending on the region or service provider.
Manual Download
Galaxy Note (10.1", 3G) (GT-N8000EAEXFA)
Manuals

2014.10.08

User Manual ver 1.0

(ENGLISH)

2014.10.08

User Manual(KK) ver 1.0

(ARABIC)

2014.10.08

Safety Guide ver 1.0

(ENGLISH, FRENCH(M.E.Asia), SIMPLIFIED CHINESE(S.E Asia), ARABIC, INDONESIAN, PERSIAN, THAI, URDU, VIETNAMESE)

2014.10.08

User Manual ver 1.0

(FRENCH(M.E.Asia))

2014.08.21

User Manual(KK) ver 1.0

(PORTUGUESE)

2012.12.06

User Manual(KK) ver 1.0

(ENGLISH)

2012.12.06

Safety Guide ver 1.0

(ENGLISH(Europe), SPANISH(Telefonica), BULGARIAN, CROATIAN, CZECH, DANISH, DUTCH, FINNISH, FRENCH, FRENCH(FRANCE), FRENCH(SWISS), GERMAN, GREEK, HUNGARIAN, ITALIAN, KAZAKH, LATVIAN, LITHUANIAN, MACEDONIAN, NORWEGIAN, POLISH, PORTUGUESE, ROMANIAN, RUSSIAN, SERBIAN, SLOVAK, SLOVENIAN, SPANISH, SWEDISH, UKRAINIAN, UZBEK)

2012.12.06

User Manual ver 1.1

(FRENCH)

2012.12.06

User Manual ver 1.0

(PORTUGUESE)