SMART Signage Solutions
MagicIWB I2
Advanced E-board solution
Deliver Classroom Lessons that Resonate through Samsung's Advanced MagicIWB I2 Software
With students increasingly becoming digitally native due to the widespread presence of new technologies, such as tablets, e-book readers and smartphones, educators see expanded opportunities to use these devices to promote engagement and knowledge retention in the classroom. To ensure a successful transition to digital education, evolving learning environments require open and flexible platforms that make adoption easier.
By seamlessly communicating with smart devices and leveraging collaborative tools, Samsung's MagicIWB (Interactive White Board) content management software for Samsung's SMART Signage IWBs enables students, teachers and administrators to participate in and benefit from a more dynamic learning experience. Featuring an interactive touchscreen, MagicIWB delivers highly readable, full high-definition (FHD) quality content that enhances teaching and elevates learning.To accommodate various usage environments, Samsung's powerful MagicIWB software comes in two different services: MagicIWB I2 for education, and MagicIWB S2 for business and government. With MagicIWB I2 software, users can promote collaborative, engaging and effective discussions at a lower total cost and with less complexity.
Share Engaging, Device-Compatible Lesson Content without Distraction or Interruption
Built to meet the growing demands of educational environments, Samsung's upgraded MagicIWB I2 software is an easy-to-adopt, highly-impactful solution that combines efficiency, convenience and flexibility into a simplified package. The software's advanced programs not only empower educators with direct command of classrooms, but also enable students to experience real-time communication.
Samsung's IWB displays with MagicIWB I2 connect directly with educators' devices through the software's MagicIWB Manager. Along with optimized document sharing tools, the program's classroom management features help educators drive discussion interactivity. For example, MagicIWB Manager allows teachers to disconnect students from the network should they need to command group attention. Additionally, the software's MagicIWB Agent connects students' notebook PCs and tablets to Samsung's IWB displays.Through an easy-to-use interface, MagicIWB Agent makes it easier for students to collaborate and participate in discussions. This student-centric learning accelerates and deepens understanding and achievement, while also ensuring educators can continuously assess knowledge retention. As a result, MagicIWB I2 fosters unprecedented student-teacher interaction and operational efficiency to achieve new levels of learning.
*MagicIWB I2 is compatible with all DBE, DHE, DME, DME-BR and DME-BM Series IWB models. However, users must connect the software solution either through a Plug-in Module or an additional PC, after purchasing a license to access the software.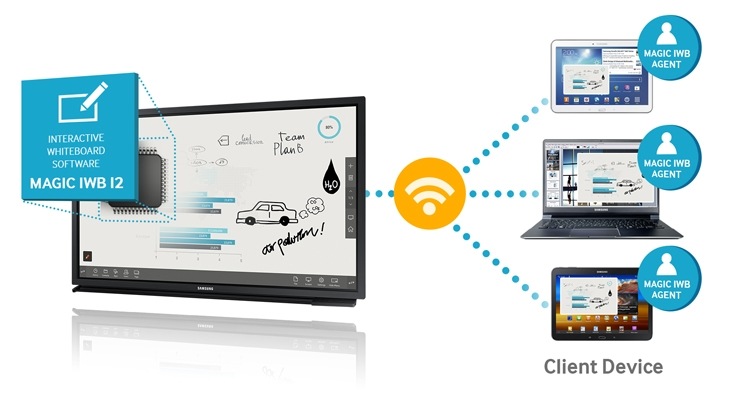 *MagicIWB I2 is compatible with all DBE, DHE, DME, DME-BR and DME-BM Series IWB models. However, users must connect the software solution either through a Plug-in Module or an additional PC, after purchasing a license to access the software.
Remove Learning Boundaries through Streamlined Content Access
Samsung's MagicIWB I2 knowledge-sharing software is designed especially for learning-oriented discussions, driving more efficient interactions by removing common barriers to student and teacher interaction. The platform's device compatibility and education-specific tools inspire open exchange and collaboration, as well as instruction efficiency. Key features include:

• A Delay-Free Class Introduction: Educators can initiate lesson plans immediately through MagicIWB I2's versatile Home Screen, using either Work Mode or Content Mode. Work Mode allows educators to select previous content and projects or start new projects, while Content Mode lets users search and play content saved in internal or external memory.
• Tools for Any Lesson: An all-inclusive Education Toolkit accelerates lesson execution, visual learning and creativity in the classroom. With the Toolkit, teachers and students can quickly access and display a range of educational content, including eraser, protractor and shape drawing tools. To accommodate various subjects and grade levels, MagicIWB I2 also makes geography, math and science tools available in one touch.
• Real-Time Notation: Teachers and students also can apply universally visible sticky notes directly to featured content through MagicIWB I2's unique Quick Memo feature, storing presentation updates in a single, easily accessible location.
• Handwriting Recognition: For additional convenience and usability, a highly-accurate handwriting recognition feature converts words, numbers and shapes into text on the IWB display. This text can then be instantly saved, ensuring more effective use of instruction time.
Through seamless file sharing and a host of interactive tools, Samsung's MagicIWB I2 software condenses the multiple elements necessary for efficient learning into a single program. As a result, educators can deliver a more organized and uninterrupted classroom experience.

Inspire Class Collaboration and Interaction through Real-Time Content Management
Samsung's powerful MagicIWB I2 software boosts presentation quality and resonance through the incorporation of easy-to-use features, interactive visual content and real-time updating capabilities. Key education-geared features include:

• Expanded Content Visibility: MagicIWB I2 builds upon the basic functionalities of earlier IWB technologies to offer a broader and more powerful Browser function. Upon logging in, the User Browser calls up each presenter's specific settings and saved lesson plans, enabling multiple users to store and access content within the system. From there, the software's Page, Content, History and Application Browser functionalities allow users to seamlessly scroll through and select the new and saved materials most relevant for the day's discussion.
• Draw on Any Content Source: The IWB software allows users to draw on any selected content source that appears on the display's touchscreen surface, including within Picture-in-Picture (PiP) windows. This enhanced usability reinforces critical discussion points on screen and boosts the efficiency of presentation content.
• Capture, Store and Share Content: Teachers and students can share both screens and content, including music, photos, images, videos and documents, with other MagicIWB Agent-enabled portable devices. Users also can open files on the IWB display from other participants, either to supplement presentation content or to share with a broader group. Separately, the software's screen and video capture buttons offer a hassle-free method for instantly capturing meeting notes and video screenshots. Class participants can then email or print the notes and screenshots for simplified sharing.
• Floating Menu: All essential Samsung IWB display functions, including the eraser and drawing tools, are included in the MagicIWB S2's Floating Menu. The Floating Menu also can be positioned virtually anywhere on the display screen.