Solution Brief
Why Samsung Smart Signage?
Enliven your business messaging with a proven digital signage provider backed by 6 years of market leadership.
Nov 14. 2017
Engage, educate and serve customers with impactful digital signage
Businesses are increasingly using digital signage to attract and inform customers about their products and services. Banks, restaurants, retailers and more are finding them valuable tools at point of sale (POS) and point of wait (POW) locations to promote their brands and merchandise. Rapid growth of digital signage use in business environments has been reflected in escalating sales of digital signage* .

* Source: IDC Retail Insights 2013
Why Digital Signage?
Digital Signage serves as a robust, compelling solution for greater business ROI
Benefits over Analog Signage
* Easy installation, fewer fixtures and low maintenance
* No more hassle and cost of updating static signage manually
* Dynamic and immersive contents attract more customers
* Increased affordability and reliability of LED backlit displays make them feasible for more businesses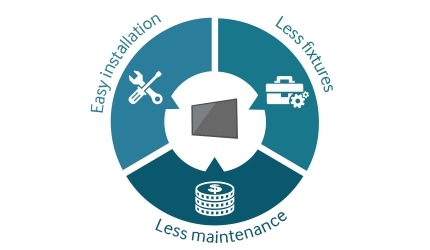 Benefits over projectors
* Bright, clear, high-resolution images without fuzziness
* Longer product lifespan and lower maintenance cost
* Smooth operation without the distraction of noise or dazzling
* Enhanced room atmosphere with sleek, modern design and reduced heat generation
Benefits over consumer TVs
* High reliability with longer operating hours and product lifespan
* Simple-to-use content management solution with embedded PC-functions
* Convenient remote management of multiple displays in various locations
* Seamless delivery of timely information with content management software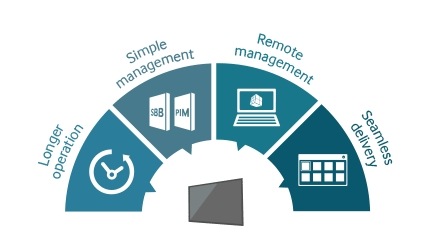 Why Samsung Smart Signage?
Capitalise on Samsung's rigorous oversight and solid reliability

Greater longevity - Assessed for a simulated full lifecycle to ensure almost doubled lifespan than consumer TVs

Heat resistant - Long-term operation in hot conditions - three times longer than consumer TVs

Static content resistant - Impervious to after-image at three times the intensity of consumer TVs

Dust resistant - Operational when exposed to double the dust intensity of consumer TVs

Pro-longed operation - Twice the length of operation as consumer TVs

Heavy weight support - Designed to withstand four times its weight with aluminum bracket for large-sized displays
Engage Viewers with Unmatched Picture Quality with Innovative Samsung Technology
Samsung's own video chip
* Crystal-clear picture quality regardless of content source and type
* Optimised for various commercial environments and content types with special Picture Mode options


High-quality upscaling
* Clear, smooth viewing of smaller, native-resolution standard-definition (SD) videos on full-high-definition (FHD) displays

Automatic brightness adjustment
* Automatically adjusts brightness levels to match ambient lighting for the optimal viewing experience
Choose from An Extensive Product Portfolio Backed by A Global Support Team
Reliable global support and expertise

* In-house production process from design to manufacturing for assured quality control

* Extensive R&D, manufacturing, sales coverage and professional support with 60 locations worldwide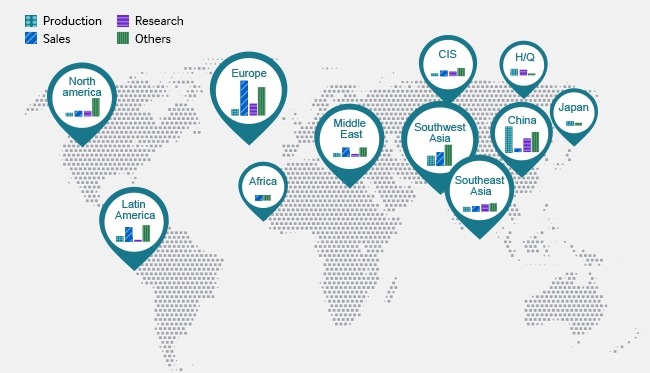 A wide array of options for every business need

* Operate from generalised to specialised purposes depending on business needs

* Deploy from light to heavy usage display depending on the usage environment