Galaxy S20 | S20+ | S20 Ultra
This is the phone that will change how you do business
Meet Galaxy S20, S20+ and S20 Ultra. As the mobile worker and office become increasingly common, mobile devices are required to be trusted, optimised and ready for business. With an intelligent battery, powerful processor, revolutionary pro-grade camera, massive storage and Samsung Knox security, this is a phone delivering a truly mobile workplace.
The phone trusted for work, anywhere, anytime
When work takes you out of the office, you need a phone you can trust to work wherever you go. Secure, reliable and long-lasting, Galaxy S20, S20+ and S20 Ultra are engineered to perform and keep you on task.
Security
Defence-grade security built from the chip up
Security is at the core of Galaxy S20, S20+ and S20 Ultra. Samsung Knox platform provides real-time device protection from hardware to software. We created a Secure Processor dedicated to protecting your PIN, password and pattern. And with secure biometric authentication, your private data stays private.
LEARN MORE
Performance
Think fast and work faster
An enhanced processor with built-in advanced intelligence and powerful RAM make Galaxy S20, S20+, and S20 Ultra fast and reliable, handling multitasking with ease. It learns your mobile patterns based on frequently used apps for personalised performance and even lets you designate your favourite apps to preload and run faster- whether they're for creating documents or tracking your accounts or QR business cards for networking.
Power
The power to keep your workday going
Galaxy S20, S20+ and S20 Ultra's batteries aren't just powerful, they're intelligent, optimising your app usage to deliver the power that outlast your business hours. Then when it needs a recharge, Super Fast Charging and Fast Wireless Charging 2.0 give you power in a flash, and Wireless PowerShare charges your buds, watch and even a colleague's phone.*
*Wireless charge compatible (QI standard) devices only. Battery charge above 30% required to PowerShare on the move without being plugged into mains charge.
IP68
Work in challenging environments
Out in the field, you can worry less about your device. Galaxy S20, S20+, and S20 Ultra come standard with an IP68 rating for protection from dust or a quick dip in the water.*
*IP68 water resistant up to 1.5 metres for up to 30 minutes. Rinse in fresh water afterwards.
Display
Super smooth and bright display
The Infinity-O Display on Galaxy S20, S20+ and S20 Ultra features Dynamic AMOLED 2X — a 120Hz display for a smoother scroll and precise touch response. It's also easy on your eyes, reducing blue light to lessen eyestrain at night. Plus, it detects your surroundings and adjusts its brightness level for a clear view, indoors or out.
*Default screen mode is 60Hz. Requires screen setting at 120Hz screen mode.


The phone optimised for the way you need to work
The busy workforce needs a phone that will seamlessly fit into any kind of workspace and offer an efficient solution for business. Galaxy S20, S20+ and S20 Ultra are optimised for a single-device lifestyle, letting you work anywhere with Samsung DeX, create and store content easily and share it instantly via fast connectivity, easy sharing solutions.
Samsung DeX
Experience a truly mobile office
Simply connect Galaxy S20, S20+ or S20 Ultra to your monitor or TV for a mobile office experience on the big screen. And now, with just a USB cable, Samsung DeX for PC allows you to drag and drop files, copy and paste and multitask both on your phone and your PC or Mac.*
*USB-C to HDMI cable and accessories sold separately.
LEARN MORE

Camera
Super high resolution for your business
Galaxy S20, S20+ and S20 Ultra boast professional, high resolution camera and Space Zoom for incredibly detailed photos to accurately capture new ideas when inspiration strikes. In addition to enhanced low light technology and Super steady, the powerful camera also records in 8K, the highest resolution video available on mobile, for crisp footage whether in the field or at the office.*
*Super Resolution Zoom includes digital zoom, which may cause some image deterioration.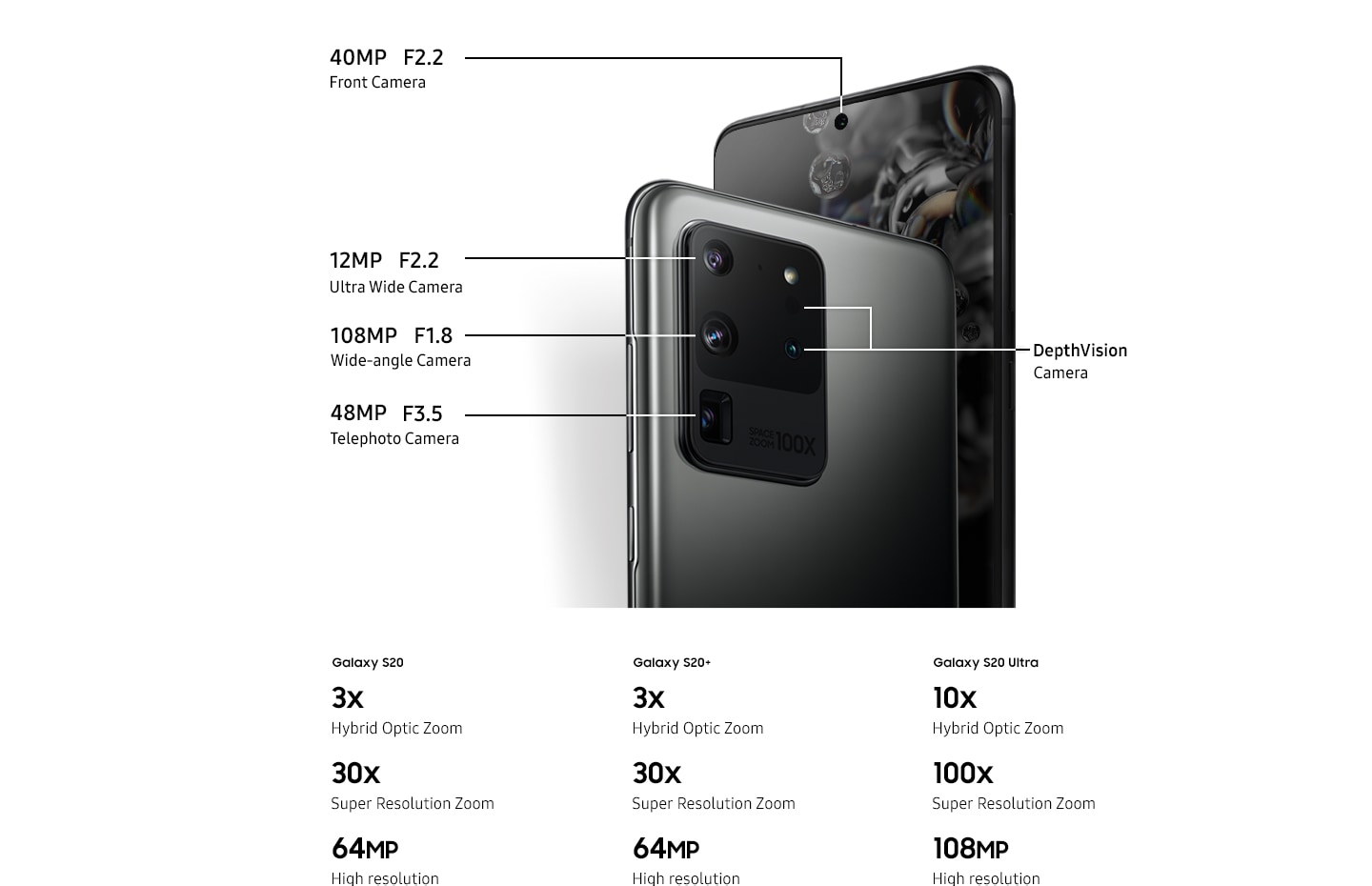 Storage
Laptop-grade storage in your hand
Galaxy S20, S20+ and S20 Ultra deliver vast storage for all your files and high-res media. You can store even more via microSD card. Download files and create content without worrying about how much space you have.*
*Micro SD card sold separately. Up to 1TB. External memory can be used to store media (photos, video and music files), but not applications.

Quick Share
Make sharing easy and fast
Seamlessly transfer files to your colleagues nearby without connecting to a network. Quick Share lets you choose up to five people nearby and share your file instantly.

Connectivity
Next generation network speeds
5G keeps you seamlessly connected even whether you're on the move or at the office.* Search, stream and download files in a flash, or hold a video conference call without interruption. In the office, or in crowded areas like airports or hotels, Wi-Fi6 ensures a strong connection without latency issues.
*5G functionality requires optimal network connection.


The phone ready for your business
Created with both enterprises and small businesses in mind, Galaxy S20, S20+ and S20 Ultra work seamlessly with leading business solutions. From easy management to technical support and even security updates, your device will be ready to drive your business further.
Ready for Enterprise
Corporate-liable product with solutions
Samsung enables enterprises to adopt integrated, high-performing mobile technologies to transform and optimise business operations, while driving growth through innovation.

Enterprise Edition
Comprehensive mobility solutions for Enterprise
Enterprise Edition offers business efficiency with cost savings, and helps you easily set up an enterprise mobile ecosystem. It comes with Knox Configure, which remotely configures Samsung device settings in bulk and Knox E-FOTA on MDM (Mobile Device Management) services to maintain device OS versions. Enterprise Edition also supports 4 years of Security Maintenance Release and 2 years of Market Availability for business continuity and more protection. Enterprise Edition makes configuring, deploying and updating devices quicker and simpler so you can spend more time focusing on work.*
*Enterprise Edition available only for Galaxy S20 and S20+.
*Enterprise Edition available only for Galaxy S20 and S20+.
Enterprise Technical Support
Premium Technical Support for your business
Get direct access to our team of enterprise mobility experts through a dedicated point of contact. With expert support for Samsung hardware and software-related issues, from OS version and security updates to enterprise solutions, your business can keep on running.
LEARN MORE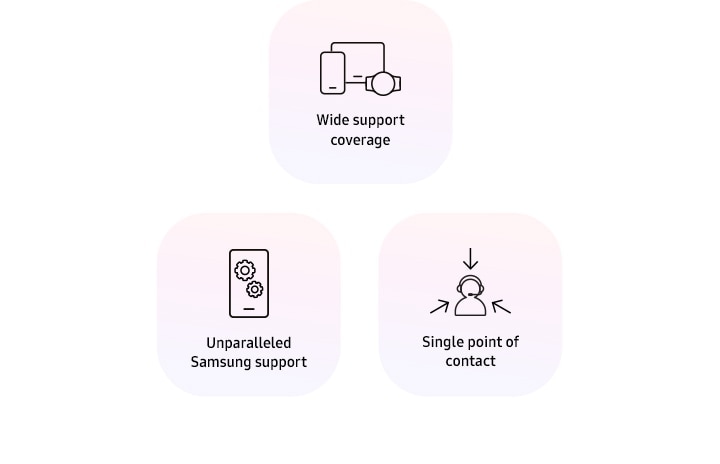 Knox Mobile Enrollment
Bulk device enrollment with fast deployment
Get your enterprise ready quickly with Galaxy S20 and S20+. Knox Mobile Enrollment is a frictionless deployment service that allows you to quickly enroll large numbers of Galaxy S20 and S20+ devices to an EMM (Enterprise Mobility Management) at once, without manually enrolling each one.
LEARN MORE
Ready for SMB
Work efficient and effective
Samsung provides cost effective mobile solutions that change the way you run your small business, enabling you to achieve your business ambitions by increasing productivity and manageability.

QR Code/Multiple File System
Built-in small business solutions
Create a personalised digital business card with QR code on your phone, so you can simply transfer your contact information for your business. Plus, Multiple File System supports your everyday work, allowing you to keep your files on hand and access remotely through Samsung Cloud or network storage via FTP.
Knox Manage
Cloud-based easy management
Easily manage a fleet of Galaxy S20, S20+ and S20 Ultra devices with a cloud-based EMM solution that increases business efficiency. Knox Manage allows IT admin to manage via remote device control and troubleshooting in real-time, while preventing confidential business data leaks by restricting unintended actions.
LEARN MORE