Push the boundaries of your Galaxy
with Samsung DeX
Your device is more capable than you know. Text your friends, watch a movie on the big screen,
and get ready for your big presentation - all with a single device assisted by DeX.
The perfect tool for multitasking is now available with wireless connection.
Click to download Samsung DeX app for use on PC and Mac.
* Samsung DeX app only downloadable on PC and Mac.
* USB-C to HDMI cable and accessories sold separately.
**DeX for PC is available on selected devices, and on Windows 7, 10 and versions of Mac OS higher than 10.13.
Visit the FAQ page for a full list of device and software compatibility.
DeX goes wireless
Launch DeX to link your phone through Wi-Fi with any Miracast-enabled display, including non-Samsung TVs. When connected, utilize the bigger screen for presentations or movie nights while still being able to use your phone independently for calls, texts, web surfing, and more.
*Samsung DeX wireless connection is supported with TVs that support Android smart phone screen mirroring only.
**There may be a difference in performance depending on TV's specifications and WiFi environment. Recommended to use Samsung Smart TVs launched after '19.
*** As of August 2020, Wireless DeX is supported on the following models only: Galaxy Note 20, Galaxy Tab S7, Galaxy Z Fold2.
Make presentations
a breeze
With DeX, taking your Galaxy is all the prep for your big presentation. Put your presentation file on your Galaxy phone, connect to the Smart TV in the meeting room through Wi-Fi and launch DeX by pressing "DeX" button on the phone, then knock it out of the park.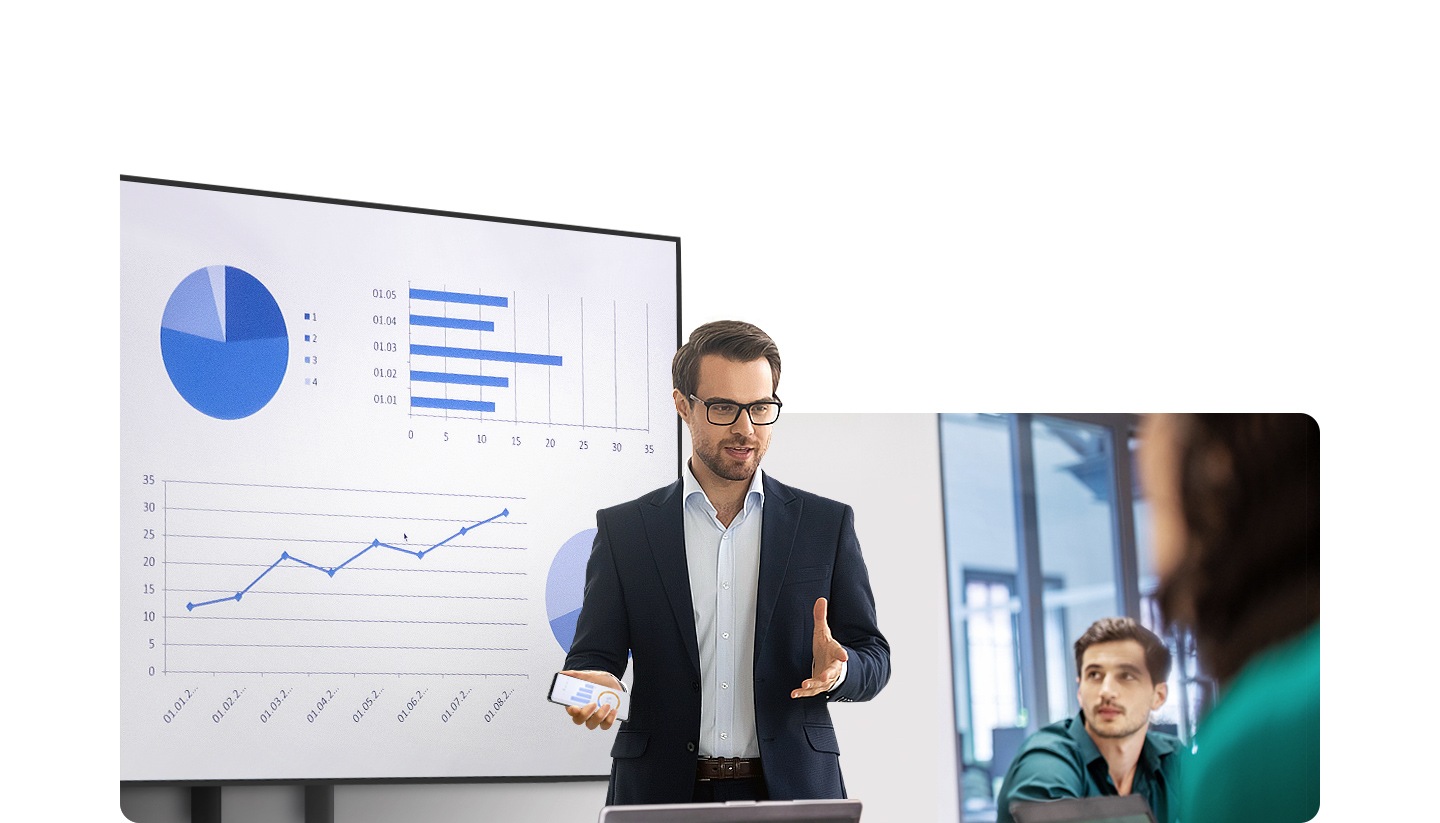 Do double-duty
at home
Launch DeX on your phone and connect to a nearby TV to watch
a movie on a big screen, or create a virtual classroom for the kids. Meanwhile, you can still get your own work done on the phone, including checking emails, making calls, or even taking a break with your favorite game.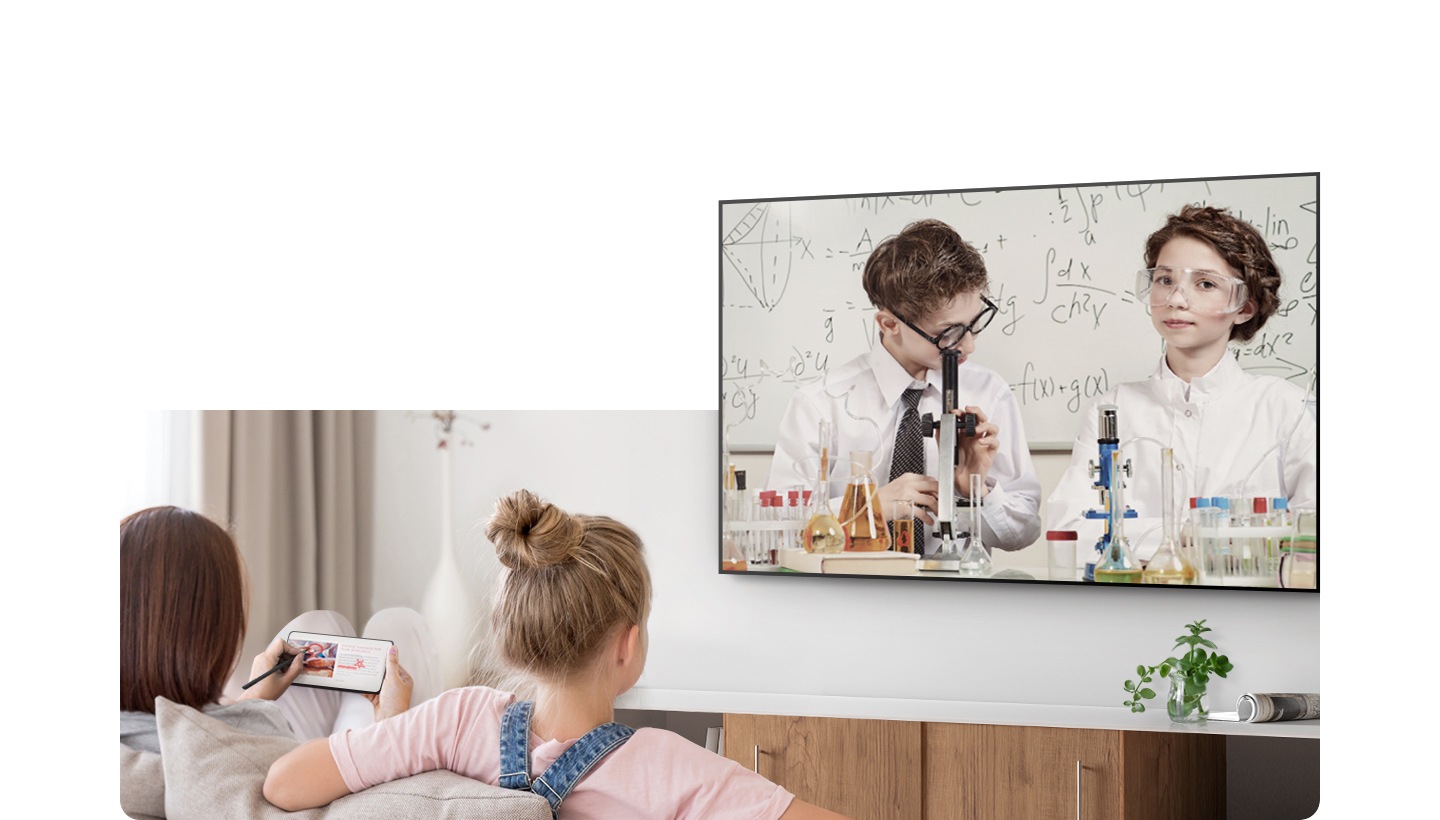 Your input is invaluable
Use your Galaxy phone as a touchpad with intuitive multi-finger gestures and customizable functions, or as an on-screen keyboard with a larger display.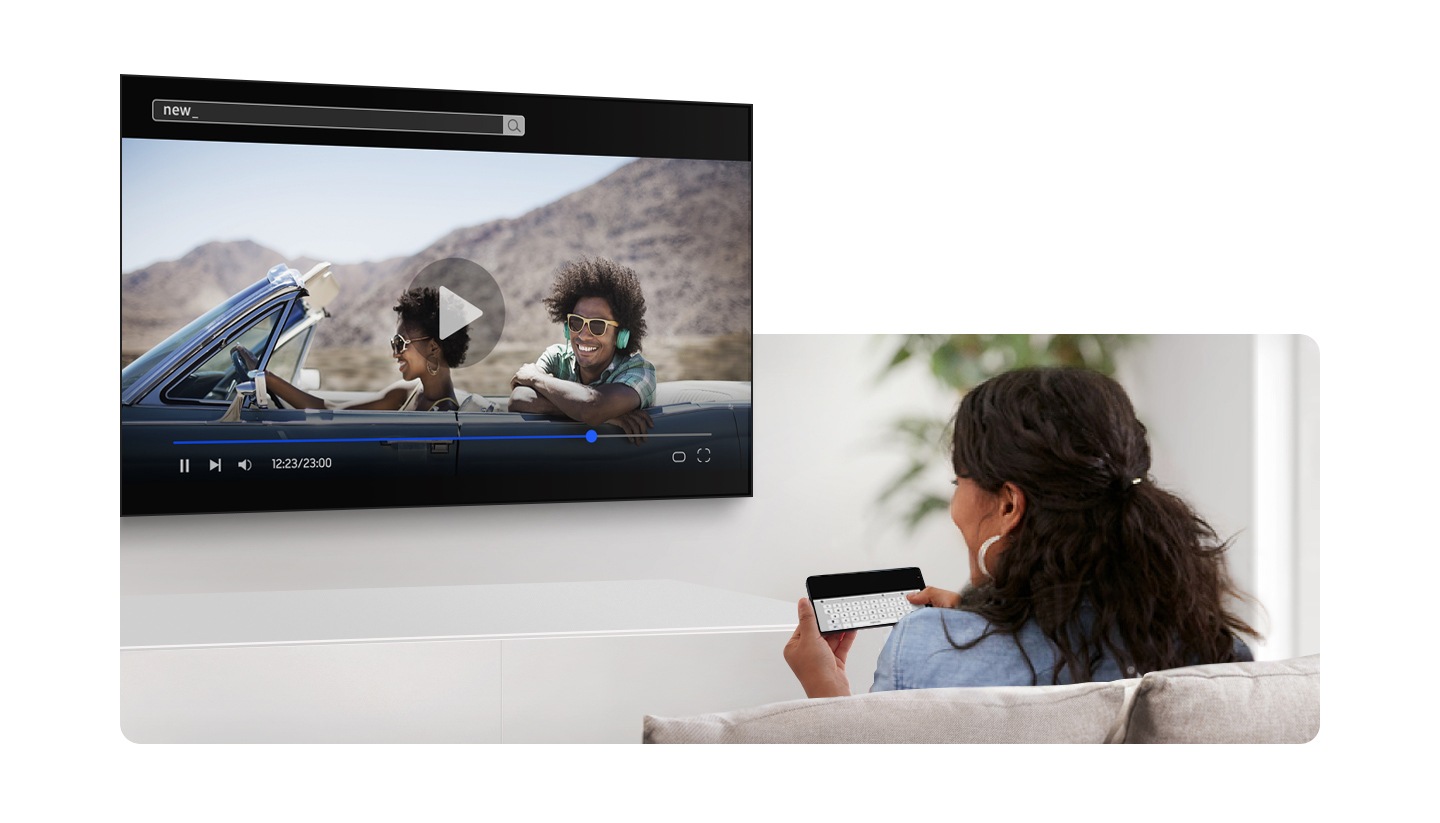 Bring Samsung DeX to your computer
You can do twice as much
Take multitasking to the next level. Watch movies on the monitor while checking texts, or take a call while reviewing documents
without breaking your focus. With Samsung DeX, you have two screens – so you can do twice as much.
Just a USB cable* unlocks Samsung DeX on your computer. Download the PC app on www.samsungdex.com.
**DeX for PC is available on selected devices, and on Windows 7, 10 and versions of Mac OS higher than 10.13.
Visit the FAQ page for a full list of device and software compatibility. Requires PC app download.
Looks like a tablet, acts like a PC
Productivity has never been so mobile
Full PC-like productivity in a slim tablet with Samsung DeX. Simply tapping DeX button on the Quick panel for features that let you use your tablet just like a PC. Open several windows at once, drag and drop a photo into an email, and right-click for more functions.
*Only the following Galaxy Tab models support DeX: S4, S5e, S6, S7, S7+, Tab Active Pro
A PC-like experience with a single tap
With the Book Cover Keyboard, getting things done is that much easier.
With a larger trackpad and intuitive function keys, the keyboard allows a smooth workflow and natural user experience.
And partnered with DeX, you can transform your tablet into a PC-like workstation with a single tap.
*Book Cover Keyboard sold separately
**Function Key only applied on certain models
Try these apps in DeX mode
Switch between screens naturally when using your favourite apps.
Go from MS Office Suite to Adobe Sketch or from Browser to YouTube. Use them on your device, then cast it on a bigger display. With Samsung DeX, you'll get your jobs done before you know it and even have enough time for games.
* Microsoft Excel, Microsoft PowerPoint, Adobe Photoshop Lightroom, and Adobe Photoshop Sketch require a download to use.
** MS Office requires users to purchase licences.
* Samsung DeX supported on selected Galaxy, Note, and Tab devices. (More details on the FAQ page. )
** Running multiple apps or high-performance games on older models with Android Pie OS may cause the device to slow down.
*** Certain apps may not run or require a separate license (for purchase) on Samsung DeX.
**** Some functions of Samsung DeX with HDMI adapter or cable may differ from those with DeX Station and DeX Pad.
***** Accessories sold separately.
****** Screen images simulated.