SLG 5-star Certification

Received the highest 5-star rating for
Dust retaining capability of 99.999%³ of
fine dust⁴ from SLG Prüf- und Zertifizierungs GmbH.


British Allergy Foundation Certification
Recognised by The British Allergy
Foundation for reduction in exposure to
house dust mites, cats, dogs and pollen.

UL Certification
Certified by UL for less dust emission
up to 400 times when emptying the dustbin⁵.
Samsung Jet™ - powerful cleaning with less effort
Super light and super powerful, the Samsung Jet™ cordless stick vacuum makes cleaning the whole house easier than ever, with up to 200W⁶ suction power and a high capacity battery that can go for up to an hour⁷ without stopping to recharge. Not to mention the Multi-layered Filtration System that traps 99.999%³ of fine dust⁴ and reduces allergens⁸, and specialised brushes, designed to remove even tiny particles.
Samsung Jet Bot™ - AI intelligent cleaning

Clean your home without lifting a finger, with the Samsung Jet Bot™ robot vacuum.
Using 3D sensors and AI object recognition, Jet Bot™ avoids possible obstructions and breakable objects
to find the optimal path around your home, while LiDAR tracks its location, so dirty spots don't get left behind.
It even empties itself into the dustbin.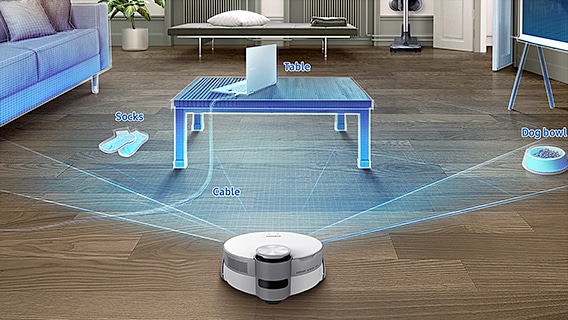 Smart cleaning with
AI object recognition
Jet Bot™ ensures that every inch gets cleaned, without running into obstacles using AI, 3D Sensor and LiDAR sensor technology.

Cleans with long-lasting suction power
Enjoy maximum suction that lasts clean-after-clean, thanks to Jet Cyclone and the advanced Digital Inverter Motor.

Self emptying
robot vacuum
Jet Bot™ automatically returns to the Clean Station™ to dispose of any dust,
using Air Pulse Technology.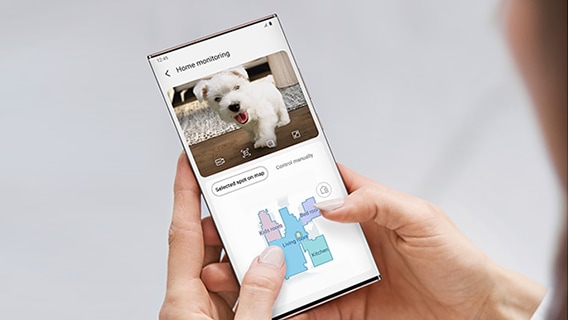 Have Jet Bot watch over the house for you
Check on your home and pets with Jet Live, whenever you want and wherever you are.
Compare and choose
the right vacuum for you
Free delivery
Free delivery to Ireland across our full Jet range.
Subject to availability.


Flexible Payment Options
We accept credit or debit card, or you can buy now
and pay later with our finance partner, Humm.


* Purchase between 01.07.22 – 31.03.23 from a participating retailer only. Register online within 100 days of purchase. To register and for full T&Cs see www.samsung.com/ie/offer/vacuum-100-day-promise/
1. Tested based on IEC 62885-2, CL.5.11 using the Max mode by SLG Prüf- und Zertifizierungs GmbH. Results may vary depending on actual usage.
2. Refers to particles in the size range of 0.5 to 4.2µm.
3. Fine dust emission level tested when emptying the dustbin. Based on PM10 concentration (µg/m3), maximum level compared with the Samsung VC7000. Based on UL tests. Results may vary depending on individual use.
4. Suction tested based on the IEC62885-2 Cl. 5.8 standard, tested at the inlet of the non-accessorized tool, using Max mode. Based on SLG Prüf- und Zertifizierungs GmbH tests. Max suction power may vary by model.
5. The stated run time applies to the minimum power level with a non-motorized tool attached. Max Running time may vary by model.
6. Based on the Allergy UK Seal of Approval by BAF (British Allergy Foundation).
7. Example Items: air conditioner (stand type), refrigerator, TV, washing machine/dryer, air purifier, AirDresser, sofa, bed, bookshelf, table, Bespoke (refrigerator, dishwasher), excrement, electrical cable, towel/sock, cup, glass cup, bottles, bowl, vase. Object recognition may be affected by an object's shape or the environmental conditions.