SMART Signage Solutions
MagicInfo™ Server 4.0
All-in-one content management gateway

Run multiple types of displays through a single, unified server
The real power within Samsung MagicInfo™ Server lies with its ability to provide multiple network-based solutions for displays that are situated in different settings, whether onsite or offsite. Another hallmark of MagicInfo™ Server is its compatibility and capacity to seamlessly operate across connected Samsung SMART Signage devices such as standalone displays, video wall displays, semi-outdoor and outdoor displays, small signage displays, eBoard displays and more. IT managers can be more empowered now than ever through being able to conveniently and expediently oversee the status of multiple displays situated throughout the premises or company from a single location, and opt to either control the displays on the fly or according to a pre-determined schedule.
Access MagicInfo™ Server from virtually anywhere with a web connection
Any display on your global network can now be managed remotely if web access is enabled. Convenience and flexibility is further underscored as content or system administrators can connect with MagicInfo™ Server through simply inputting an IP address or server URL into the address bar of a web browser. Using the web-based server UI, a manager can conduct all digital signage infrastructure management tasks such as monitoring and controlling displays, managing content and schedules, analyzing audience measurement data and more.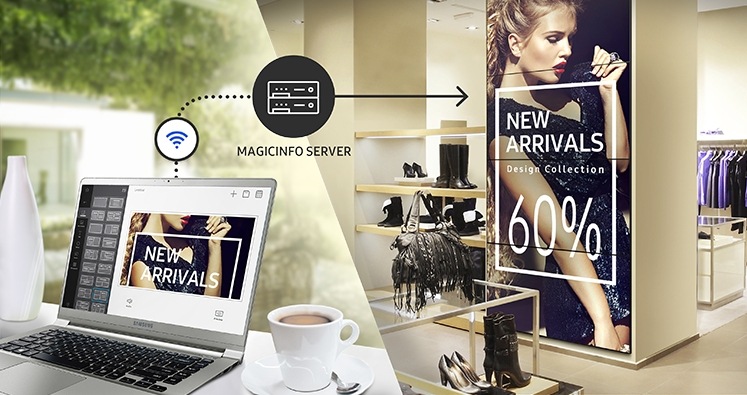 Manage all Samsung SMART Signage remotely from a central location
Upon configuring all of their Samsung SMART Signage to tie into MagicInfo™ Server, companies can unlock new levels of value through having the capability to remotely monitor and manage displays. This bypasses the tediousness and inefficiency from having to oversee displays wherever they happen to be situated. Remote monitoring encompasses everything from being able to turn the Samsung SMART Signage on and off to being able to uphold quality assurance of digital messaging through seeing the content being played on the device in real time. MagicInfo™ Server is the bridge that allows for a countless number of networked displays to be managed at once.
Adds a robust dimension of sustainability with Backup Player
The Backup Player adds a robust dimension of security and sustainability through its role of ensuring visual uptime of your vital content, even in the event that any given display goes down or begins to exhibit problems. Through designating a particular display to effectively function as the Backup Player for another display that is projecting critical content, MagicInfo™ Server will immediate intervene and re-task the content on the Backup Player in order to relay the primary display's prioritized information. All this happens through the immediacy and responsiveness of MagicInfo™ Server's core functionality for real-time monitoring and troubleshooting. Once the problematic display is back on-line again within your display network, MagicInfo™ Server re-tasks the displays once again to set back to their default configurations.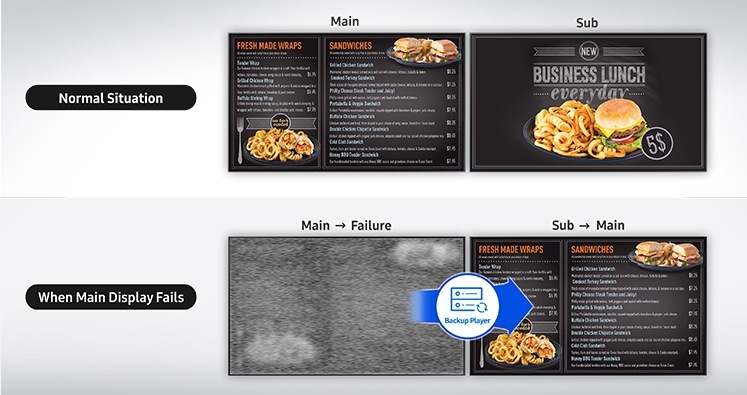 Automatically update content by tying in with remote database sources with Datalink
MagicInfo™ Server can be leveraged by your Samsung SMART Signage to make use of its dynamic DataLink functionality. DataLink acts as a conduit for your display solution and allow for its content to tie in with remote database sources. By always being assured of having the automated capacity to provide updated content without having to manually and individually edit the content for each display, you can have peace of mind knowing that customers are being reached with timely and targeted information without any effort needed on your part. RSS feeds are also supported by MagicInfo™ Server, allowing your network of displays to feature text-based information such as weather and financial information as needed.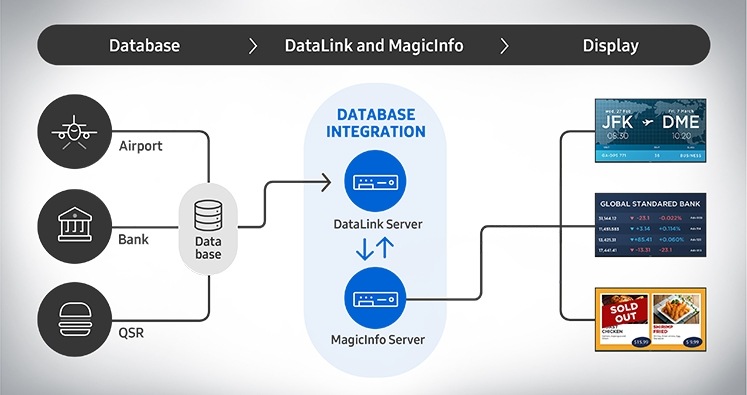 Make use of customer recognition data with Audience Measurement
Also within Samsung MagicInfo™ Server, Audience Measurement allows for harvesting of customer recognition data based on age and gender when the optional camera is installed on the display. The function is automatically activated and works only when the dedicated camera is connected. The software solution includes two major features: Dynamic Content Play and Data Statistics.

Manage displays and content powerfully with the visually and technically overhauled new MagicInfo 4.0
MagicInfo Server has been upgraded from Ver. 3.1 to 4.0. MagicInfo Server 4.0 has been visually and technically overhauled with enhanced functionality and usability from its prior version. The uniform experience throughout all MagicInfo Solutions will deliver the same level of satisfaction on ease of use and powerful management function regardless the size of the organization may be.

• Totally new UI for better functionality and usability
- Consistent Menu Structure throughout software family
- Intuitive Menu Structure
- Simplified scheduling with GUI
- New Web Author design

• New and enhanced features for easier content management
-New History Tab
-Quick Edit
-Direct data upload without add-in installation
-Convenient status bar to check file upload
• Upgraded device management for centralized management
-Easy device tagging
-Enhanced search capability
-Unified Group