LH40SFWTGC/XY
Interactive Display SUR40 40"
Samsung SUR40 with Microsoft® Pixelsense™
Changing the way consumers interact with your digital content and your brand.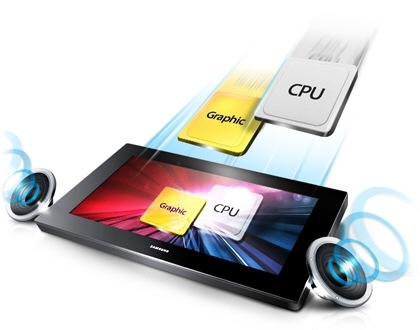 Connect with an open software developer community
Make the most of an expansive global community of developers rapidly adopting the Samsung SUR40 with Microsoft® Pixelsense™ platform and technology. From creating customised apps to connecting with partners actively producing solutions for customers worldwide, the creative possibilities are endless. Developers working with the Samsung SUR40 with Microsoft® Pixelsense™ utilise a wide selection of tools such as Microsoft Visual Studio 2010, Microsoft Expression Blend, .NET Framework, MSDN, Windows and many more, to create impressive new industry-specific apps and new business opportunities. Now a strong and dedicated international community can truly interact, which means better implementation of ideas for everyone.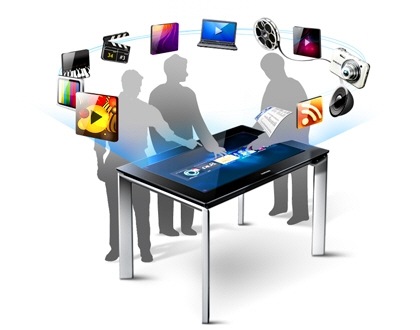 Powerful CPU and graphics for a powerful experience
Take your computing power to a new level with the Samsung SUR40 with Microsoft® Pixelsense™ and its selection of high-performance hardware. With the AMD Athlon™ II X2 2.9GHz Dual Core processor, fast multi-tasking is no problem. The AMD Radeon™ HD 6570M desktop graphics card delivers clear and vibrant visuals as well. Four built-in speakers complete a powerful and comprehensive package that offers an amazingly immersive user experience. Choose hardware that will keep up with your demands and users' expectations.
Achieve more with enhanced connectivity
Increase business productivity with the Samsung SUR40 with Microsoft® Pixelsense™, which features a wide selection of inputs including four USB ports, a Wi-Fi 802.11n router and Bluetooth and Ethernet connections. With so many different digital platforms integrated into the work environment, such as video cameras, smartphones, tablets, laptops, barcode scanners, printers and much more, enhanced connectivity is certainly a must-have modern resource for any successful business.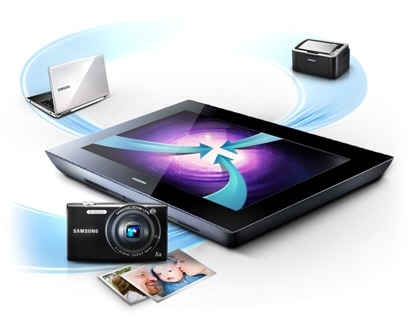 Thin and flexible multi-configuration design
Experience attractive thin design and a range of practical setup possibilities. The new Samsung SUR40 with Microsoft® Pixelsense™ is only 4" thin but highly powerful with more accurate touch recognition. You can deploy it horizontally in table configuration for planning, learning, assisting sales and other uses; or hang it on walls with a VESA mount for presentations, digital media interaction and more. Get the perfect fit for your needs.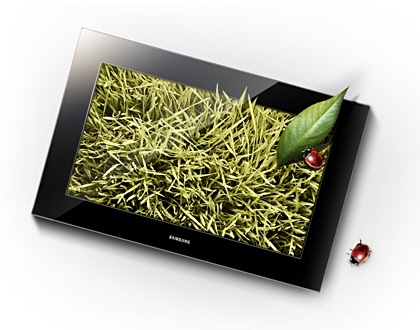 The world's largest heavy duty Gorilla Glass display
Choose a screen with the best possible protection from damage. The Samsung SUR40 with Microsoft® Pixelsense™ includes the world's largest sheet of Gorilla Glass bonded to any display. The robust material is amazingly strong, light and scratch-resistant. One-hour water ingress protection also featured, so you don't have to worry about accidental spillage and other mishaps. Thanks to its more durable display, you can enjoy the Samsung SUR40 with Microsoft® Pixelsense™ great effectiveness with your mind at rest.
Add clarity with a Full HD display
To enhance the immersive multi-touch experience with vivid picture quality graphics, the Samsung SUR40 with Microsoft® Pixelsense™ utilises a crystal clear Full HD LED display. Featuring a large 16:9 40" design with 1920 x 1080 resolutions, users will instantly notice the richer details in the digital environment and will find navigating the Samsung SUR40 with Microsoft® Pixelsense™ an utter pleasure. Presentations will captivate like never before and give a truly professional (and modern) touch to your work.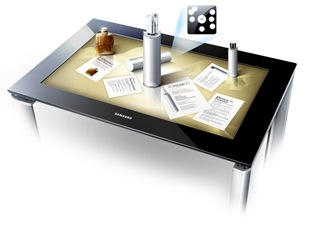 Discover versatile and responsive object recognition
Make full use of pioneering cutting-edge technology that even recognises multiple physical objects placed on the screen. Utilising object recognition software, the Samsung SUR40 with Microsoft® Pixelsense™ can distinguish, access and respond with wireless devices. With integrated PixelSense™ sensors built directly into the LCD layers, tagged objects – for instance business cards, reward cards, coupons and flyers - containing certain patterns and designs are also recognised and responded to. Get a better response with the Samsung SUR40 with Microsoft® Pixelsense™ and object recognition.
Suited to a wide range of industries and applications
The Samsung SUR40 with Microsoft® Pixelsense™ was created with various target industries in mind: retail, hospitality, automotive, healthcare, financial services, professional services, education and public sectors. It will change the way people interact with information and each other. The Samsung SUR40 with Microsoft® Pixelsense™ can help them communicate, collaborate, consult and connect; make education more entertaining and make content more engaging. You can also transform the shopping experience, immerse users in games and pastimes, and enhance the business practices with a new platform in office communications. Create a deeper connection with clients, customers and colleagues.
Reach out and touch your digital content
Go beyond the limits of touch control and grab the future with both hands. With this revolutionary new technology you can interact using gestures, by brushing fingers or entire hands across the screen. There's no need for a mouse, keyboard or any advanced technical knowledge. The Samsung SUR40 with Microsoft® Pixelsense™ even responds to inanimate objects placed or moved across it, for instance simulating water ripples bouncing off the item. Users will experience intuitive and natural interface.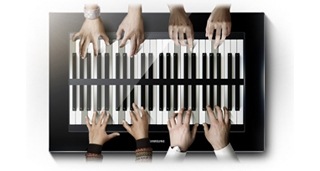 Gather multiple users around the Microsoft® Pixelsense™
Introduce users to a face-to-face computing experience offering closer collaboration among more people. With more than 52 simultaneous inputs available, several users will be able to interact with the Samsung SUR40 with Microsoft® Pixelsense™ at the same time. With this new advance in user-interaction technology, they can use the same surface area to work on individual projects or a single project with multiple components. This functionality makes a new range of social multi-user applications possible. People can do more together with multi-user computing.
Specification
Display

H-Scanning Frequency

30 - 81KHz

Maximum Pixel Frequency

148.5MHz

V-Scanning Frequency

56 ~ 75 Hz

Panel

Diagonal Size

40"

Light Source Type

CCFL

Type

A-Si TFT active matrix

Resolution

1920x1080

Pixel Pitch(mm)

0.46125x0.46125mm

Active Display Area

885.60x498.15mm

Brightness

300cd/m²

Viewing Angle (Horizontal/Vertical)

178° / 178° (CR ≥ 10)

Response Time (G-to-G)

8ms

Display Color

16.7M

Color Gamut

72%

Contrast Ratio

2,000:1

Connectivity

Input

video

HDMI

Audio

MIC

Output

video

HDMI-Out

Audio

Stereo out (Line out), SPDIF Out, Headphone

Network

Embedded

Mechanical Specification

Dimension

Set Dimension (WxHxD)

1,095.0x707.4x103.0mm (without Stand) 1,095.0x707.4x728.0mm (with stand)

Package Dimension (WxHxD)

1,214x832x299mm

Weight

Set Weight

36.8Kg

Package Weight

42.5Kg

VESA Mount

600x400mm

Protection Glass

Gorilla

Operation

Operating Temperature

5 - 30°C

Humidity

8 - 85%

General Feature

Key

LED backlight, Windows7 Professional O / S

Touch Screen Module

Embedded

Power

Power Supply

Max. 400W SMPS

Power Consumption

On Mode

300W (Max) / 220W (Typ)

Sleep Mode

3W

Type

Max. 400W SMPS

Embedded PC

CPU

AMD Athlon X2 Dual-Core 245e

N/B

RS780E

S/B

SB710

FDM/HDD

320GB HDD

Memory

4GB

Ethernet

100 / 1,000

Connectivity

USB

4ea

Output

(1) Video Out (HDMI) (2) LAN 1EA (RJ 45, Giga) (3) Audio (HeadPhone)

Others

(1) USB (4EA) (2) MIC 1EA (3) SD 1EA

Certification

EMC

FCC, CE, KC, KCC, CCC

Safety

UL, CB

Accessory

Included

User Manual, Quick Set Up Guide, Warranty Card, Cleaning Cloth, Power cable, Jack cover, Calibration Board

Optional

Stand

Sold separately
Manual Download
Interactive Display SUR40 40" (LH40SFWTGC/XY)
Manuals

2012.06.22

User Manual ver 1.0

(ENGLISH)

2012.06.22

User Manual ver 1.0

(ARABIC)

2012.03.22

Quick Guide ver 1.0

(KOREAN, ENGLISH, ARABIC, CHINESE, FRENCH, INDONESIAN, JAPANESE, TURKISH)