RT31K3082S8 Top Mount Freezer with Digital Inverter, 272 L
RT31K3082S8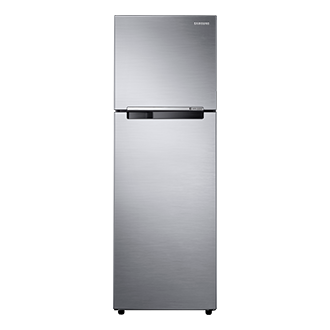 Digital Inverter Technology
10 Year Warranty
CoolWall
Recycling Batteries Responsibly
The European Directive on Batteries and Accumulators aims to minimise the impact of batteries on the environment and encourage the recovery of the materials they contain. In the UK, regulations on the recycling of batteries and accumulators (rechargeable batteries) were Introduced in 2009. The Waste Batteries Regulations aim to significantly increase UK collection and recycling of used portable batteries from 3% in 2007 to 25% by 2012, rising to at least 45% in 2016.

The battery symbol on a product or on its packaging indicates that the product must not be disposed of with general household waste. Instead, it is the consumer's responsibility to dispose of their waste batteries at a designated collection point so that they can be recycled. The separate collection and recycling of batteries at the time of disposal will help to conserve natural resources and ensure that they are recycled in a manner that protects human health and the environment. A comprehensive list of battery recycling centres can be obtained from: www.recycle-more.co.uk

All Samsung products that are subject to the Batteries Directive are compliant with the UK battery and accumulator Requirements. In accordance with national law, SAMSUNG Electronics (UK) Ltd is a member of an approved batteries producer compliance scheme. This scheme collects, treats and disposes of batteries on Samsung's behalf.
RT31K3082S8 Top Mount Freezer with Digital Inverter, 272 L
Features
Works longer, uses less energy
Digital Inverter Technology automatically adjusts the compressor speed in response to cooling demand across 5 levels. It uses less energy, minimises noise and reduces wear and tear for a longer-lasting performance.
Simply make more fridge space
Provides the ultimate in flexible storage. Easily convert the freezer into a fridge to create upto 88 liters more of space to store fresh food for different seasons or occasions. But when you need a freezer it's also perfect!
Keeps food safe for 12 hours
The perfect blackout solution, as it keeps food fresher if the power is cut. A Cool Pack in the freezer and Cool Wall in the fridge keep food items chilled for up to 12 hours during powercut, so it doesn't spoil.
Fast cooling and freezing
Delivers a rapid cooling performance to preserve food's freshness, chill drinks and make more ice. At the touch of a button, Power Cool chills food in the fridge 31% faster* and Power Freeze makes ice 31% faster*.
* Samsung testing compared to RT36FARZASP model without Power Cool/Freeze.
Evenly cools every corner
The All-around Cooling system cools the fridge evenly from corner to corner. Cold air is blown out through multiple outlets at every shelf level, so it maintains a constant temperature and food stays fresher.
Easy to find and reach food
Reaching into a refrigerator often means navigating an obstacle course of items. The Easy Slide shelf lets you efficiently store, organise and access your food – easily reaching things at the back and in corners.
Energy-saving door alarm
A Door Alarm will alert you if the door is not shut properly or accidentally left open for more than 2 minutes. So it can be closed quickly to prevent the loss of cool air and waste of electricity. And food won't get spoilt!
Easily & flexibly store ice
IceMax lets you easily make and store a large amount of ice. Compared to similar models it makes 2.5 times more ice and stores double the amount. It is also movable, so you can utilise your fridge space flexibly.
Keeps perishable food fresher
The MoistFresh Zone keeps perishable fruits and vegetables fresher for longer. This smartly designed drawer provides an optimal environment by continually adjusting the moisture level to maintain the ideal humidity.
Safely preserve delicate items
Protect small produce in the Crisper Zone. Located above the MoistFresh Zone drawer, this separate box provides convenient storage for easy access to small and easily damaged fruits and vegetables.
tech specs
Capacity
Net for Refrigerator(Liter)

Gross for Refrigerator(Liter)
Physical specification
Net Dimension (WxHxD)(mm)

Net Case Height with Hinge(mm)

Net Case Height without Hinge(mm)

Net Depth with Door Handle(mm)

Net Depth without Door Handle(mm)
Refrigerator Feature
Number of Vegetable&Fruit Drawer
Exterior Feature
Color

Elegant Inox (Light DOI Metal)
NEWEST
MOST HELPFUL
HIGHEST RATING
LOWEST RATING