Gregory Lee President and CEO
Samsung Electronics North America
Samsung Telecommunications America
Mr. Gregory Lee is President and CEO of Samsung Electronics North America and Samsung Telecommunications America. As the company's lead executive in North America, he is responsible for overseeing the company's businesses in Canada and the United States. Maintaining his position as head of Samsung Telecommunications America, he will continue to lead the company's mobile business operations and strengthening its leading positions in the smartphone and wireless markets in the U.S.

Mr. Lee has a long history with Samsung Electronics, having joined the company in 2004 as Global Chief of Marketing in the Samsung Electronics Heaquarters in Korea. Prior to his current position, he served as President of Samsung's Southeast Asia and Oceania Headquarters for three and a half years.

Before joining Samsung, Mr. Lee's experiences include Johnson & Johnson, Kellogg's and Procter & Gamble in general management and marketing. Mr. Lee started his career in the United States and has worked extensively in both the U.S. and Asia.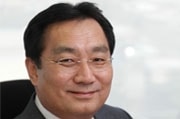 Gi Yong (GY) Seo President and CEO
Samsung Electronics Canada
As the President and CEO of Samsung Electronics Canada, GY Seo is responsible for leading the company's sales, marketing and operations efforts. He is focused on helping Canadians experience Samsung innovation and products, allowing them to discover more and move closer to their passions.

Joining Samsung Electronics at their Korean headquarters in 1990, GY went on to hold a variety of leadership positions within Mobile Communications managing teams across sales, marketing, PR and HR divisions. Prior to joining Samsung's Canadian operations, GY led the brand's sales and marketing efforts across all European countries, where he focused on driving profitable growth while creating a best place to work environment. With a passion for high-level strategy and breakthrough thinking, GY initiated a number of key partner alliances and led innovative product marketing initiatives. Under his leadership, Samsung achieved the record-breaking feat of earning #1 mobile phone market share in Europe.

GY holds a master's degree in advertising and public relations along with a bachelor's degree in engineering.