RS61681GDSR/SH Side by Side Refrigerator 620L Real Stainless
RS61681GDSR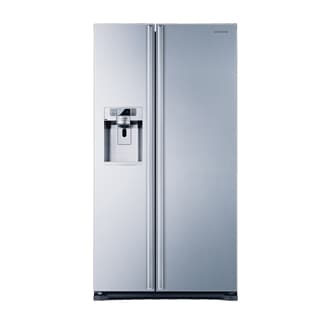 Create a beautiful, stylish kitchen space that stands out with the Samsung refrigerator RS6168 You won't want to
step out of the kitchen.
10 Year Warranty for Digital Inverter Compressor
More Space Inside, Same Dimensions Outside
Exclusive Twin Cooling System™
Recycling Batteries Responsibly
The European Directive on Batteries and Accumulators aims to minimise the impact of batteries on the environment and encourage the recovery of the materials they contain. In the UK, regulations on the recycling of batteries and accumulators (rechargeable batteries) were Introduced in 2009. The Waste Batteries Regulations aim to significantly increase UK collection and recycling of used portable batteries from 3% in 2007 to 25% by 2012, rising to at least 45% in 2016.

The battery symbol on a product or on its packaging indicates that the product must not be disposed of with general household waste. Instead, it is the consumer's responsibility to dispose of their waste batteries at a designated collection point so that they can be recycled. The separate collection and recycling of batteries at the time of disposal will help to conserve natural resources and ensure that they are recycled in a manner that protects human health and the environment. A comprehensive list of battery recycling centers can be obtained from: www.recycle-more.co.uk

All Samsung products that are subject to the Batteries Directive are compliant with the UK battery and accumulator Requirements. In accordance with national law, SAMSUNG Electronics (UK) Ltd is a member of an approved batteries producer compliance scheme. This scheme collects, treats and disposes of batteries on Samsung's behalf.
RS61681GDSR/SH Side by Side Refrigerator 620L Real Stainless
SRP : HK$22,990
Features
- 10 Year Warranty for Digital Inverter Compressor
- More Space Inside,
Same Dimensions Outside
- Exclusive Twin Cooling System™
- Space-saving Clear View Icemaker
Conventional
Conventional refrigerator applied a thick insulation to minimize conductive heat flow. Therefore, the thick inner wall decreases the overall storage capability in contrast to its exterior dimensions.
Same Dimension, Bigger Space
Using an enhanced insulation technology, Samsung's slimmer and stronger wall expands the inner storage space within the same exterior dimensions. All of your big and small items are well organized within easy reach.
Bigger or Longer, No Problem!
Need to store an extra large cake or a bulky turkey for a party? You can store bigger, bulkier items in the refrigerator and serve them at your convenience.
Energy Efficiency Standard ISO A++
Environmental protection has long been a core insight of Samsung Electronics. With the devotion of research and development on innovative technology, a range of Samsung products now meets the Energy Efficiency standard of ISO A++. In addition to the protection of our environment, it saves both energy and money for our users.
10 Year Warranty
Samsung provides 10 Year Warranty guaranteeing long-life durability of Digital Inverter Compressor.
For 10 year warranty, improvement of component quality and optimal design were conducted. This enhanced Samsung technology extends durability without utilization of expensive components.
Energy Efficient

Samsung's Digital Inverter Compressor accomplishes great energy saving and cuts down CO2 emission. It's the smart solution to reduce energy expense and preserve green environment.
Excellent Freshness - Food Waste Reduction
Effective rpm adjustment improves humidity preservation and prolongs quality and freshness of food. It reduces a large amount of food waste.
Minimal Noise
Digital Inverter Compressor reduces perceptible noise by 4.5 dB compared to conventional AC and attains incredible 38.5dB. Amazingly, the reduction of 4.5dB will change disturbing sound to peaceful and stress-free sound.
Twin Cooling Plus™
Twin Cooling Plus™ is exclusively developed by Samsung. It controls and generates cooling air for the refrigerator and freezer separately with two independent evaporators and precise electronic control.

Each compartment can be maintained at their optimal cooling conditions. High humidity up to 75% vs conentional only 17%
No Mixing of Odors
The cool air does not travel across the freezer and the refrigeration compartments and this results in no mixing of odors.
Multiflow
Cool air flows at each shelf to provide steady chilling. Instant temperature control keeps your food fresh and flavorful longer.
LED Display & Control
Enhancing both design and ease-of-use, the divine LED display enables you to control the temperature and refrigerator modes conveniently.
Clear View Icemaker
This space-saving icemaker in the freezer door is see-through for an easy view of ice stored.
Spill-proof Shelves
The shelves are designed to handle any spills and allow easy clean up.
Tilt Can Carry
This flexible can holder even folds up to offer more space for taller bottles.
tech specs
Capacity
Net Capacity

Total

Freezer

Refrigerator
Design
Dimension

Net Case Height with Hinge

Net Depth with Door Handle
Refrigerator Feature
Vegetable & Fruit Drawer

Number of Drawer

Shelves

Number of Shelf

Wine Shelf

Spill-Proof

Door Pocket

Number of Door Pocket

Number of Tempered Glass Shelf
Freezer Feature
Shelves

Number of Shelf

Materials of Shelves-Tempered Glass

Door Pocket

Number of Door Pocket
Others
100% Environment Friendly Refrigerant
NEWEST
MOST HELPFUL
HIGHEST RATING
LOWEST RATING