Blu-ray Home Theater Set HT-F9750W
HT-F9750W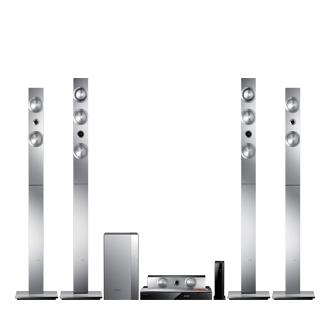 The new Samsung HT-F9750W Blu-ray Home Theater System features a Gallium Nitride (GaN) amplifier to give you amazingly pure sound, as well as sophisticated design and enhanced usability for a simple, seamless and powerful listening experience.

Features:
• Vacuum tube amp built-in
• 1330W 7.1 Ch 3D Blu-ray Home Theater System
• Equipped with CPID speaker unit
• Fully capable of up-scaling to 4K UHD

1330W 7.1ch 3D Blu-ray Home Theater System
Built-in Vacuum tube
CPID speakers
Recycling Batteries Responsibly
The European Directive on Batteries and Accumulators aims to minimise the impact of batteries on the environment and encourage the recovery of the materials they contain. In the UK, regulations on the recycling of batteries and accumulators (rechargeable batteries) were Introduced in 2009. The Waste Batteries Regulations aim to significantly increase UK collection and recycling of used portable batteries from 3% in 2007 to 25% by 2012, rising to at least 45% in 2016.

The battery symbol on a product or on its packaging indicates that the product must not be disposed of with general household waste. Instead, it is the consumer's responsibility to dispose of their waste batteries at a designated collection point so that they can be recycled. The separate collection and recycling of batteries at the time of disposal will help to conserve natural resources and ensure that they are recycled in a manner that protects human health and the environment. A comprehensive list of battery recycling centers can be obtained from: www.recycle-more.co.uk

All Samsung products that are subject to the Batteries Directive are compliant with the UK battery and accumulator Requirements. In accordance with national law, SAMSUNG Electronics (UK) Ltd is a member of an approved batteries producer compliance scheme. This scheme collects, treats and disposes of batteries on Samsung's behalf.
Blu-ray Home Theater Set HT-F9750W
Features
- 1330W 7.1ch 3D Blu-ray Home Theater System
- Built-in Vacuum tube
- CPID speakers
- 4K UHD up-scaling
The next level of sound experience
The world's first GaN AMP that gives you pure sound in your Samsung Blu-ray Home Entertainment System. With enhanced rich sound and less distortion, this is sure to take you to the next level of sound experience. The built-in vacuum tube reduces unnecessary and harsh sound distortion from the digital amp to provide you with superior sound quality. No noise. Just pure and clear sound.
Watch life-like images like never before with 4K UHD up-scaling
Watch your favourite videos and films in 4K ultra HD with the Samsung Blu-ray player. With life-like details that will make the images seem realistic, this player brings life right into your living room. Up scaled from full HD to ultra HD, it comes with four times the resolution of Full HD, giving perfect and crystal-clear picture. See detailed picture all day, every day.
3D sound effect for a real sound experience
What better way to enjoy the best in videos and movies than with 3D surround sound? Samsung's Vertical Surround meets DTS processor to create real 3D sound that will make your living room feel like the inside of a cinema. The DTS Neo with its seven channel surround sound speakers deliver better sound depth and isolated stereo channels, so it sounds like audio comes from different areas of your room. Trust DTS Neo fusion for great sound.
The ideal match for the Samsung premium TV
The Samsung Blu-ray Home Entertainment System comes with the perfect metallic design and finish that compliments your Samsung premium TV. With a sleek and stylish cut and metallic speakers, the system will suit any environment and make the ultimate sound system for your home. The best designs to suit your every need.
Improve sound quality with upgraded speaker units
With the CPID speaker unit, you are bound to get clean and accurate low frequency sound for your viewing pleasure. The unit has been upgraded from the glass fibre to ceramic material, ensuring clear sound. The low-vibration dual subwoofer improves low frequency sound that only enhances the quality of the Samsung Blu-ray Home Entertainment System.
High-quality surround sound from your TV
Don't let poor sound quality ruin your perfect movie night. With the TV Sound On feature in the Samsung Blu-ray Home Entertainment System, you can hear high quality surround sound from your TV source. All you need to do is to push the TV Sound hot key on the remote controller and you'll have superior quality surround sound. Your perfect movie night just got better.
Share pictures and videos with compatible devices
Enjoy wireless access and share your digital content with AllShare. Seamlessly share content across all of your connected devices with Samsung's AllShare. Simultaneously view content from your Samsung mobile device and TV using the screen mirroring technology featured in the Samsung Blu-ray Home Entertainment System. It lets you beam photos, videos and you can even play games using your handset as a controller. Take entertainment to the next level with screen mirroring and content sharing. You can quickly and easily share and enjoy content on your TV with as little fuss as possible.
Enjoy apps, videos, web browsing and more
Discover a new world of social and personalized home entertainment with Samsung's updated Smart Hub. With access to great content as well as a selection of Samsung Apps, web browsing and more, this is the ultimate family home entertainment experience.

* Content available via Smart Hub may vary by region.
* Certain Smart Hub features may require firmware upgrades.
* Screen image simulated. Internet access required. Certain apps must be purchased.
Set up speakers in the simplest fashion
The simple speaker set up mode allows a quick and easy way of setting up high quality sound in your home. You don't have to worry about placing surround speakers with the simple speaker setup. With intuitive GUI, simply select the position of surround speakers which will automatically enhance the stereo sound. The Samsung Blu-ray home entertainment system makes watching movies even more enjoyable.
2HDMI Inputs
All it takes is one cable to connect your Home Entertainment System to your other audio and video sources. The HDMI slots on Samsung Home Entertainment Systems allow you to import all kinds of content without compression including pictures and videos from your digital camcorders and multimedia PCs. Now enjoying it all on a wide HD screen couldn't be easier.
Cut cable clutter with wireless rear speaker
Make your environment tidier and more attractive by reducing trailing wires. It's easier to keep your space neat and organised with Samsung Home Entertainment System's wireless rear speakers. They also deliver great sound quality when used in combination with other speaker sets. Discover a high-quality home audio solution that brings convenient design into your home as well as great sound.
Experience the next level of Full HD 3D entertainment
Bring home a more immersive and spectacular 3D experience. With Full HD 3D, your 3D home entertainment will be more exciting and vivid than you had imagined, with powerful features to maximize your enjoyment. Thanks to 3D Auto Contrast, you'll have a crisper image with sharper and more dramatic contrast. Samsung's superior 3D technology uses sophisticated algorithms to minimise image layers and maximise response speed, for more fluid and clear viewing. Make sure you immerse your senses in a new reality of 3D HD.
tech specs
Playable Disc Type
DVD-Video / DVD±R / DVD±RW
Audio Feature
Auto Sound Calibration (ASC)

Number of Sound Modes (DSP)
Connectivity
Wireless Speaker Module included

ARC (Audio Return Channel)
Special Feature
Network Service

Smart Hub(Apps & Service)
Speaker
Type (Tallboy/Satellite/Swivel)
Dimension
Product Dimension (WxHxD)

Spk (Sub Woofer) Net Dimension (WxHxD)

Spk (Front) Net Dimension (WxHxD)

Spk (Center) Net Dimension (WxHxD)

Spk (Surround) Net Dimension (WxHxD)

Gross Packing Dimension (WxHxD)
Weight
Spk (Sub Woofer) Net Weight

Spk (Surround) Net Weight
Power
Stand-by Power Consumption

Operating Power Consumption
NEWEST
MOST HELPFUL
HIGHEST RATING
LOWEST RATING