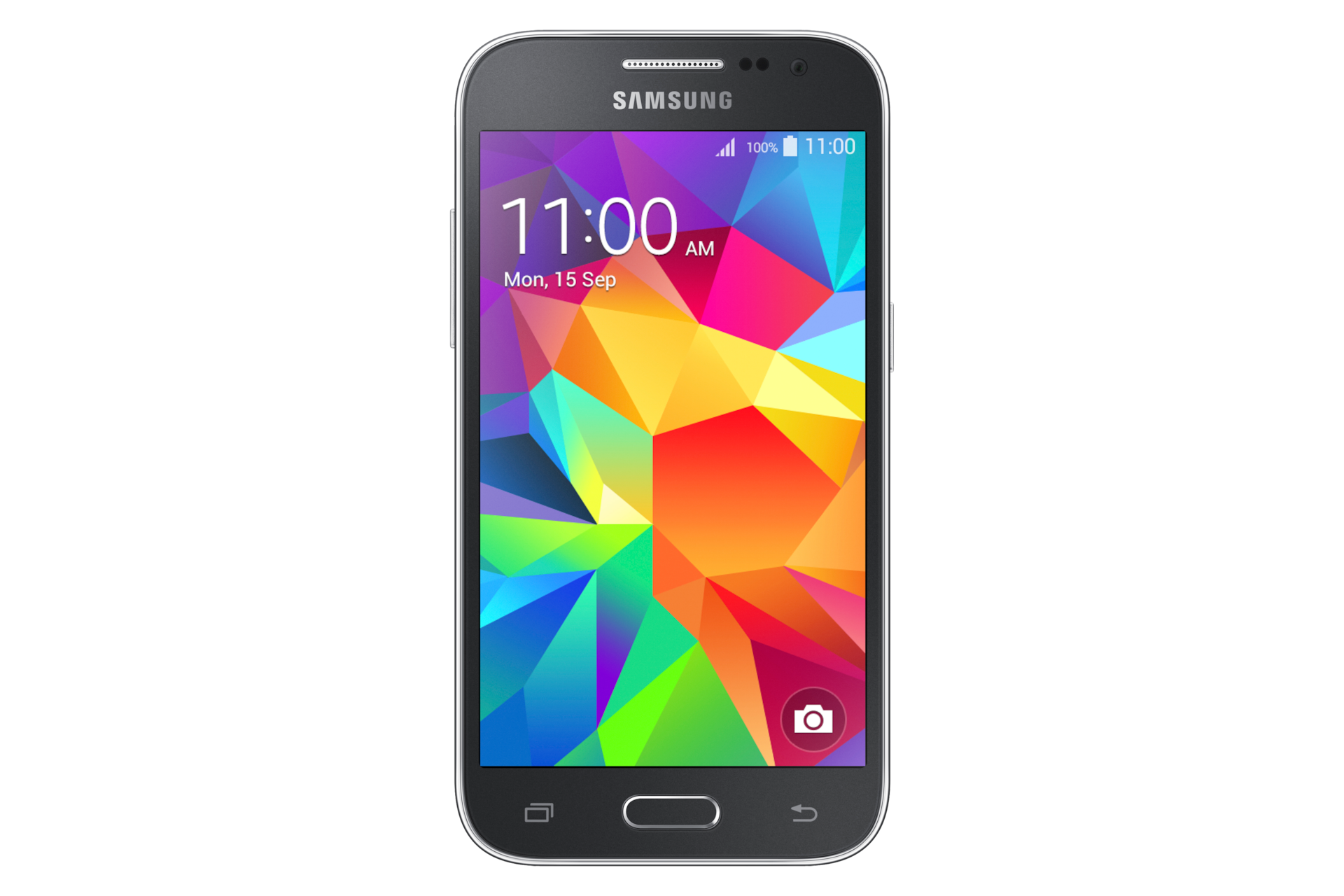 SM-G360FHAABTU
Galaxy Core Prime
Galaxy Core Prime
is rated out of
5
by
907
.
4.5" (114.2 mm)
Size (Main Display)
CMOS 5.0 MP
Main Camera - Resolution
2000
Standard Battery Capacity (mAh)
Seamless performance
Samsung's new GALAXY Core Prime offers the impressive, seamless responsiveness you expect in a smartphone. Equipped with a powerful 1.2 GHz quadcore processor and 4G LTE, your GALAXY Core Prime allows you to do the things you want to do quickly and efficiently, whether you're watching a TV show on the bus, listening to music, or taking advantage of any of the other more than 1 million apps on the Google Play store.
Well-balanced design
The GALAXY Core Prime features a simple and elegant design built with a durable frame that feels like anodised metal. With a thickness of just 8.8 mm, it fits comfortably in one hand or in your pocket, making it easy to carry with you anywhere.
Ultra Power Saving mode
What's the use of a powerful smartphone if you can't use it all day? With Samsung's high-tech Ultra Power Saving mode, you can do more with your GALAXY Core Prime for longer. You don't have to worry about how you're using your phone, because the GALAXY Core Prime automatically limits unnecessary functions and maximises battery life.
Find My Mobile
Find My Mobile is the built-in security system for your GALAXY Core Prime. If your phone is lost or stolen, you can track its location online, make it ring to find out where it is, lock it down, and wipe out sensitive data. The GALAXY Core Prime is more secure with Find My Mobile.
4.5" (114.2 mm)

Size (Main Display)

CMOS 5.0 MP

Main Camera - Resolution

131

Weight (g)

2000

Standard Battery Capacity (mAh)

Up to 60

Audio Playback Time (Hours)

1.2GHz

CPU Speed
Rated

4

out of

5
by
Anonymous
from
Great phone for the price.
I have had this phone for over a year and a half, and has been very good to me. I have dropped it several times from large heights and has never cracked. Very good phone for my first smartphone. The only thing I dislike is that it has very little space.
Date published: 2018-03-07
Rated

1

out of

5
by
Rick987
from
You get what you paid for
Extremely slow, poor camera, easily overheat. Only thing works better is the battery life.
Date published: 2018-03-01
Rated

5

out of

5
by
niku
from
Simple though attractive
I bought it in 2015 and still find it perfect for me
Date published: 2017-12-28
Rated

1

out of

5
by
Disappointed lane
from
Disappointed
Works ok at first but slows down with no extra apps, terrible storage, and glitchy
Date published: 2017-12-25
Rated

4

out of

5
by
PeteO
from
Not Bad at all
I write this review after nearly 2 years with it. I liked the size as i didnt want a huge brick in my pocket, has done everything i asked it to do, i haven't broken it which is surprising considering the amount of times ive dropped it, slight and i mean slight issue was storage but was sorted once i put a card in and told the camera to use it and moved my music over to it all in all its been a good work house of a phone
Date published: 2017-11-04
Rated

2

out of

5
by
Anne
from
It was good... AT FIRST
My dad got this phone for me about a year and a half ago. When I first got it I was very satisfied with the phone. It had an attractive design, nice apps like News Stand and Music. However, about a year after having the phone, things started to go downhill fast. The battery life does not last long AT ALL, and would jump percentages. For example, it would be at 30 then jump to 19. What's up with that!?! That's only the tip of the iceberg though! This phone does not have enough storage! Every time I want to take a picture of the sunset for example, the phone will not let me take another picture. It's maddening! Another complaint is the quality of the phone. Even with a case and screen protector on my screen broke when I dropped it. Very poor quality! The biggest issue that I had with the phone though is that it just stopped working altogether after one year...only a year! The phone would freeze about 6 times a day, each time it would take so long to restart I'd have to dis-assemble the phone and take the battery out. About a week or so later, the phone started vibrating uncontrollably and the flashlight starting flashing on and off. After a minute or so of that chaos, the phone's screen went black and wouldn't turn on again. It did not run out of battery because the battery was about half full when this happened. Overall this is a TERRIBLE phone! PLEASE do not buy this phone, it is a WASTE OF MONEY!!!!!!!!!!!!!!!!
Date published: 2017-08-18
Rated

4

out of

5
by
jean44
from
Good first phone
This was the first smart phone I got. The price was nice and it had all needed features you need. It held a charge desently well for a small while. After a year it still works, even after dropping in the toilet twice, dropping it countless times, and accidently slamming in the car door. Its slower, and stops from time to time, but it worked well for quit some time and its worth the price. I'm impressed by what I got. I recommend it if youre looking for something with a desent price, for your kids first phone.
Date published: 2017-05-05
Rated

3

out of

5
by
Dishan N
from
not good product.
There is network error. It can't hold signals continuously. Because of that can't access internet continuously. In recently Radio app not working. I can't turn on Radio...
Date published: 2016-11-02
User manual & Downloads
Live Chat
How It Stacks Up
Battery time is based on our own laboratory measurements, and may vary depending on factors such as device settings, usage patterns and operating conditions.
* User memory is less than the total memory due to storage of the operating system and software used to operate the phones features. Actual user memory will vary depending on the mobile phone operator and may change after software upgrades are performed.

** External Memory may be used to store media (photos, video, and music files) but not applications.

Notice to our customers - safe battery use

If your mobile phone battery is damaged, for example if it is dented, we recommend that you stop using it immediately and replace it with a Samsung genuine battery. If a damaged battery is used, this may affect performance of the battery and in some cases cause damage or injury through overheating, fire or explosion. Examples of situations in which a battery may become damaged are: use in an excessively hot environment, dropping the battery, external pressure on the battery, pet-biting, etc. We recommend that spare batteries are kept in a hard-shell case when not in use.

You should use only Samsung genuine or approved batteries that have been specifically designed for use in Samsung products. The use of incompatible batteries, cables and chargers may not be safe to use and could cause damage to the device or external damage. Please purchase Samsung-branded batteries from reputable and approved sellers to ensure the batteries are not counterfeit.

Battery time is based on our own laboratory measurements, and may vary depending on factors such as device settings, usage patterns and operating conditions.