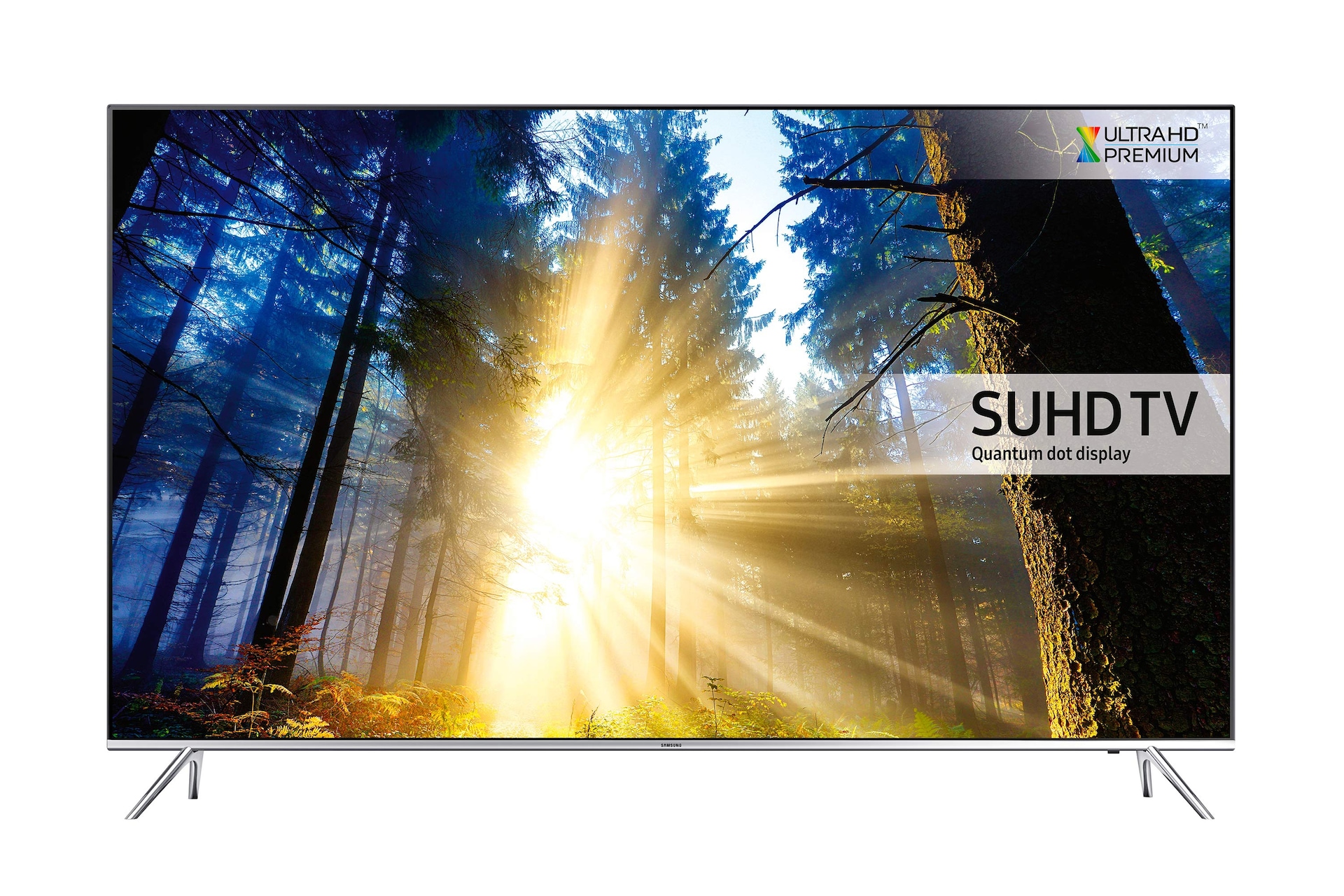 UE49KS7000UXXU
49" KS7000 Flat SUHD Quantum Dot Ultra HD Premium HDR 1000 TV
49" KS7000 Flat SUHD Quantum Dot Ultra HD Premium HDR 1000 TV
is rated out of
5
by
17
.
Quantum Dot Color
Smart TV
Smart View
Series 7
A Quantum leap in picture quality
Quantum dot display
KS7000 introduces SUHD Quantum dot display producing a superior Ultra HD Premium viewing experience with HDR 1000 which ensures exceptional peak luminance, colour vibrancy, stunning black levels and shadow detail with 2200 PQI. Together with Samsung's Smart platform you can enjoy the Smartest TVs on the planet.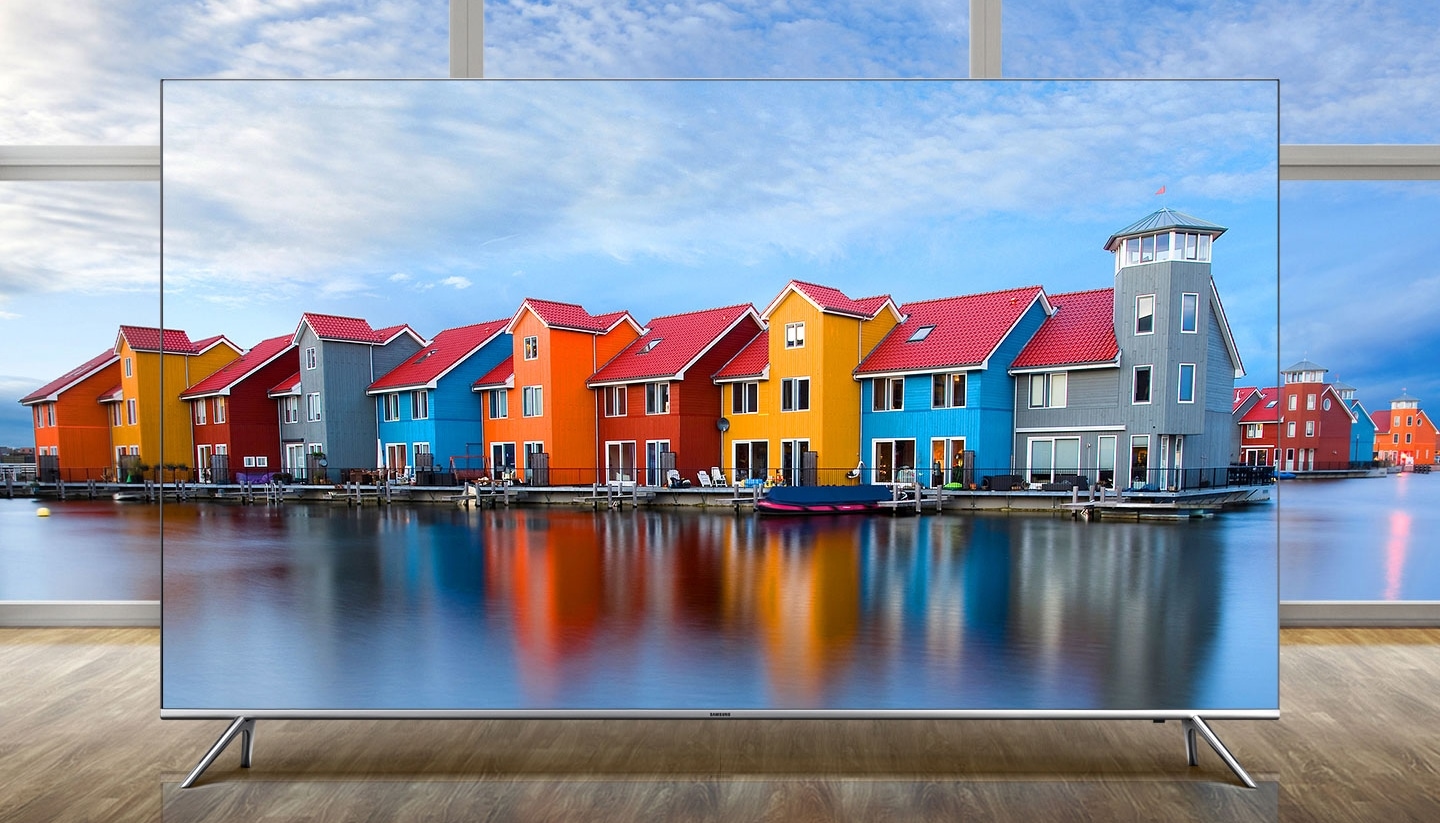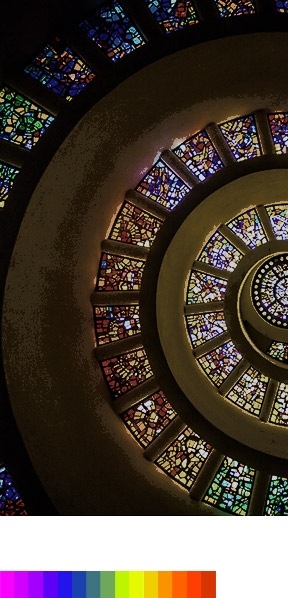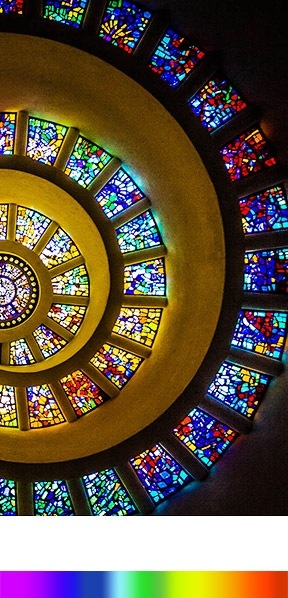 Quantum Dot colour
Welcome to an incredible unrivalled world of lifelike UHD picture quality, with 64 times more colour than UHD TVs. SUHD with Quantum Dot Display doesn't just raise the bar, it changes the game. TVs until now were not able to realistically display the world we see around us. SUHD with Quantum Dot display changes all that by expressing an exceptionally wide range of colours, over 1 billion – breathing life into each and every one of them and giving you perfect picture quality with the most true to life colours. This is in comparison to conventional UHD delivering 17 million colours. See the very best of new generation premium mastered content exactly as the director intended through Samsung's SUHD TV with Quantum Dot display – the reference for Hollywood studios.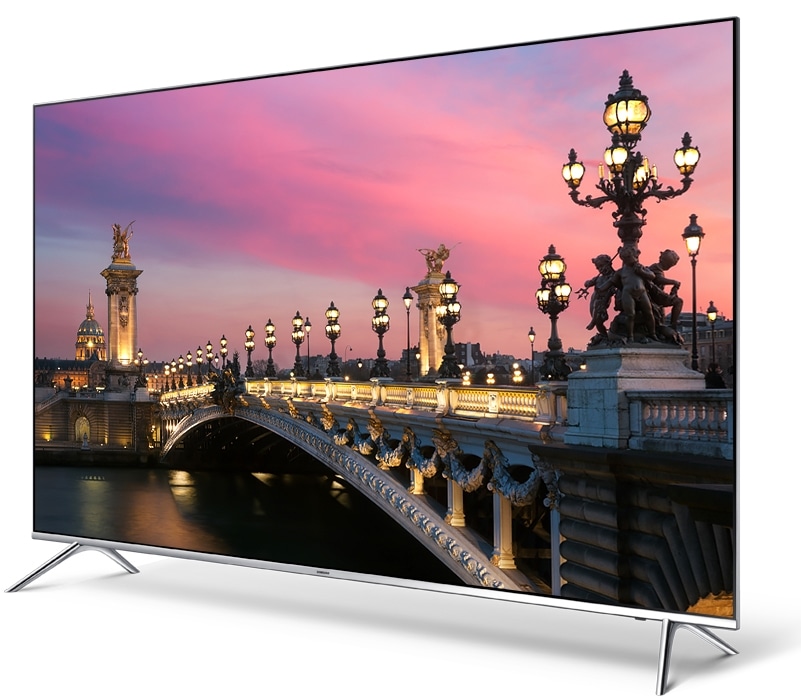 HDR 1000
The latest standard for UHD content is High Dynamic Range. All UHD TVs that are HDR compliant can display HDR content but not all HDR TVs are equal. HDR 1000 provides a far superior High Dynamic Range experience for striking brightness, exceptional shadow detail and vividly accurate colour. HDR 1000 delivers an exceptional UHD Premium viewing experience - the new generation of premium mastered content, exactly as the creator intended.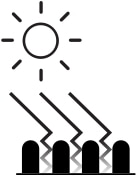 Ultra Black
Enjoy striking levels of contrast even when watching TV in the brightest environments with Ultra Black Technology. Experience all the vibrant colour and detail of next generation Premium UHD without having to close the curtains or turn off the lights. This new screen technology drastically reduces ambient light reflection to ensure maximum picture contrast is delivered as the Hollywood Director intended.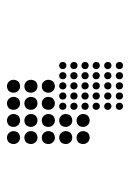 Remastering Engine
These days there are so many file formats of varying specifications. And let's face it – some formats are lower quality than others. But SUHD TV's remastering engine will step in to automatically analyze and remaster any non-SUHD content, improving the quality to the highest level possible. Enjoy images as close to what was intended by the filmmaker.
The smartest TV on the planet
3 Clicks to your favourite content
Does your TV seamlessly blend a variety of content sources? Introducing the smartest TV on the planet. Quickly access the content you want to watch from a variety of input sources on the Smart Hub home screen. Watch your favourite TV shows using the TV guide, switch to binge on UHD box sets through Netflix, Amazon Instant Video* or catch up with shows you have missed through our variety of Catch Up content partners – all of this is possible without interrupting what you are currently watching and all from the Smart Hub home screen. Just 3 clicks to your favourite content**
Screen image simulated.





*One Remote Control function requires Internet access and may not be available in all languages or areas.
*One Remote Control and Auto Detection function may not be supported by certain devices connected to Samsung Smart TV.
360 Degree Design
Boundless at the edges
Form and function combine to create a stunningly clean minimalist design that will enhance any living space. Neat cable management solutions mean no more messy cables tangled up behind your TV.
3,840 × 2,160

Resolution

7

Series

Quantum Dot Color

Quantum Dot Color

4

HDMI
Rated

4

out of

5
by
happyandrew
from
Do not like advertising on my smart menu
I might have had second thoughts about buying this tv had I realised that part of the condition of me using this tv, I have to agree to allow 3rd parties to put adverts on the smart bar, and that this advert would be place first, before any of my chosen choices. Samsung need to realise that we have paid full price for the tv and so should not have to suffer adverts. Had this been a free tv, then yes, they can put adverts on the smart bar to pay for the TV. This cost Samsung a star from me! The next software update, this needs to be taken away.
Date published: 2017-03-21
Rated

5

out of

5
by
HappyAndrew
from
Great picture but can not tell the difference between this and the ES8000
My beloved UE55ES8000 developed faint lines on some part of the left side of the screen, so I looked for a replacement. Chose theUE55ks7000 as the reviews were good. I set both the tvs up next to each other and set Netflix up showing exactly the same film, one in UHD the other in HD. I have to be honest, there was a very slight improvement but this was hardly noticable and found I naturally kept watching my old TV more than the new one. I was disappointed that UHD is not this fantastic improvement everyone is going on about. When I played HD on both TVs, the quality on both tvs were exactly the same, I have no idea what improvement the QLED is meant to give over LED that the old tv has, but I could not see it. The one big difference I did notice, however, was when the whole picture was moving, the old tv was not as smooth, and against the new tv, I could see a slight judder. I expect this is down to the improvement on the processor. The Smart side menu system is different, at first I did not like this, but quite quickly it grew on me and now I think it is better than the old system. So apart from a very small improvement, I am glad I did not upgrade my tv because it was 5 year old, and thought I was missing out by not having the latest 4K UHD TV.
Date published: 2017-03-21
Rated

4

out of

5
by
Colin53
from
Sound
Good picture and sound when it's on, sound goes off if I use satellite tv, comes on after about 5 minutes very strange. Otherwise a good tv, no motion blur that I've noticed is a great plus, tv is very slim. Good all rounder apart from sound glitch on satellite.
Date published: 2017-01-04
Rated

5

out of

5
by
Olli
from
TV Cinema Experience
Perfect size for what we have designed it to go on. The colours and as it say vivid with lifelike picture quality, with a wide range of colour shades. When watching TV programs it's like watching it live due to the high quality of the picture It's a 5***** from us
Date published: 2017-01-03
Rated

5

out of

5
by
Diddy
from
excellent for hdr gaming
this tv is excellent for gaming low input lag amazing visuals small problem with hdr not working in game mode needs firmware update.nice and thin design 4k hdr movies look amazing i would recomend this tv to anyone
Date published: 2016-12-08
Rated

5

out of

5
by
fredie12
from
excellent tv
the picture on this tv is brilliant great colour and contrast sound is also good and the apps just make a good thing better.
Date published: 2016-11-30
Rated

5

out of

5
by
Steve
from
Bad advertising
This tv being sold as having All4 demand 5 apps but it doesn't.
Date published: 2016-10-27
Rated

3

out of

5
by
Jason
from
Nice tv easy to operate
Nice tv bought this before Playstation Pro comes out only to find that game mode cant be used with HDR mode together which is a bad design as this is really why i purchased this tv in the first place. The back has a slight gap which i was warned about (John Lewis) so be carefull all in all could have been better lke my 55" curved Samsung
Date published: 2016-10-02
User manual & Downloads
Live Chat
*Terms and conditions apply.
Certain features with the Smart Hub may not be available without expressed consent regarding the collection and use of personal information. Content available through Smart Hub may vary among product categories, models and territories. Certain applications must be purchased and may not be available in all regions.
1 Paid for subscriptions to app services shown may be required 2 Apps shown may not be available on all Samsung Smart TV products. The Samsung Smart TV platform is used by Content Providers to make apps available. Content Providers may remove apps from the Smart TV platform or stop supporting them at any time. When new Samsung Smart TV products are launched, there may be a delay before the apps shown become available on those products. 3 Requires Internet access. May not be available in all languages or areas.
Internet connection and compatible controller required. List of compatible controllers available here *