Meet Comprehensive Fleet Management Solutions
Our diverse portfolio of secure, customizable mobile devices features intuitive tools for work and life to boost your productivity, efficiency and saf
It's time to upgrade to your fleet technology
It's time to upgrade your fleet technology. Our reliable mobile devices enhance the overall driver experience throughleading logging, navigation and entertainment solutions, and more. In addition, we partner with leaders in fleet telematics to deliver a comprehensive solution that's easy to implemen
Fleet management & telematics
Navigate in real-time
Integration with top truck GPS navigation solutions provides real-time road conditions and route options while tracking location including points of interest.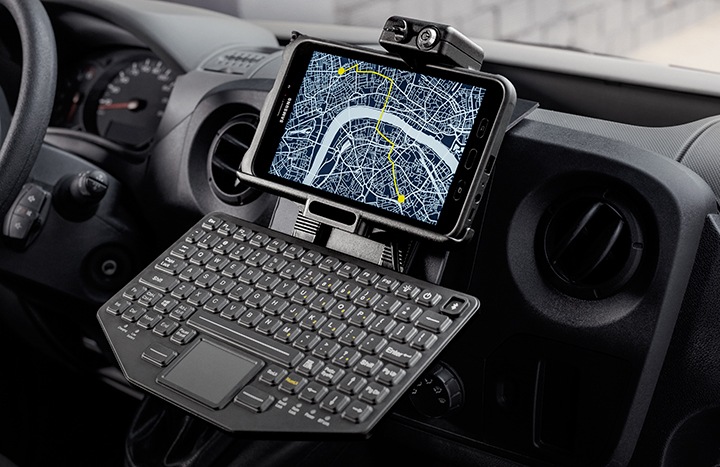 Secured and reliable mobile devices
Samsung's reliable mobile devices, like our Galaxy tablets and smartphones, feature durable designs that are built to withstand the vibrations and bumps of long, extended road travel. They also come equipped with our award-winning1 Knox security platform built in, providing defense-grade mobile security to protect company and client data.
Hevesi, P. "Mobile Device Security: A Comparison of Platforms." Gartner, Inc.
Hevesi, P. "Mobile Device Security: A Comparison of Platforms." Gartner, Inc.
Built for work, designed for life
Enhance the overall driver experience by giving flexibility to be more productive and to privately access their personal life all from the same device, without compromising data security.  The defense-grade Knox security platform, like Knox Premium, provide highly secure and productive features that can help you recruit and retain qualified drivers.
Communicate on the road
Enable a two-way message with the dispatch office for drivers to communicate and receive critical updates on status, weather and delivery logistics.
Automatic inspection and reporting
Automatically log driving time to comply with hours of service reporting, simplify electronic logging for drivers and get inspection reports vehicle diagnostics and performance.
Monitor driver behavior
Identify driver behavior that could degrade the truck, such as speeding, idling and fuel consumption, while helping to ensure driver safety.