Transform your day with DeX
Work on your phone. Display on your monitor or screen. Samsung DeX allows a seamless between-device experience that transforms the way you work.
*USB-C to HDMI cable and accessories sold separately
Always on, everywhere
With Microsoft Office Suite on Samsung DeX, all your work tools are with you wherever you are. Complete that presentation on the office monitor. Add the final touches on your phone en route to the meeting. Connect to a screen and your device becomes a desktop, ready to present in large format. With a DeX enabled Galaxy device, you've got everything, everywhere.
Next level
multitasking
Take multitasking to the next level. In Samsung DeX mode, you can take a close look at a presentation on a large display while checking your calendar on your phone. Take a call while reviewing documents without breaking your focus. With Samsung DeX, you have two screens to do twice as much.

Optimise resource
and budgets
When your mobile device can double as a PC, it's not just efficiency that increases. Transitioning to mobile-only relieves the budget strain of supporting both mobile and desktop infrastructures. Full PC-like productivity in a slim tablet with Samsung DeX. Simply tapping DeX button on the Quick panel for features that let you use your tablet just like a PC.
* Only supported on some Galaxy Tab models such as the Galaxy Tab S4, S5e, S6, S7, etc.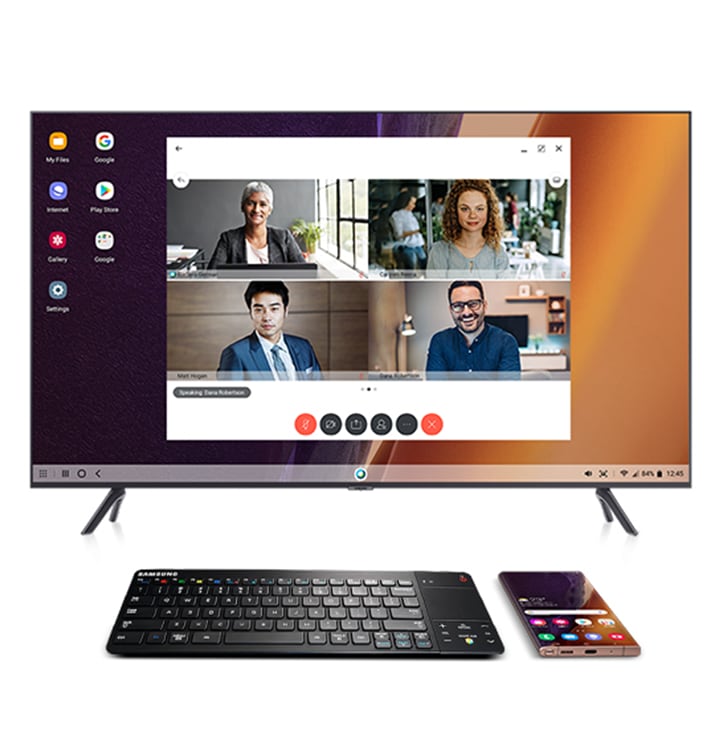 * Only supported on some Galaxy Tab models such as the Galaxy Tab S4, S5e, S6, S7, etc.
Samsung DeX gets it done
Avoid unnecessary risk
Every time files are shared between devices they're exposed to risk. With Samsung DeX, you can use just one device, so your important data stays in one place. And when you need to, simply switch to a larger display.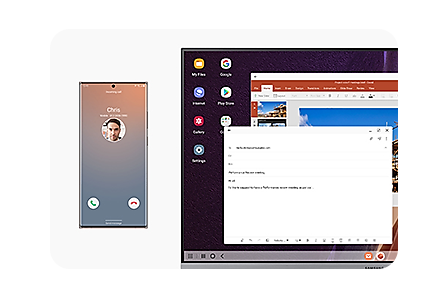 Perfectly optimised apps
Use our recommended partner apps; Microsoft Office 365, Webex video conference, Adobe tools plus your essential business apps, all optimised for DeX. Microsoft Office 365 is even pre-loaded and ready to work straight out of the box*.

*Microsoft Office 365 licenses sold separately

Ready for business
With Samsung Knox you can deploy, manage and customise your DeX experience so all your users align with your IT policies.


Building new
ways of working
Learn how Samsung DeX is helping Bentley & Bentley stay productive and save money.
"Because I only need one device, I haven't had to pay out for the latest tablet and laptop as well,"
Dan, Director at Bentley & Bentley
Driving forward with
Samsung DeX

Learn how Samsung DeX has helped ScotRail switch from office to 'smart working' quickly, simply—and successfully.
"We had managers using laptops, and they actually came in, left their laptops on the desk and took a DeX kit"
Alan Manclark, Head of IT at ScotRail
The partners making it possible
Microsoft
We bring powerful Microsoft business apps to your devices through the Windows Virtual Desktop, powered by Microsoft Azure cloud technology. Access your remote desktop environment anywhere with 5G connectivity. And raise your productivity bar with MS Office Suites* on DeX.

* MS Office requires users to purchase licenses.


Cisco
With Cisco Webex Meetings we deliver an optimised collaboration and productivity experience on Samsung DeX*. Running everything from your Samsung Galaxy device, you can host secure video conferences, share screens and content, and multi-task with other applications like e-mail, to ensure you are always ahead of the game.

* Business solutions requires users to purchase licenses.


Empower your mobile workforce
Choose your devices. Pick your accessories. Seize new opportunities and work smarter with Samsung DeX.