Do bigger things and communicate in a whole new way with the Galaxy Note8, a business smartphone with defence-grade mobile security, designed to help you be more impactful and efficient at everything you do.
Design
Infinity Display

Multi Window
Infinity Display
The Infinity Display that gives you
a big workspace
Galaxy Note8's innovative design prominently features the beautifully big 6.3" Infinity Display. Bezels are kept at a minimum to provide a full view and a big working surface for the S Pen. And even though the screen is large, the body is narrow, offering a comfortable grip. From spreadsheets to email to taking notes during a meeting, your Galaxy Note8 is ready.
*Infinity Display: a near bezel-less, full-frontal glass, edge-to-edge screen.
*Screen measured diagonally as a full rectangle without accounting for the rounded corners.
Multi Window
Multitasking done fast
The expansive screen allows you to double up on your productivity with Multi Window mode. So you can read PDFs or view images while you email or set up a meeting via text message while checking your calendar.
*Simulated images used onscreen for illustrative purposes.

| SUM | MON | TUE | WED | THU | FRI | SAT |
| --- | --- | --- | --- | --- | --- | --- |
| 30 | 31 | 1 | 2 | 3 | 4 | 5 |
| 6 | 7 | 8 | 9 | 10 | 11 | 12 |
| 13 | 14 | 15 | 16 | 17 | 18 | 19 |
| 20 | 21 | 22 | 23 | 24 | 25 | 26 |
| 27 | 28 | 29 | 30 | 31 | 1 | 2 |
| 3 | 4 | 5 | 6 | 7 | 8 | 9 |
more


S Pen
Screen off memo

Live message

Translate
New ways to communicate in business
Together, the S Pen and the Galaxy Note8 give you a new way to communicate for business. With the S Pen's fine 0.7 mm tip and 4096 pressure levels, your notes-to-self and sketches are crafted in a natural way, just like putting pen to paper. Clarify your requests with a hand-drawn message for easy communication or quickly convert currency on the spot by hovering over a price.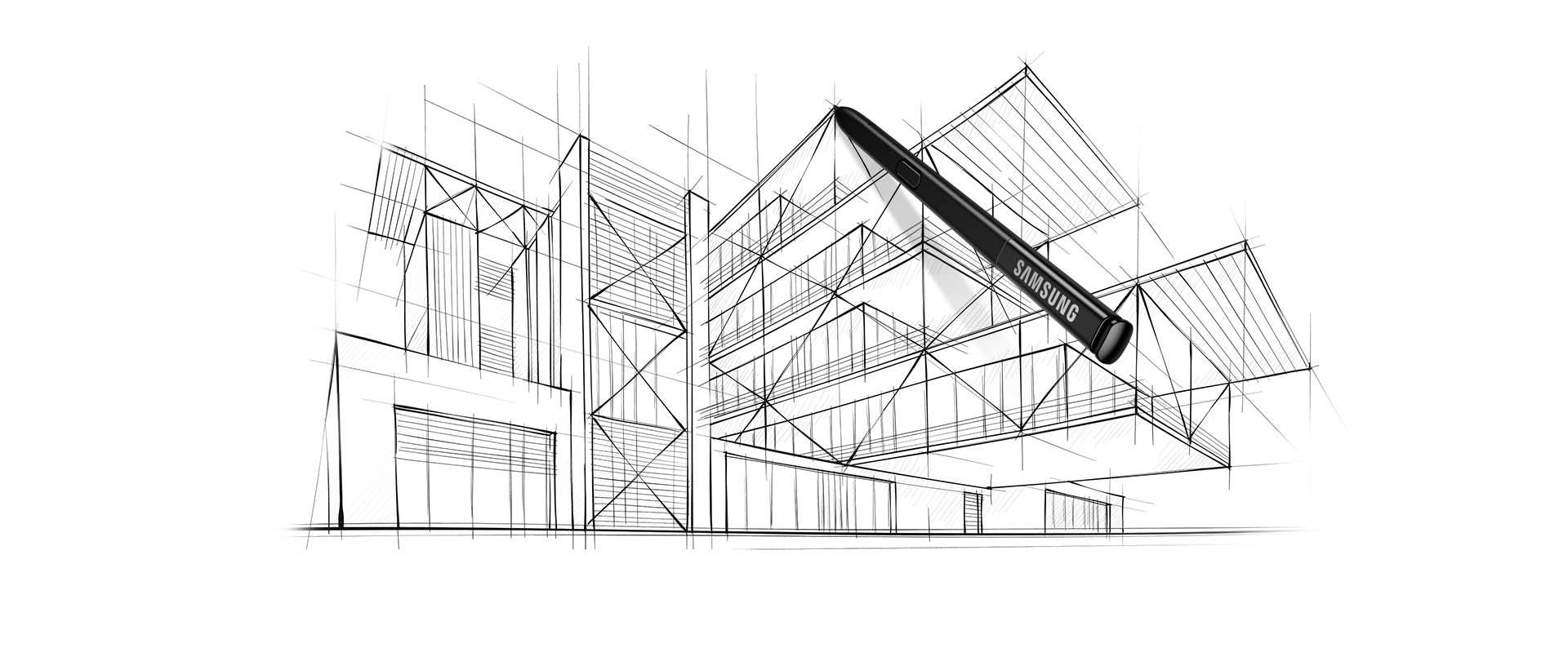 *Wi-Fi or internet connection necessary.
Screen off memo
Start writing
right away
No need to unlock your phone to make a note—just pop out the S Pen to create up to several pages of notes with Screen off memo. Once you're done you can pin it to the AOD (Always On Display) and edit as needed.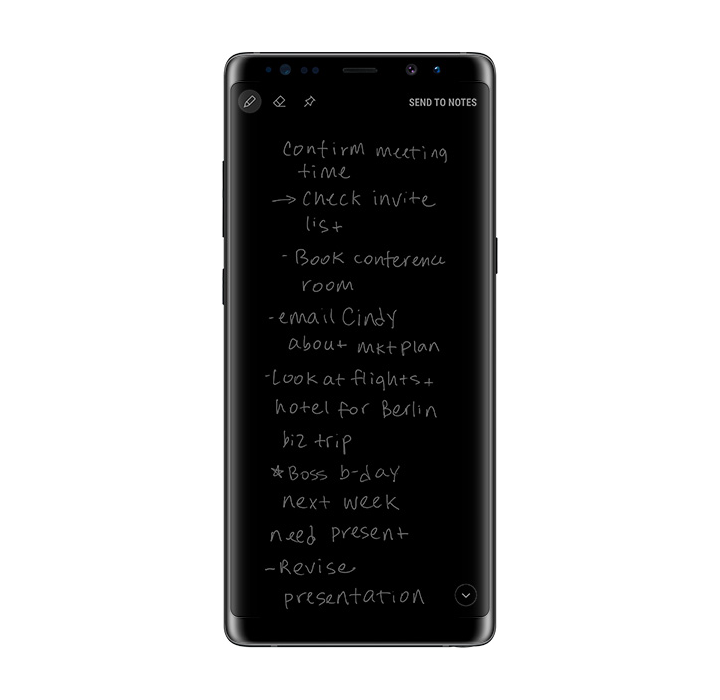 Live message
Make messages
more than words
Add an animated explanation or highlight something in a photo and send it off by pulling up Live message. You can draw or write with a variety of styles to communicate with your coworkers.
*GIFs created may not be supported by some social media and messaging services, depending on the size and length of GIFs.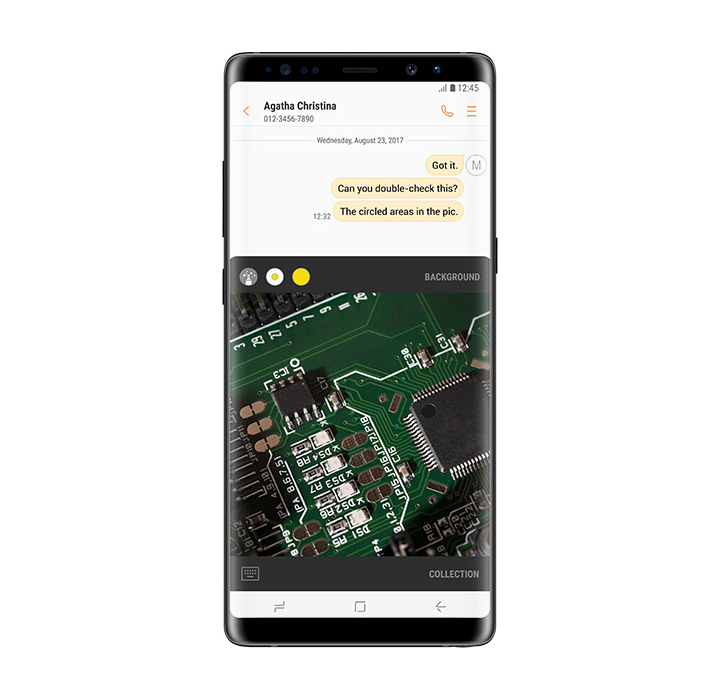 Translate
Conversions with
a hover
Easily convert currencies and measurement units while traveling abroad, or translate an email in a different language. Just select the Translate option through Air Command and hover your S Pen over the price, measurement, word, or sentence.
*Supported languages may vary depending on country or region.
*Wi-Fi or internet connection necessary.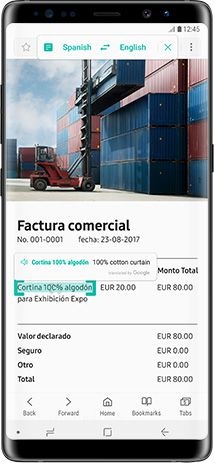 Productivity
Samsung DeX

Bixby

Dual Messenger
Samsung DeX
Turn your phone into a PC-like experience
Whether at home, a client's conference room, or the business lounge, Samsung DeX and the Galaxy Note8 connect to provide a PC-like experience. All that's needed is access to a keyboard, mouse, and monitor to be able to create and edit documents, answer emails on the improved interface, and even participate in video conference calls on the larger monitor screen. And Samsung DeX can be used safely with the security of the Knox 2.9 platform, so on the road and at your desk, Samsung DeX is as secure as it is convenient.
*DeX Station and accessories including monitor, keyboard, mouse, and HDMI cable sold separately.
*Certain apps may not run or require license (for purchase) on Samsung DeX.
*Screen image simulated.


Bixby
A smarter way to use your phone
You're all about convenience at work and Bixby's available to do things fast for you. Use Bixby Vision to translate documents in-camera on a business trip or add business card information to your contacts, keep track of your day with Bixby Home, and set location or time-aware alarms with Reminder. No more sifting through menus—just ask Bixby.
*Supported languages may vary depending on country or region.
*Samsung Account login and Wi-Fi or internet connection necessary.
*Some Bixby features may not be available depending on country, region, or language.

Voice
Speak naturally to have Bixby add meetings to your calendar or call clients hands-free.
Vision
Get translations and pull contact information from business cards with your camera.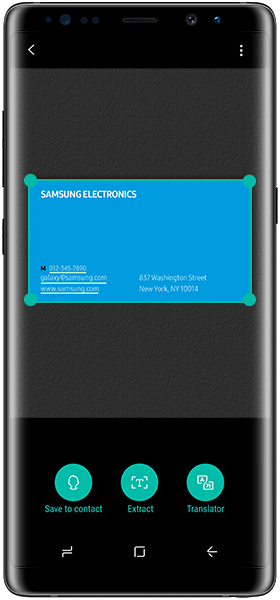 Home
Get quick and easy access to important information as well as your favourite apps on one personalised dashboard.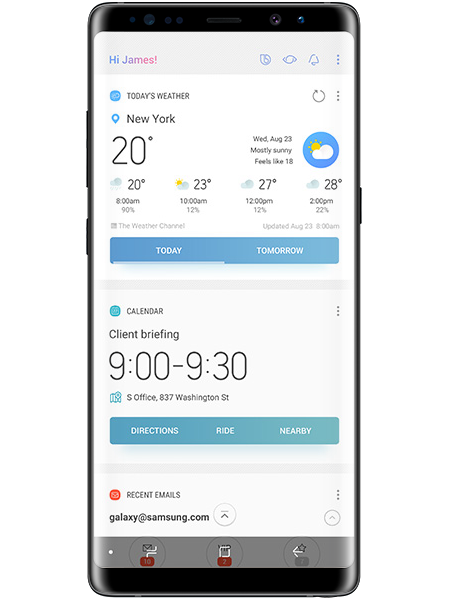 Reminder
Set location or time-based alarms to remind you of important tasks.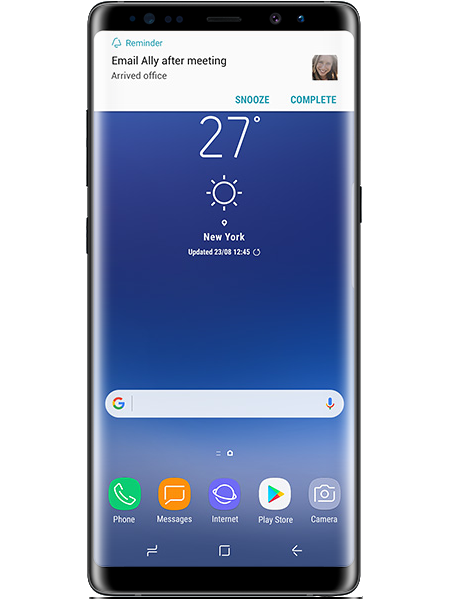 Dual Messenger
Keep work accounts separate
Keep an account for clients and an account for friends on the same phone. By turning on Dual Messenger, you can have two different accounts in your preferred chatting apps to keep your work and home messages separate.
*Dual Messenger service may vary by apps.
Business
Personal
Security
Knox 2.9

Biometric
Authentication
Enterprise
Support

Samsung Pass
Knox 2.9
The defence-grade security that
protects your work data
Feel confident carrying sensitive data with you on your phone, wherever you're working, knowing it's safe from malicious attacks or snooping with the protection of the defence-grade Knox platform. Knox 2.9 additionally provides alerts when a specific app is accessing defined permissions in the background. Security on the Galaxy Note8 is built from the chip up and through levels of hardware and software, ensuring that the most confidential data is secure down to a granular level.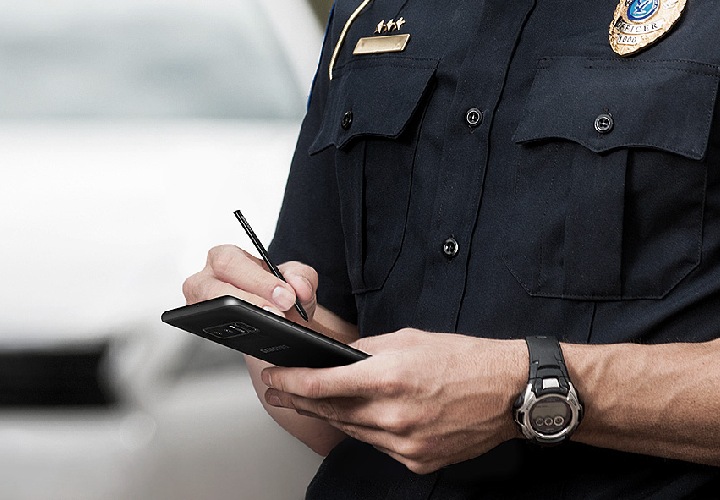 *Knox refers to the free-of-charge built-in Knox security platform and the accompanying optional paid Knox solutions.
**TIMA is TrustZone-based Integrity Measurement Architecture.
Biometric Authentication
The safe unlocking method
Quickly unlock your Galaxy Note8 with iris scan, fingerprint scan, or face recognition. When using your irises or fingerprints, your data is kept safe from prying eyes since each one uses physical features that are unique to you. Additional unlock options are available as well, so you can choose the method that works best for you, saving you time during a busy work day.
Iris Scan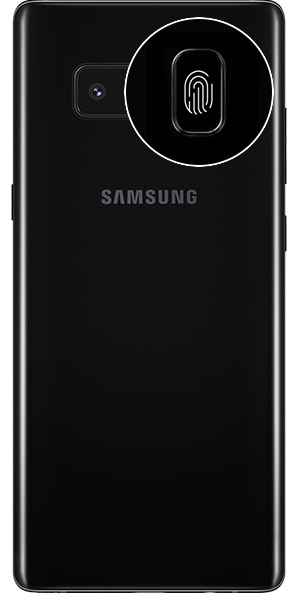 Fingerprint Scan
Face Recognition
Enterprise Support
Seamless Deployment for IT administrators
To ensure that company phones are up-to-date and secure, there are two services for enterprise support: Knox Configure and E-FOTA (Enterprise Firmware Over-The-Air). These features allow IT administrators to deploy a new device configuration or an approved firmware update which can be instantly pushed to the necessary devices without any action on the user's part.
*Service availability may vary by country.
*Knox Configure and E-FOTA are optional paid services.
Samsung Pass
Easy and secure access
to your corporate accounts
Access mobile services in a secure and simple manner using biometric authentication, such as iris scan, fingerprint scan, and face recognition, as well as e-Signature to verify your identity. Since Samsung Pass is protected by Samsung Knox and uses a public key cryptography-based protocol, you get unmatched security. As a biometric authentication platform, Samsung Pass simplifies your life across a wide range of services in multiple industries.
*Availability of Samsung Pass may vary by country.
*e-Signature verification provided by select Samsung Pass partners.


Performance
Dual Camera

10nm AP

Expandable Memory

Dual SIM

Water and Dust Resistance
Dual Camera
The camera that captures clear details
Whether you're taking photos or recording a project in progress, the Galaxy Note8's dual camera gives you crisp and clear photos even in an unsteady environment with OIS (optical image stabilisation) on both cameras. And for a closer look at things, the telephoto camera offers 2x optical zoom. When you're working through the night, the wide-angle camera ensures a bright shot with its F1.7 lens, while its Dual Pixel Sensor focuses precisely and quickly so you can get the picture you need, effortlessly.


10nm AP
The power to work fast
Whether you're multitasking on the go or using Samsung DeX to present to a client, the 10nm mobile processor, working with speedy 6 GB RAM, ensures that your actions will happen as quickly and seamlessly as you need them to.

Expandable Memory
The advantage of flexible memory
You can keep important files and photos with you without worrying about running out of space. The Galaxy Note8 offers 64 GB internal memory* to which you can expand even further when the need arises with microSD cards** up to 256 GB.
*Availability of 128 GB or 256 GB internal memory may vary by country.
**MicroSD card sold separately.
Dual SIM
Convenient choices
at home and abroad
With the dual SIM option on your phone, you have the freedom to keep your business number and personal number on the same phone. You could also have one for calling and text and the other for data, or choose to use a local SIM card when you're on a business trip while keeping your other number connected.
*Availability of dual SIM may vary by country and/or carrier.
Water and Dust Resistance
Ready to work under any circumstances
When your work leads you into a wet or tough environment, you can keep using your Galaxy Note8 without worry. Both the Galaxy Note8 and the S Pen have an IP68 rating, meaning they're water and dust resistant and will continue to write notes, take pictures, and make phone calls as long as you need to, even if you're caught in the rain. And with the rugged and military-grade Protective Standing Cover on your Galaxy Note8, you'll get strong protection from shocks and drops.
*Galaxy Note8 and S Pen are rated IP68, meaning they are both protected against dust ingress and are water resistant. Water resistance rating is based on test conditions of submersion in up to 1.5 meters of fresh water for up to 30 minutes.
*Tested to conform with US Miliatry Standard (MIL-STD-810G-516.7)
*Protective Standing Cover sold separately.
OS

Android

Camera

12.0 MP + 12.0 MP
*User memory is less than the total memory due to storage of the operating system and software used to operate the device features. Actual user memory will vary depending on the operator and may change after software upgrades are performed