Blog
Key Drivers for Korea's 5G Success (Part One)
Offering 5G in All Major Cities in Korea
Senior Professional,
Networks Marketing, Samsung Electronics

Professional,
Networks Marketing, Samsung Electronics
---
In the first half of 2019, Samsung partnered with operators in Korea and the U.S. for the world's first launch of 5G commercial services. As of today, 75 mobile network operators in 40 countries now offer 5G services to users. 5G is expanding its global footprint with 381 operators in 123 countries, confirming 5G investments.
While it is obvious that being first to launch creates first-mover advantages, what are some of the key factors that led to success in South Korea?
Marking one year since launch, this series of blog posts will feature several factors that contributed to South Korea's 5G success. This first part explores the current status of 5G deployment and coverage in Korea. Moreover, we will explain the key drivers behind Korea's successful commercialization as the first-mover of 5G.

The 5G Subscription in Korea Reaching 5.9M Within a Year of Launch
According to Korea Ministry of Science and ICT(MSIT), as of March 2020, 5G subscribers in Korea has reached nearly six million within just a year of commercial launch. 5G data traffic accounts for 24 percent (152.7 PB) of the total data traffic, whereas the number of 5G users are about 10 percent of the total mobile subscribers. The average monthly 5G data usage was about 26.6GB per user, which was about 2.6 times more than 4G data usage of 10.1GB.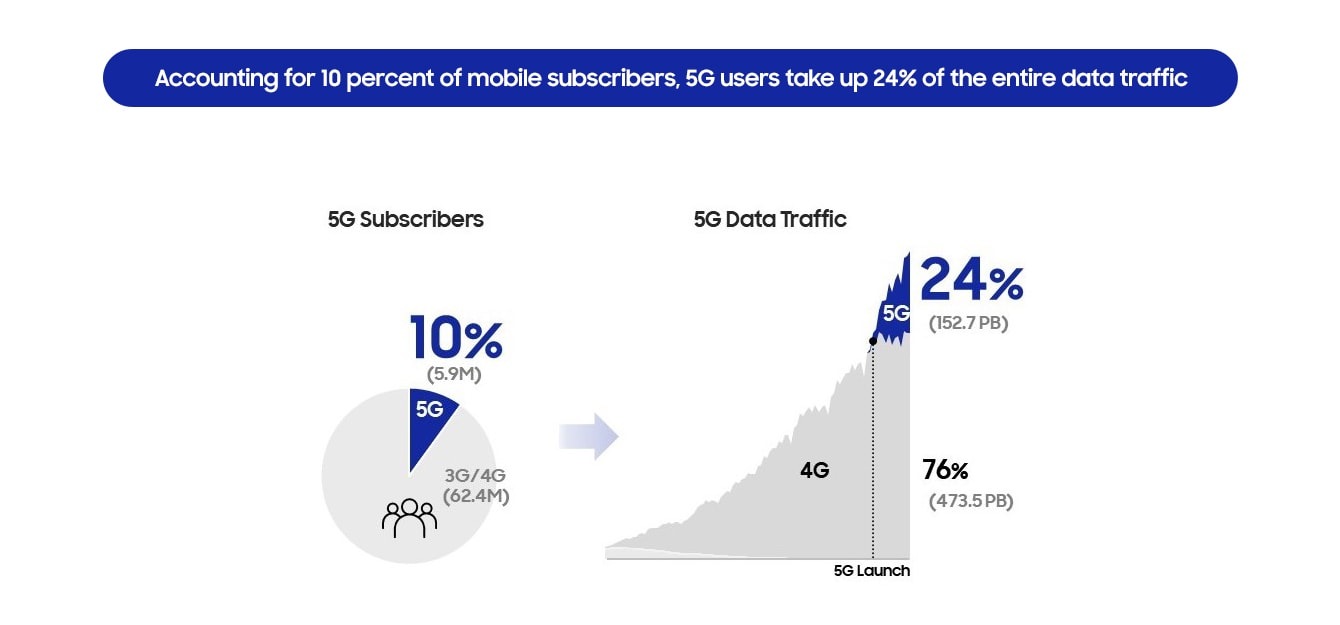 Source: Korea Ministry of Science and ICT (as of Mar.2020)

Achieving Over 90% Population Coverage of 5G

All three Korean operators together deployed more than 115,000 5G base stations using the 3.5GHz band across 85 cities, covering most of the metropolitan areas. According to MSIT, South Korea was one of the first countries to reach a nationwide population coverage, surpassing 90%.
In a recent report, "The State of 5G Deployments," issued by VIAVI Solutions1), South Korea was ranked on top among the list of countries in order by the number of 5G-covered cities. According to this report, 5G is available in 85 cities in Korea, which includes all of the country's major cities.
While the Korean operators concentrated on the deployment of 5G in the first year of launch, this year, they are moving towards densification of the 5G network across the nation. This move has included the rollout of over 2,000 in-building 5G solutions by the end of 2020, according to MSIT. For instance, the operators are deploying 5G infrastructure for public transportation in subway lines and stations to provide a stable indoor service. The rise in density will surely increase the quality of service to 5G users.

The Key Driver Behind South Korea's Rapid 5G Rollout

Along with the 5G spectrum auction (3.5GHz), the South Korean government suggested the rollout milestones: 22,500 base stations by the end of 2021; 45,000 by the end of 2023; and 150,000 at completion. As of March of this year, Korean operators have deployed 115,000 base stations, already achieving 76.7% of the total expected deployment.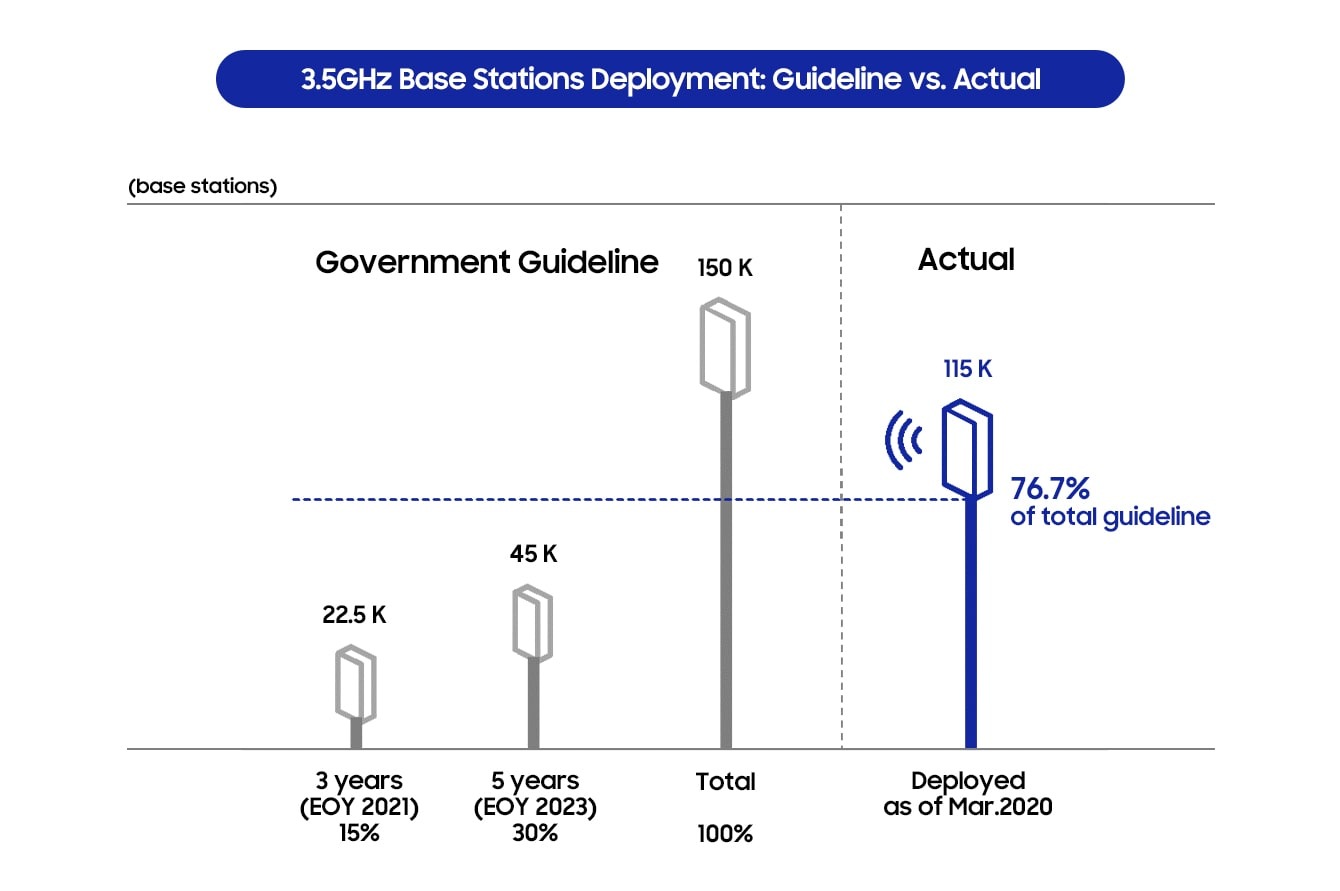 And for the new 28GHz spectrum (mmWave), a total of 15,000 base stations is expected to be deployed in three years, beginning in the second half of 2020, according to government milestones.
Samsung's 3.5 GHz 5G Massive MIMO solution was another major factor that contributed to Korea's rapid rollout. Samsung's 5G Massive MIMO radio (video), which has a slim design profile and is lightweight for ease of installation, provides space-savings on sites. This provides operators with more flexible, scalable 5G solutions that are simple and cost-effective to deploy and accelerate commercial 5G availability.

Joint Contributions by the Government, Operators and Vendors

Also, the early commercialization of 5G services in Korea is attributed to close collaboration among the government, operators and vendors. The joint contribution by key industry players has paved the way to the successful advancement of 5G in Korea. And the operators have already offered unlimited data plans and compelling 5G services to enable a new level of user experience. By helping enable fast deployments and successful operation of 5G, Samsung's end-to-end 5G solutions played a key role in leading the rollout of this technology.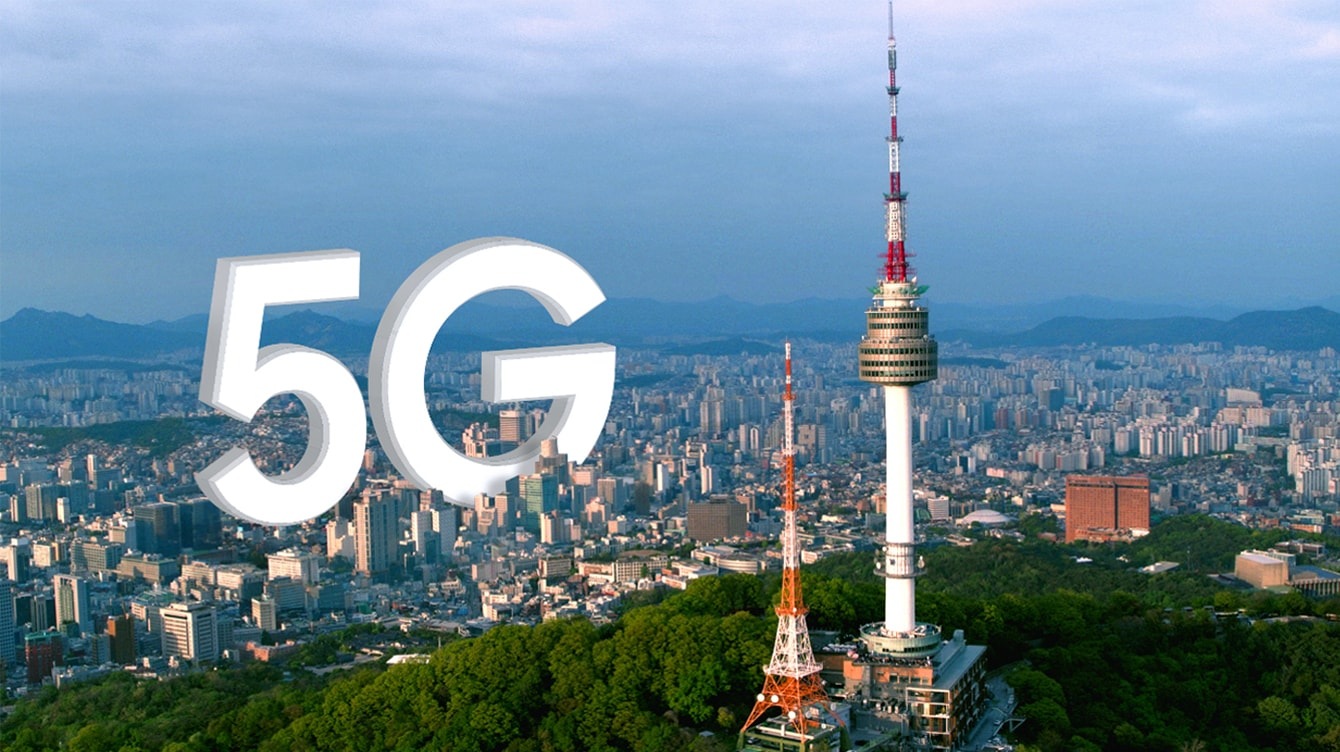 Being forerunners in 5G deployment, Samsung, with Korean operators, have built a strong foundation to prepare for the future of mobile networks, accomplished through technical expertise and an understanding of market needs. This experience will certainly become the driving force behind further innovation.

In the next parts of the series, we will feature 5G network solutions and use cases in South Korea.

1) VIAVI Solutions is a global provider of network test, monitoring and assurance solutions.