Author
Compelling and convenient content creation
Today's businesses require new and compelling content avenues that capture audience eyes while also upholding their own brand identity. MagicINFO™ Author empowers users to create compelling content with a variety of templates, clip art, visual effects, QR codes and more to help drive customer engagement.



• Embedded Templates
• Embedded Clipv Arts
• Various File Format Support
• Global Play Policy
• Widget Integration
• Video Wall Authoring
• CEF, QR Code Creation
• User's Font Support
• Advanced Media Slide
• Web Content Authoring
• Embedded Web Components
• Custom Web Effect Support
• Content Lock
•Web Content Preview
• Variable Tag
• Simple Web Element Upload
• Advanced Weather Widget
• Grouping Management Content
• LFD, LFT import
• Advanced Visual Effect
• only supported by Web Author
Convenient and compelling content creation
MagicINFO™ Author provides various embedded components for optimized content creation. Firstly, built-in templates and clip art, including decorative stickers and stamps, make content more visually appealing and grab the attention of consumers. Dynamic visual effects can also be added, bringing content to life with options such as snow, rain, confetti and smoke. Finally, Author supports built-in applications, including Media RSS, for full user integration.
Embadded Templates & Clip Arts



Web content construction with no coding needed*
MagicINFO™ Author makes it easier than ever to create web content, including HTML, CSS and JavaScript, without any coding required. A host of new embedded web components are available, allowing users to easily access widgets and upload their own custom web elements. These include custom design fonts to make their content stand out and ensure it aligns with any established brand guidelines, in addition to fully customized web effects for dynamic and engaging content.
Code-less HTML Content Creation


※ Features listed here are only supported for content created specifically for W player.
Intuitive features for enhanced user experience
Custom font designs can be uploaded by users for fully customized content which aligns with established brand guidelines. Simple tagging of devices to a single URL destination means only one URL address is needed to access and edit content. Users can lock specific parts of content to prevent other users from modifying, while having the ability to also lock any element by size, position or design style. This allows for the localization of content, without changing key brand content such as logos.



Server
Intelligent content and device management
MagicINFO™ Server drives a more convenient and efficient management experience through an intuitive user menu and
extensive content and playlist management options. It allows you to create playlists from various content types and enables
easy scheduling, in-depth monitoring and control capabilities to connected displays.


Content Distribution
• Simple Scheduling

• Conditional Scheduling 
• Tizen App Deployment 
• Nested Playlist Restoring
• Tag Management
• Web Content Management
• Video Wall Layout ManagerProgramación simple
Content Distribution
• Backup Play

• Dual Signage Presentation
• Multi Channel Management
• Multi Frame Management
• Group Management
• Smart Download
Monitoring & Control
• Monitoring Dashboard

• Error Detection
• Device Health
• External Server Monitoring
• Advanced Email Notification 
• Direct Remote Control 
• Advanced Security Control 
• Automatic Firmware Update
• Advanced Device Health
• Advanced Direct Remote Control
Powerful dynamic scheduling
MagicINFO™ Server enables users to deploy both content and the Tizen App, meaning the launch of the app can be precisely selected in addition to when content is played. Scheduling can also be organized by specific tags, groups of displays and content, enabling users to more efficiently schedule and creating no need to set up a playlist for every separate device. In addition, Server allows users to create a playlist of various content that disappears after a set time period for specific promotions or campaigns.
Device Tag & Group Management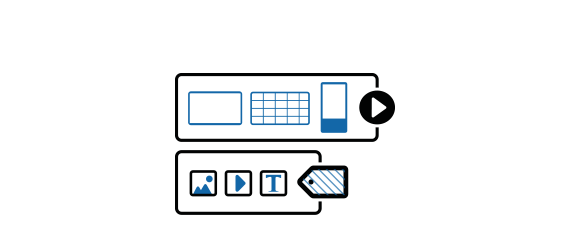 Conditional scheduling
MagicINFO™ Server supports scheduling based on a variety of custom conditions, from device information such as screen size and resolution, to POS data and even weather. Instead of setting schedules for individual displays, Server allows managers to set basic conditions before it automatically displays the most effective content based on the conditions set. This reduces the time and effort required to create, schedule and deploy playlists for multiple occasions.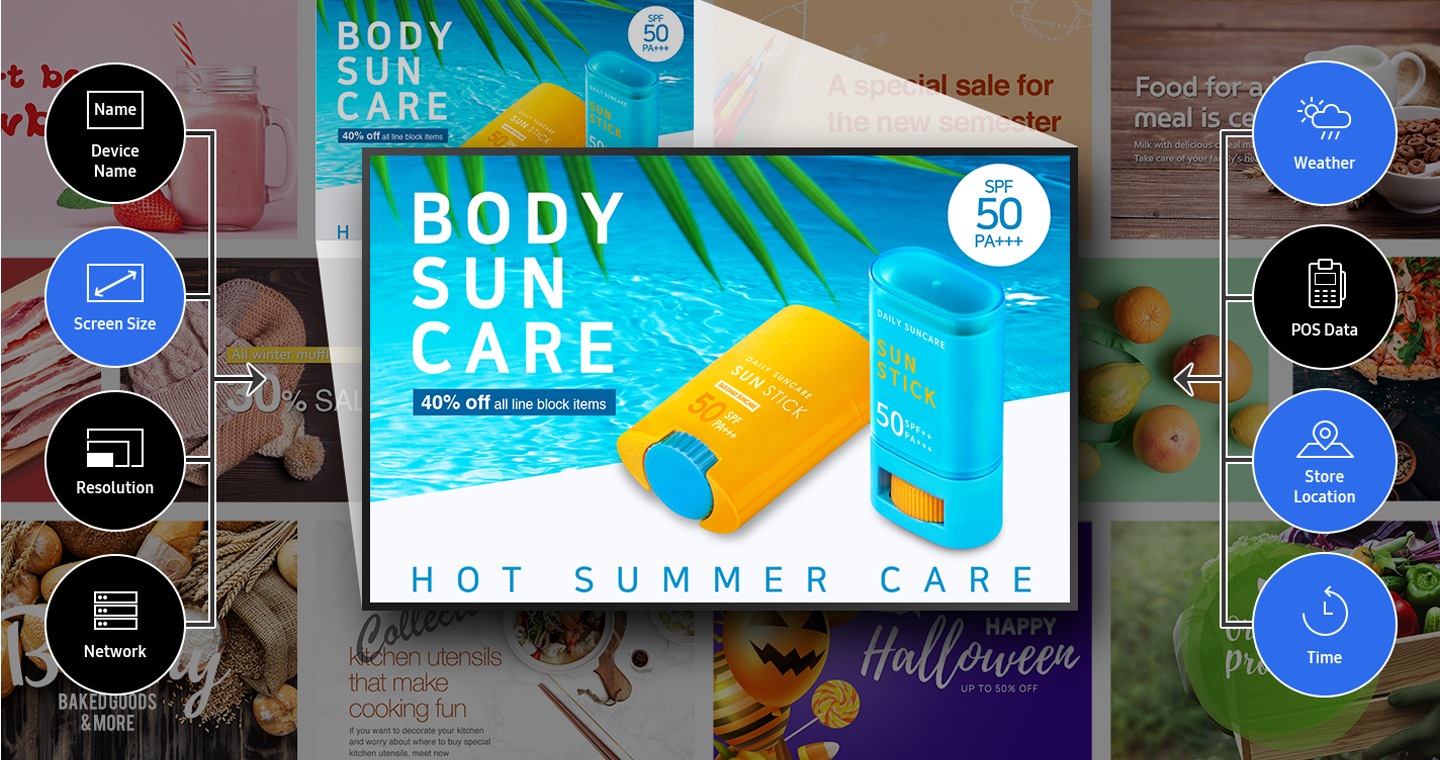 Dynamic content distribution
MagicINFO™ Server can deploy up to ten multi-channels that have been scheduled, as well as easily create multiple frames within a single display panel, each with the ability to play its own unique content. Server also prevents any gaps in delivering critical content through a backup play setting that transfers content to a secondary display if the main device is out of order, ensuring there is no disruption to the business.
Full network monitoring and Enhanced remote control
MagicINFO™ Server enables users to monitor the health of the full network to ensure maximum efficiency at all times. When an error is detected, the system provides alerts and warnings on a single dashboard and shares with relevant stakeholders through email notifications. When an error is detected, MagicINFO™ Server now makes it easier to diagnose and address issues remotely. Using Multi Screen remote control, users can view and interact with multiple screens in order to better diagnose an issue. With Screen Monitoring control, users can control on and off the screen shown and each display and with the remote management function, can be turned on and off directly from the server.

Comprehensive security protection
Users can monitor and control the security settings of all displays, including network port access, USB navigation, Wi-Fi and Bluetooth connection, as well as the smart download feature based on each the security policy of each company. IT administrators can launch centralized, customer-specific security policies while also enabling or disabling device functionality such as displays in a public space, where access for passersby should be restricted for safety and security reasons.
Player
Powerful playback supporting real-time modification
MagicINFO™ Player is compatible with multiple web formats and standards, allowing rich content playback for optimum business flexibility. Now, Samsung is providing the W player API to businesses to unlock real-time web content modification for more agile updates. Users can modify HTML content using the web author and API guide or can update external data via the UDP port or Datalink to change elements including POS data and order confirmation displays. Once updated, MagicINFO™ Player's enhanced playback functionality provides advanced graphic performance and showcasing content in 8K quality.


• 8K Content Playback
• UHD Content Playback
• Multi-Video Playback
• Seamless Playback
• HTML5 Playback
• Tizen App Playback 
• W Player 
• Smart Download 
• Samsung Workspace
• W Player API
Powerful performance
MagicINFO™ Player provides each user with advanced graphic performance capability to showcase content in 8K quality for enhanced customer engagement. Player can also deliver up to three simultaneous FHD quality videos from multiple sources, in both portrait and landscape. These features are supported by seamless transitioning, preventing any lag or streaming delay while also eliminating black screens or gaps as content transitions to ensure customer attention is captured - and maintained.



Web content compatibility
MagicINFO™ Player is compatible with multiple web formats and standards including HTML5, allowing users to efficiently and effectively play content without any file conversion or additional steps required. And following the launch of the new W Player, rich web content can now be played without reliance on any device. Another new feature, Tizen App playback, also allows S Player to play Tizen app-based web content.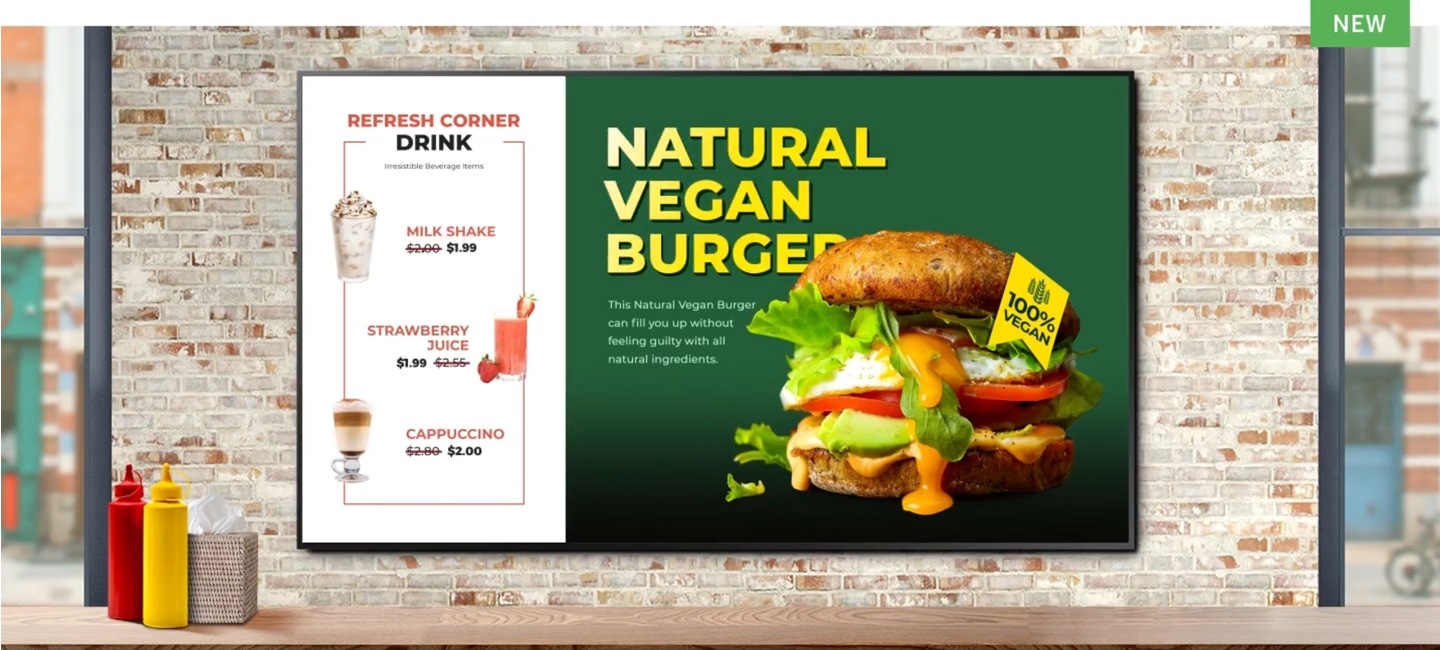 Smart download for more efficient content delivery
MagicINFO™ Player is supported by an advanced smart download feature, meaning the Player downloads content from the MagicINFO™ Server before distributing to other players via an internal network. This ensures the Server must only execute one data transition, avoiding any unnecessary network traffic and creating a more efficient process.

Choose the solution that's right for you
S Player
A powerful embedded media player
W Player
A new embedded web-based content player

I Player
A Windows-based player for complex setups