AM160FNBFEB/EU
DVM, Hydro Unit, Heat Pump, Indoor Unit
Streamline operation with all-in-one cooling and heating
A choice of hot options
Simplified control
Digital Hybrid System.
DHS (Digital Hybrid System) is a brand new concept system composed of DVI compressor, vapor injection technology and turbo intercooler. These 3 factors together provide highly efficient performance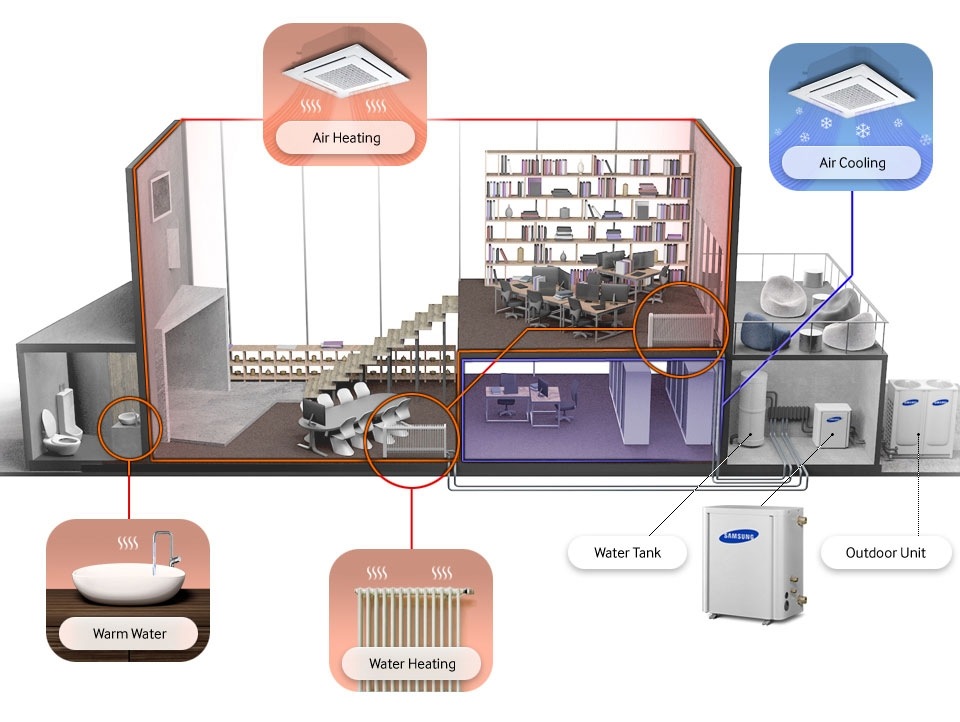 Altogether easier and more efficient
The Samsung DVM Hydro system is compatible with all DVM S Outdoor units and can be added to create a single, integrated solution for cooling, heating and hot water that's simple to manage. So it ensures much greater efficiency to suit a variety of demands by recycling redundant heat and transferring it to other areas where it is needed – generating substantial energy and cost savings all year round.
Choose your hot favourite
The Samsung DVM Hydro system is available in a choice of two types to suit your hot water needs. The DVM Hydro HE provides water at a mid temperature of 50 °C, while the DVM Hydro HT's advanced, Cascade Cycle technology generates much hotter water at 80 °C. So, whatever your demands, there's the perfect solution to satisfy the requirements of various sites.
Simple plug and go installation
The Samsung DVM Hydro system is very quick and easy to install and use for a range of purposes. It includes a range of connections for various external input and output devices, such as Tank Sensors, Booster Heaters, 2- and 3-way Valves, and Room Thermostats. It's also fully compatible with the Samsung DVM S Eco and DVM S Water systems.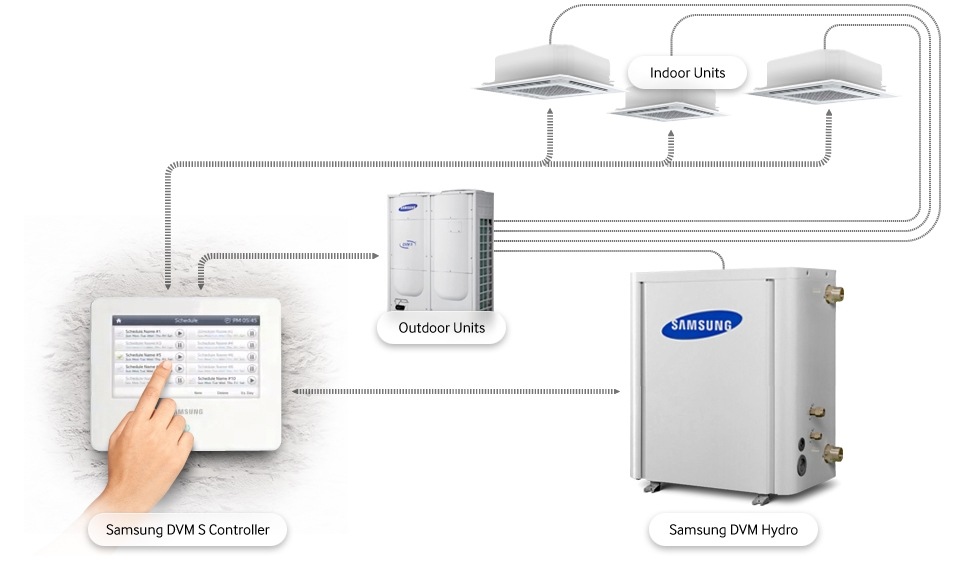 Easy to control – independently or centrally
The Samsung DVM Hydro system can be independently or centrally operated along with a variety of Samsung DVM systems. For standalone use on individual sites it has its own control system or, using the Samsung DVM S Controller, it can be integrated with various DVM systems eg. for water and air, and managed centrally.
Specification
Model Name

Indoor Unit

AM160FNBFEB/EU

Power Supply (Indoor Unit) [Φ, #, V, Hz]
System
Capacity

Heating [kW]

16 

Heating [Btu/h]

54,600 

Power Input (Nominal)
Current Input (Nominal)
Power

MCA [A]

24.15 

MFA [A]

30.19 

Energy Efficiency

Energy Grade of Space Heater (55 ºC / 35 ºC)

A+ / A+

Energy Grade of Package of Space Heater

A+

Condenser

Type

PHE

Pipe Size (Φ, inch)

PT 1 (25 A)

Water Flow Rate (LPM)

23 

Piping Connections

Liquid Pipe (Φ, mm)

9.52 

Liquid Pipe (Φ, inch)

3/8"

Gas Pipe (Φ, mm)

15.88 

Gas Pipe (Φ, inch)

5/8"

Field Wiring

Power Source Wire

4

Transmission Cable

0.75 ~ 1.5

Refrigerant

Type

R134a (Fluorinated greenhouse gas, GWP = 1,430) 2.15 kg (3.07 tCO2e)

Control Method

EEV

Sound
External Dimension (Indoor Unit)

Net Weight (kg)

104 

Shipping Weight (kg)

107 

Net Dimensions (WxHxD) (mm)

518 x 1,210 x 330 

Shipping Dimensions (WxHxD) (mm)

652 x 1,289 x 426 

Operating Temp. Range
* Key feature may differ from Key Spec.
Manual Download
DVM, Hydro Unit, Heat Pump, Indoor Unit (AM160FNBFEB/EU)
Manuals

2019.01.07

Installation Guide ver 1.0

(ENGLISH)

2019.01.07

Installation Guide ver 1.0

(FRENCH)

2019.01.07

Installation Guide ver 1.0

(PORTUGUESE)