AJN020NDEHA/EU
FJM, Wall Mount, Domestic, Cooling Only, Indoor Unit
Ideal Compact Size
Self-Diagnosis Mode
Fan Speed Adjustment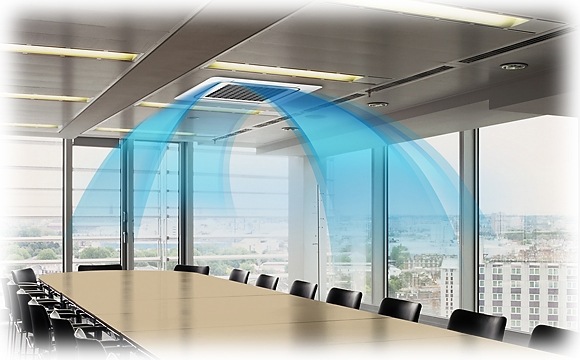 Ideal Compact Size
Installing the Mini 4Way Cassette is easy. This compact air conditioning unit can fit into one standard ceiling tile measuring 600 W x 600 D, meaning that alterations are unnecessary. With no extra construction work to carry out, set-up time is reduced, as is the subsequent financial impact on businesses.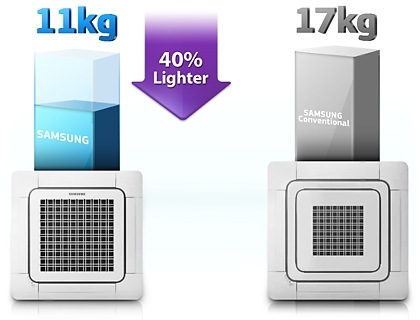 Self-Diagnosis Mode
The unit's self-diagnosis mode alerts users to malfunctions straight away. An error code and LED light enable engineers to identify the problem quickly, reducing the time taken to fix it. As a result, this mode allows businesses to benefit from greater efficiency with a more cost-effective operation.
Fan Speed Adjustment
As a result of the ability to adjust the fan speed according to the height of the ceiling, the Mini 4Way Cassette is fully customisable to suit the needs of individual businesses. Altering the dual in-line package (DIP) switch of the unit's printed circuit board (PCB) increases efficiency so fresh air reaches the whole room, resulting in a more even distribution.
Auto Surround Swing
This innovative air conditioning unit distributes cool and warm air even further with the minimum of noise. The efficient system suits all manner of rooms, ensuring no section is overlooked.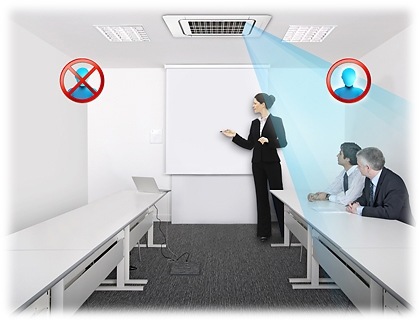 MDS; Motion Detect Sensor (Optional)
MDS; Motion Detect Sensor (Optional)
The Mini 4Way Cassette offers a smart solution to saving energy and costs with its optional Motion Detector Sensor (MDS), which regulates the optimal amount of airflow. It works by turning off the air conditioning system once it detects the absence of any users in the vicinity. Energy efficiency is further maximised through its ability to automatically identify and set operation patterns. MDS also reduces the contrasting effect of warm and cold airflow directly at individuals, thus creating a more constant and comfortable environment.
Ceiling Dust Prevention

Dirty ceilings are no longer an issue with the Mini 4Way Cassette air conditioning unit. The newly designed panel prevents dust from gathering over long periods of operation. By controlling the direction of the airflow so that it avoids contact with the ceiling, businesses can enjoy cleaner and more elegant work spaces than ever.

Powerful Airflow

The Mini 4Way Cassette's wide blades create powerful airflow without wasting energy. Removing the need for multiple appliances, the indoor unit delivers cool or warm air at greater distances, making it more efficient for businesses.
High Lift-Up Drain Pump

The Mini 4Way Cassette includes an optional high lift-up drain pump. This lifts condensed water up to 750 mm compared with previous 700 mm limits. The increased quantity provides more flexibility over where the unit is installed, offering users greater convenience than ever.

No Overflowing Drain Water

The innovative drain pump check valve prevents drained water from flowing backwards into the drain pan. Minimising the drain pan's water level in this way means businesses never have to worry about water stagnation or overflows that drip into indoor spaces. The Mini 4Way Cassette provides fresh, clean air without contaminating the room.
Specification
Features

Type

4 WAY CASSETTE S (600 x 600)

Model Name

Indoor Unit

AJN020NDEHA/EU

Power Supply (Indoor Unit) [Φ, #, V, Hz]
System
Capacity

Cooling [kW]

2  

Cooling [Btu/h]

6,800  

Heating [kW]

2.2  

Heating [Btu/h]

7,500  

Power Input (Nominal)

Cooling 1) [W]

19 

Heating 2) [W]

19 

Current Input (Nominal)

Cooling 1)

0.51 A

Heating 2)

0.51 A

Fan

Type

Turbo Fan

Motor (Output) [W]

65 x 1  

Air Flow Rate (High / Mid / Low) [CMM]

9 / 8.2 / 6.9 

Air Flow Rate(High/Mid/Low)[L/S]

165 / 136.67 / 115

Piping Connections

Liquid Pipe (Φ, mm)

6.35  

Liquid Pipe (Φ, inch)

1 / 4"

Gas Pipe (Φ, mm)

9.52  

Gas Pipe (Φ, inch)

3 / 8"

Drain Pipe (Φ,mm)

VP25 (OD 32, ID 25)

Field Wiring

Power Source Wire

1.5 ~ 2.5

Transmission Cable

0.75 ~ 1.5

Refrigerant

Type

R410A

Control Method

EEV (External)

Sound

Sound Pressure

33 / 29 / 24  dBA

Sound Power

47  dBA

External Dimension (Indoor Unit)

Net Weight (kg)

11 

Shipping Weight (kg)

13 

Net Dimensions (WxHxD) (mm)

575 x 575 x 250  

Shipping Dimensions (WxHxD) (mm)

623 x 653 x 298  

Panel Size

Panel model

PC4SUSMA

Panel Net Weight (kg)

2.7 

Shipping Weight (kg)

4.2 

Net Dimensions (WxHxD) (mm)

670 x 670 x 45  

Shipping Dimensions (WxHxD) (mm)

714 x 724 x 106  
* Key feature may differ from Key Spec.
Manual Download
FJM, Wall Mount, Domestic, Cooling Only, Indoor Unit (AJN020NDEHA/EU)
Manuals

2015.09.22

Safety Guide ver 1.0

(ENGLISH, FRENCH, GERMAN, GREEK, ITALIAN, KAZAKH, PORTUGUESE, RUSSIAN, SPANISH, UKRAINIAN)

2015.01.23

User Manual ver 1.0

(ENGLISH)

2015.01.23

User Manual ver 1.0

(FRENCH)

2015.01.23

User Manual ver 1.0

(PORTUGUESE)