Samsung QLED TV - Overview

The Next
Innovation In TV





Colour Volume 100% 1
Q Picture
Turns light into perfect colour. All shades of colours brought to life.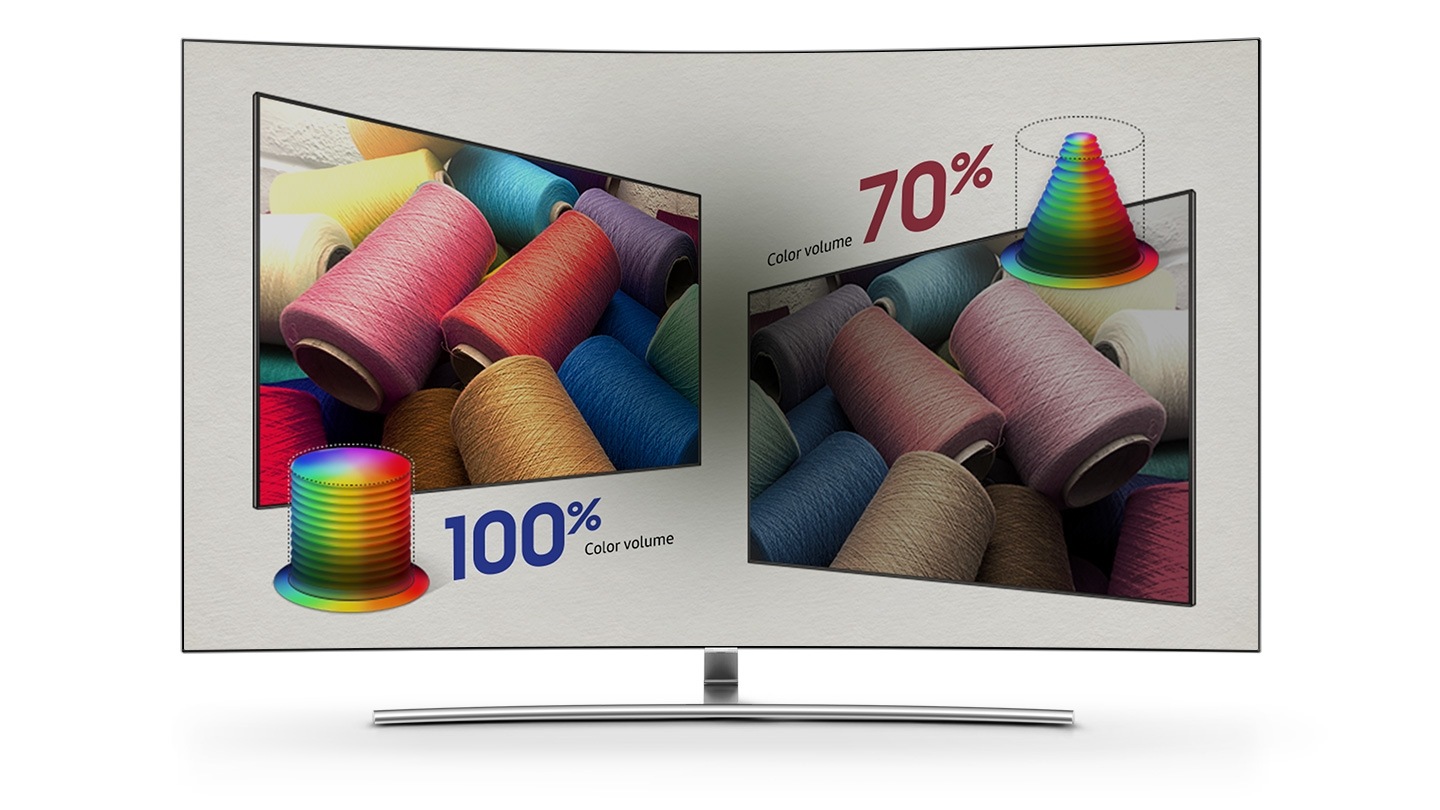 TV, that lasts long time
Long lifespan
The Samsung QLED TVs that are composed by inorganic materials last consistent bright, vivid image quality for years.



What is Burn-in?
Burn-in is a permanent defect in areas of a TV display that can be caused by cumulative effects of displaying the same image or scene for long periods of time, sometimes even as little as one hour.
Design your space
Q Style
Discover your hidden space
LEARN MORE
Smarter than Smart
Q Smart
Control all of your devices and content from one place with one remote.

1. QLED TVs have received verification from world-class testing and certification association, Verband Deutscher Elektrotechniker (VDE), for its ability to produce 100 percent colour volume.
* QLED TV: Samsung QLED is Quantum dot based TV.
* Images are simulated and for illustration purposes only. The appearance and design specifications which is not affecting to product performance are subject to change without notice
* Please refer to the product detail page for each model.
QLED TV - The Next Generation TV
Samsung introduced QLED in 2017. The 'Q' in QLED represents quantum dot technology. Quantum dots are nano-sized particles that are self-luminous, energy efficient and long-lasting. The particles emit light in particular colours to give you bright and real-life viewing experience. This innovative technology is used in the LED TVs to give the new and improved QLED TV.
Samsung offers three QLED TVs—Q7F, Q8C and Q9F. Here are some of the highlights of these models.
Samsung QLED TV features
Q Colour

The QLED TV uses true RGB to offer the perfect matching colour volume with natural colours. It is the first TV to be certified with 100 percent colour volume expression by Verband Deutscher Elektrotechniker (VDE).

Q Contrast

The QLED offers a correct balance of black and white. With its light-scattering technology, you can get rid of seeing your reflections on the screen and enjoy uninterrupted viewing. The TV supports bold contrast that leaves the picture quality unaffected, irrespective of the lighting in the background.

Q HDR 1500

The QLED TV has HDR capabilities to offer a peak brightness of 1500 to 2000 nits. This is more than the benchmark of 1000nits, which is essential for 4K HDR content. This high capability offers a completecinematic viewing experience, thereby highlighting finer details.

Q Viewing Angle

Watch your TV from anywhere and any angle and get the same colours and view. The Q Viewing Angle distributes the colours in a balanced manner to reduce distortion.
Samsung QLED TV Design
Curved design

The QLED TV has a sleek, contemporary metal finish. It comes with a flat as well as a curved design. The curved look offers a comfortable and wide panoramic view.

Bezel-less design

The QLED TV comes with no bezels on all the four sides. The 360-degree design makes the device look sophisticated and allows you to have an immersive viewing experience.

.
Invisible connection

Time to bid goodbye to messy and tangled wires! The QLED TV comes with a neat cable management system. It hides all the cables inside it. The TV is connected through a single, transparent optical cable, which is almost invisible.
Samsung QLED TV Smart features
Smart Remote

The new Samsung QLED TV comes with a single remote that enables multiple operations. The remote lets you operate the TV, home theatre and Blu-ray player, among others. You can easily connect the remote to all the devices with Bluetooth.

Smart View

Your smartphone can become your personal remote with this feature. You can command your TV with your smartphone. Besides, this feature also lets you view content from your smartphone on the big screen.

Smart Hub

The Smart Hub feature organises andbrings everything in one place. You will see thumbnails of different channels like Netflix, Amazon Prime Video and Spotify among others at the bottom of the screen. Preview these easily without opening them.
Samsung QLED TV Price in Malaysia
Q7

Samsung Q7F QLED TV price in Malaysia is RM 35,999.

Q8

Samsung Q8C QLED TV price in Malaysia is RM 36,999.

• Q9

Samsung Q9F QLED TV price in Malaysia is RM 99,999.
Samsung QLED TV Accessories
No-gap wall-mount

The no-gap wall-mount lets you stick the TV completely to the wall.

Stands

The gravity stand adds to the visual appeal while the studio stand offers an elegant look to your device.
After knowing about its special features, are you wondering where to buy a QLED TV for your home? Scan the website for the right model and check out the store locator to find a Samsung store near you.