Auto Tracking
Bluetooth v4.2
Bluetooth Version
A2DP,AVRCP,HFP
Bluetooth Profiles
Android 4.4 ↑ , 1.5GB ↑
Compatible Specification of Smartphone
On track with the built-in coach
When Gear IconX's Auto Tracking mode detects walking or jogging, it logs your time, distance, and calories burned.* To stay focused while running, long press to start the built-in Running Coaching feature. Afterwards, sync your Gear IconX with the S Health app on your phone to log your progress.
*Auto Tracking (Running/Walking) mode will work if you have been walking or running for more than 10 minutes.
Go phone-free
Leave your phone at home. The Gear IconX earbuds work as standalone media players when you upload music from your phone.* You can also create two more playlists: one for favourite tracks and one for the gym. Now you're good to go. And if you do need your phone nearby, Gear IconX connects via Bluetooth.**
*Up to 1,000 tracks can be uploaded within the usable memory of 3.4GB. **Compatible with devices that run Android 4.4 KitKat and above, and have a minimum of 1.5GB RAM. Galaxy phones users can transfer music files to Gear IconX either from the Galaxy phone or a PC via USB connectors or USB cables (not applicable to some Galaxy phones). Non-Galaxy Android phone users can transfer music files to Gear IconX from a PC via USB cable.
Go phone-free
Leave your phone at home. The Gear IconX earbuds work as standalone media players when you upload music from your phone.* You can also create two more playlists: one favorite and one for the gym. Now you're good to go. And if you do need your phone nearby, Gear IconX connects via Bluetooth.**
For when there's no turning back
Gear IconX long battery life makes sure the music keeps going with up to 7 hours of playback. When you†re done, just pop the earbuds back into their case to get a full charge. And with its Quick Charging capabilities, you can enjoy up to an hour of use with just a 10-minute charge.*
*Actual battery life and charging time may vary and depend on usage conditions.
Hear your tunes clearly
Turn up the music and go with clear and stable audio quality. A new fitness-optimised driver offers substantial bass, while a volume driver gives you a wider range of volume. The scalable Samsung codec makes sure you get a steady flow of music even during challenging situations.
Simply tap to control
Play playlists, navigate tracks, and turn up the volume. It†s all easily done with taps and swipes—without having to take out your phone.
Designed to be seamless
Fit to run
Tune out and focus on your fitness with Gear IconX. The cord-free earbuds are designed to stay securely in place, even in the midst of a workout. And their ergonomic design means you feel comfortable wearing them.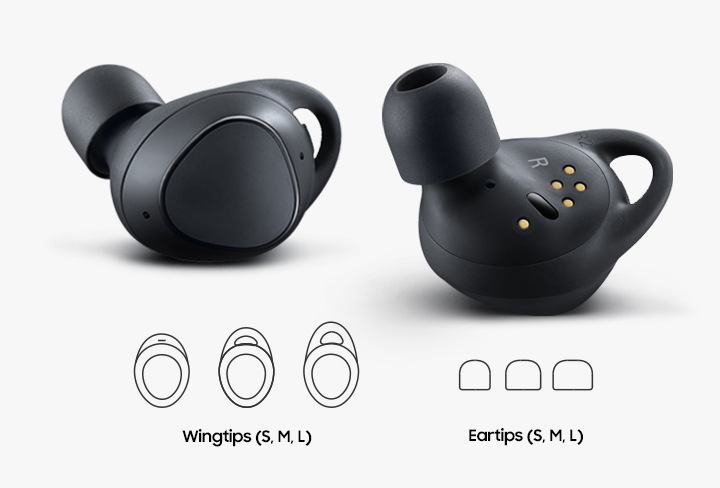 Just your style
With the sleek shape and your choice of colours, the Gear IconX earbuds are a seamless addition to any outfit, whether you†re running errands or just running.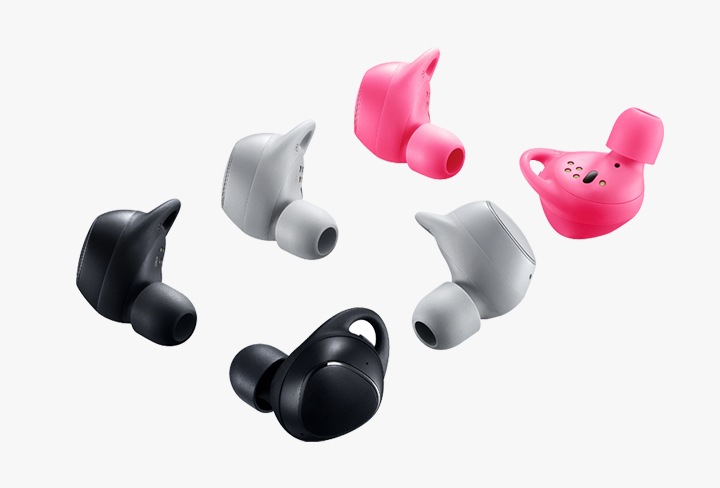 Bluetooth v4.2

Bluetooth Version

A2DP,AVRCP,HFP

Bluetooth Profiles

Android 4.4 ↑ , 1.5GB ↑

Compatible Specification of Smartphone

Accelerometer,Proximity Sensor

Sensors

8 g

Earbud Weight

82 mAh

Battery Capacity
Rated

2

out of

5
by
Gear sport made me sad
from
Last 1 week
I bought my first pair on December 15, then they stopped working one side was quieter than the other, sent them back and got a replacement on Jan 14 on Jan15 they have the same problem.
Date published: 2018-01-15
Rated

1

out of

5
by
Mirci
from
Faulty and the worst customers service I ever exp.
As soon as you disconnect them from the charger, even thou you keep them in closed charging case, the right earbud will have dead battery in few hours without even using them. I wrote them about this issue and their answer was that they simply don't care because I bought them more than 28 days ago. I will try to sort it through my legal rights and will definitely avoid Samsung products in the future, even though I currently unfortunately own also Galaxy S8+, Galaxy Gear S3 and SSD 950 PRO. For while I was considering monitor LC34F791, but now I'm glad that I still didn't buy it. I don't want anything to do with company that has such a awful approach to their customers. If you really can't help yourself and want their product no matter what, then buy it through any established shop you trust, never through Samsung's website!
Date published: 2017-12-29
Rated

4

out of

5
by
Ryan2000
from
Amazing but there is one issue....
These earphones function the way they are meant to and the battery life is phenomenal. When using these at the gym I definitely feel they cannot be beat. However, there is one issue, the sound, and I'm not talking about music quality, I'm talking about a hissing noise in the background 24/7. It's not noticeable at the gym but only in quiet places. Don't expect to watch Netflix as the hiss is unbearable. YouTube is meh though.
Date published: 2017-12-28
Rated

4

out of

5
by
Timster01
from
These are decent
I have them and the battery life and fit is fantastic. I just want it to put less pressure on my ears and the sound quality (Especially the bass and clarity) could be better considering the price point. I love them but the comfort could be improved and also ambient sound could be improved since wind rustles heavily on the Iconx and touch controls as well. I also want Samsung to improve the interference so instead of one earbud doing all the receiving and sending to the other, both should do it so it will have much better sound and less interference. Otherwise, they are good earbuds and I do recommend them and I hope in the future there will be more colours available as well as better performance.
Date published: 2017-12-20
Rated

5

out of

5
by
jamie123123
from
great battery
I have had this product a month now and they are so good the battery life is phenomenal
Date published: 2017-12-16
Rated

1

out of

5
by
gtibi51999
from
Terrible
It's loud but no bass just high-pitched voice. After 5 days it went wrong. Right side is not working.
Date published: 2017-12-13
Rated

2

out of

5
by
stefan
from
Incompatible with iPhone
I purchased these headphones last week thinking that at such a high price of course they would work with my 'samsung competitor phone'... it's just bluetooth right? But on getting them home i was extremely disappointed to realise that the mid-high range was heavily distorted and hissing in comparison to using with an android phone. I've reverted back to my £15 bluetooth headphones which work a treat. If you're an 'samsung competitor phone' user, don't purchase these!
Date published: 2017-12-11
Rated

4

out of

5
by
tucky
from
Missing charger
I bought this product on Monday, 20.11.2018 and I was very happy for quick delivery. When I opened the box, big "surprise" , no charger inside.Unacceptable for a company like Samsung.I'm a Samsung addicted client for many years and I'm disappointed for this mistake.Returned the box back and I'm waiting for Samsung to send me another box including " the missing charger.I know the product is amazing just reading the feedbacks, not testing mine and I will recommend to anyone how enjoy sport and music.
Date published: 2017-11-22
User manual & Downloads
Live Chat
How It Stacks Up
Memory size : User memory is less than the total memory due to storage of the operating system and software used to operate the phones features.
Actual user memory will vary depending on the mobile phone operator and may change after software upgrades are performed.
Battery time is based on our own laboratory measurements, and may vary depending on factors such as device settings, usage patterns and operating conditions.
Bluetooth - Depending on the OS version, smartphone model and application, you may experience audio delay compared to the video scenes when you are watching videos or playing games with Gear IconX, due to the time for audio synchronization between the smartphone and earbuds.
All specifications and descriptions provided herein may be different from the actual specifications and descriptions for the product. Samsung reserves the right to make changes to this document and the product described herein, at anytime, without obligation on Samsung to provide notification of such change. All functionality, features, specifications, GUI and other product information provided in this document including, but not limited to, the benefits, design, pricing, components, performance, availability, and capabilities of the product are subject to change without notice or obligation. The contents within the screen are simulated images and are for demonstration purposes only.